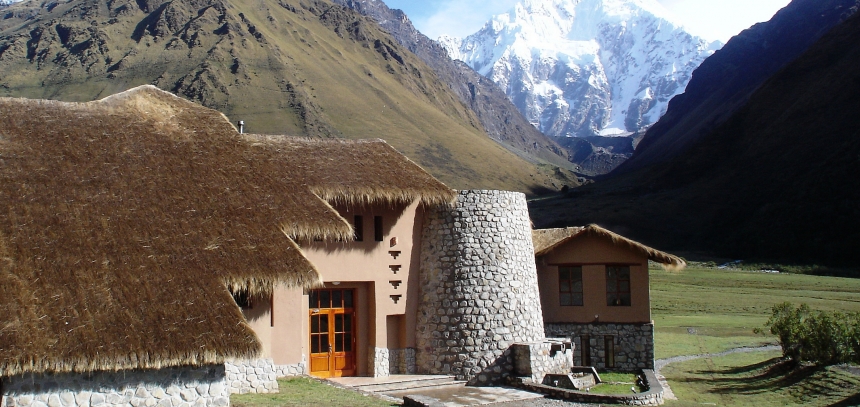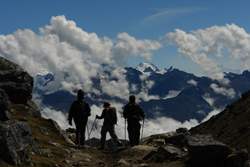 This is a unique, once-in-a-lifetime experience you will not want to miss!
You will trek from 12,800' to 6,900' as you traverse the Cordillera Vilcabamba mountain range high in the Andes of Peru.  Along the way enjoy enormous and mystical snow-capped peaks, and experience the pristine nature of 15 different ecosystems. A very special treat is the possibility for ethnic and cultural exchange with local natives, who still remain closely attached to their heritage and are very willing to share it with visitors.
At the end of each day, arrive to a well-appointed lodge, complete with private bathrooms with hot water showers, a Jacuzzi and fireplace, and excellent international and Peruvian cuisine.  All four mountain lodges have been designed and built in accordance with traditional building techniques, Inca architectural & mythological concepts, and respect for the surrounding environment.
Your ultimate destination is the premier destination in all of South America--the Incan Citadel of Machu Picchu.  Stay  in a lovely luxury hotel and enjoy an exclusive tour of the site as the grand finale to your spectacular journey.
Departures
2021 departures
# of departures
per month:
March: 17; April: 16
May: 23; June: 15
July: 16; August: 18
September: 18
October: 16
November: 13
December: 12
See Pricing/Trip
Notes for exact dates
Price:
2 people/1 room
From $4000 p/p
4 people/2 rooms
From $3900 p/p