Machu Picchu Lodge to Lodge Trek | Trip Accommodations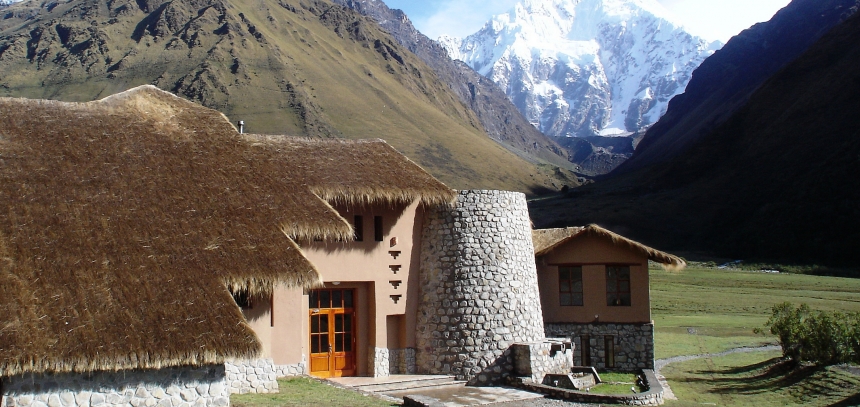 The folowing accommodations are used on our Machu Picchu Lodge to Lodge Trek
Location
Hotel/Lodge
Day 1/Lima Airport
Costa del Sol Ramada
Day 2, 3 & 10/ Cusco
El Mercado Boutique Hotel**
Day 2, 3 & 10/ Cusco
Upgrade to 5 star hotel
Casa Cartagena/La Casona/Palacio del Inka
Day 4 & 5/Soraypampa
Salkantay Lodge and Adventure Resort
Day 6 / Huayraccmachay
Wayra Lodge
Day 7/Collpapampa
Collpa Lodge
Day 8/Lucmabamba
Lucma Lodge
Day 9/Aguas Calientes
Inkaterra El Pueblo or similar
El Mercado Boutique is a new and stylish 4 star hotel conveniently located in central Cusco.  We can offer you upgraded 5 star and luxury accommodations on request.
Scroll down for photos of lodging used on this itinerary
Click here for information on amenities and specs of the Salkantay, Wayra, Collpa and Lucma Lodges
Salkantay Lodge: Living room, Entrance, King room, Dining room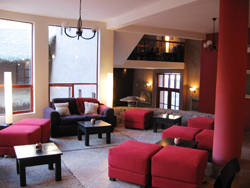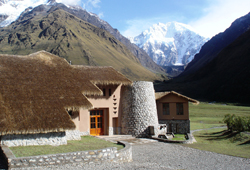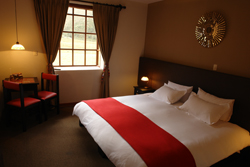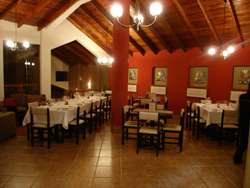 Colpa Lodge: Entrance, Twin Room, Hot Tub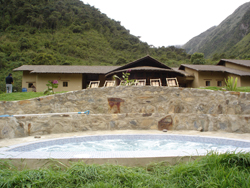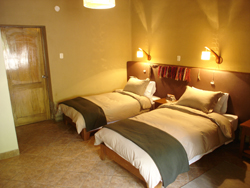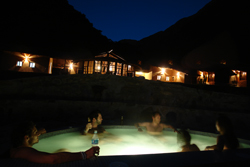 Wayra Lodge: Entrance, Living room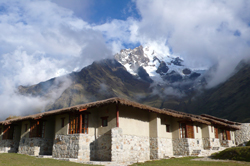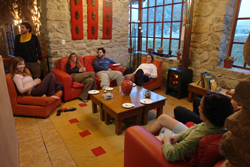 Lucma Lodge:  Entrance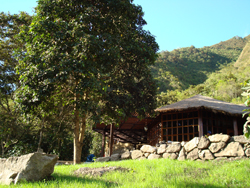 A little information about the lodges during the trekking portion of your trip (days 4, 5, 6, 7 & 8):
All four mountain lodges have been designed and built in accordance with traditional building techniques, Inca architectural & mythological concepts, and respect for the surrounding environment. The Salkantay Lodge has 12 private double, twin or triple rooms with private bathroom facilities, while the other lodges (Wayra, Colpa, Lucma) have 6 private double, twin or triple rooms, all with private facilities. Salkantay, Wayra, and Colpa lodges have an outdoor jacuzzi. Salkantay and Wayra Lodges are equipped with a sauna. Every lodge guarantees an ample supply of hot water for showers; there are no bathtubs in any of the lodges.
Heating ensures the temperature remains a comfortable 68° F (20° C). 
Professional massage services are offered at all lodges at an additional cost. We offer satellite-based communications at all four lodges along the Salkantay Trail to Machu Picchu. (Rural Satellite telephone, and Rural Satellite WIFI Internet).  Due to the satellite-based nature of the system, signal reception may not be guaranteed in cases of continuous or extremely bad weather conditions.
Departures
2021 Departures
# of departures
per month:
March: 17; April: 16
May: 23; June: 15
July: 16; August: 18
September: 18
October: 16
November: 13
December: 12
See Pricing/Trip
Notes for exact dates
Price
2 people/1 room
From $4000 p/p
4 people/2 rooms
From $3900 p/p