Napo Wildlife Center | Trip Itinerary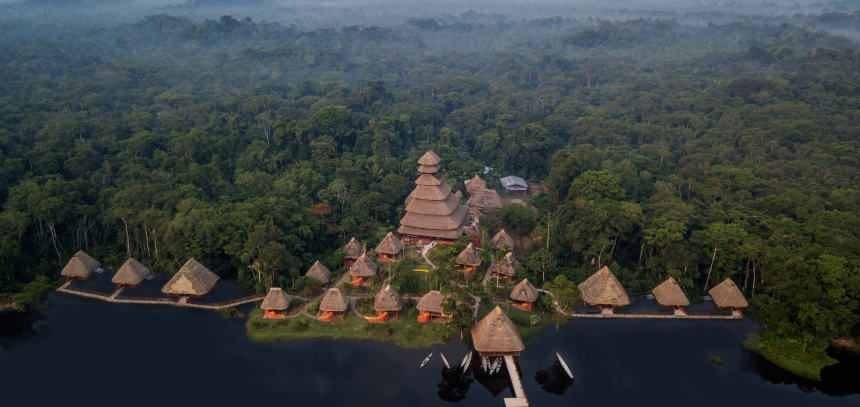 Typical itinerary   |   Activities and possible excursions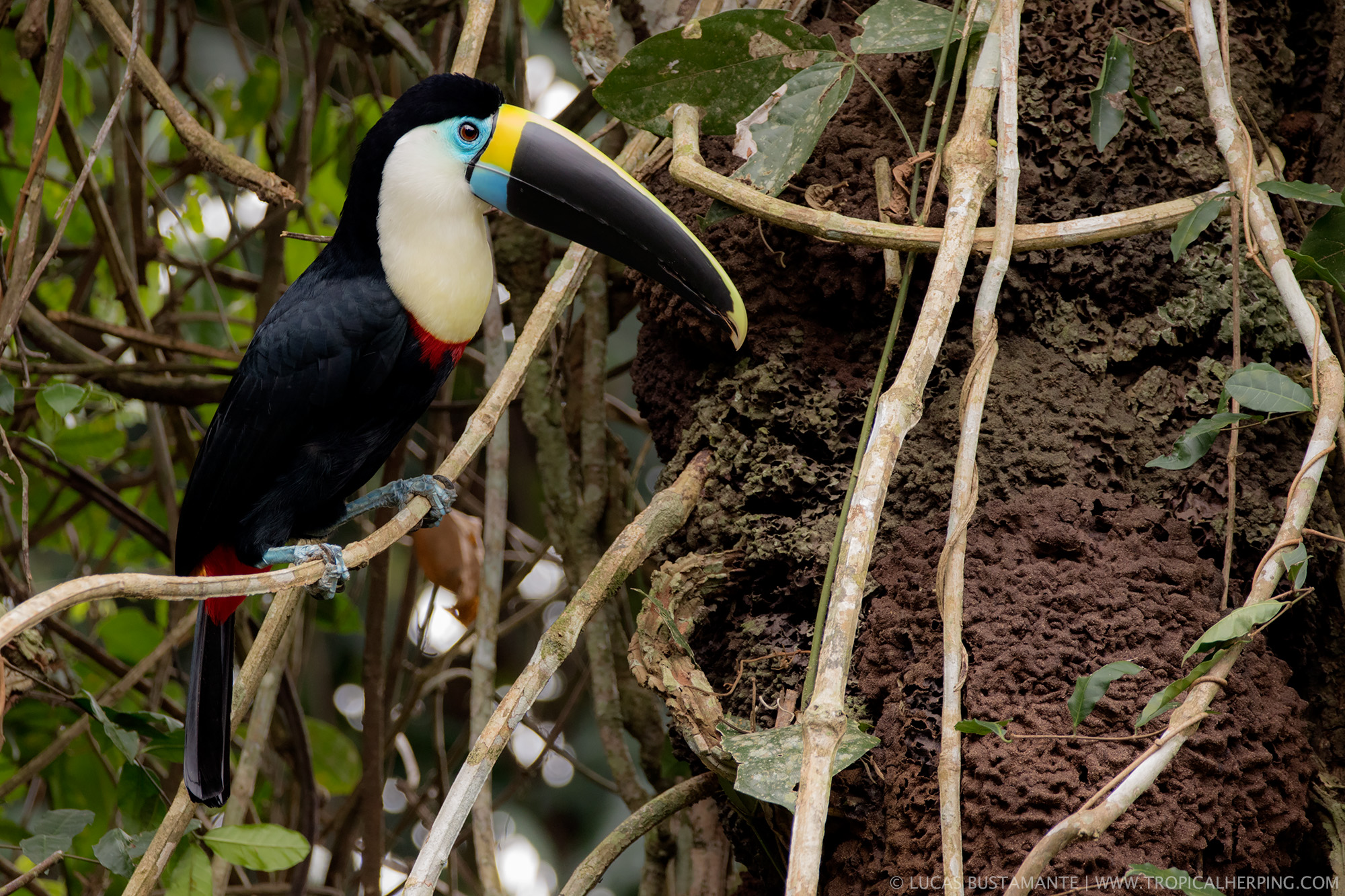 Typical Day:  Visitors will be divided up into small groups, and lead by a native Anangu guide, who is also an official Yasuni Park Ranger, expert on the forest's secrets about medicinal plants and other useful items of the rain forest, and an excellent bilingual naturalist guide with great deal of knowledge in tropical forest biology. Both guides using their unmatchable enthusiasm will create informative enjoyable excursions every day providing an educative fun experience. Groups and guides will tailor their excursions while taking advantage of the highest peaks of activity and weather conditions in the forest. They will schedule their outings before dawn or at sunrise. This will maximize wildlife observation and of course each group will decide with their guides how extreme and intense they take their Amazon excursion, this applies for afternoon excursions and night outings, when an overwhelming concert of natural sounds will flood the atmosphere.
A typical 4 day/3 night program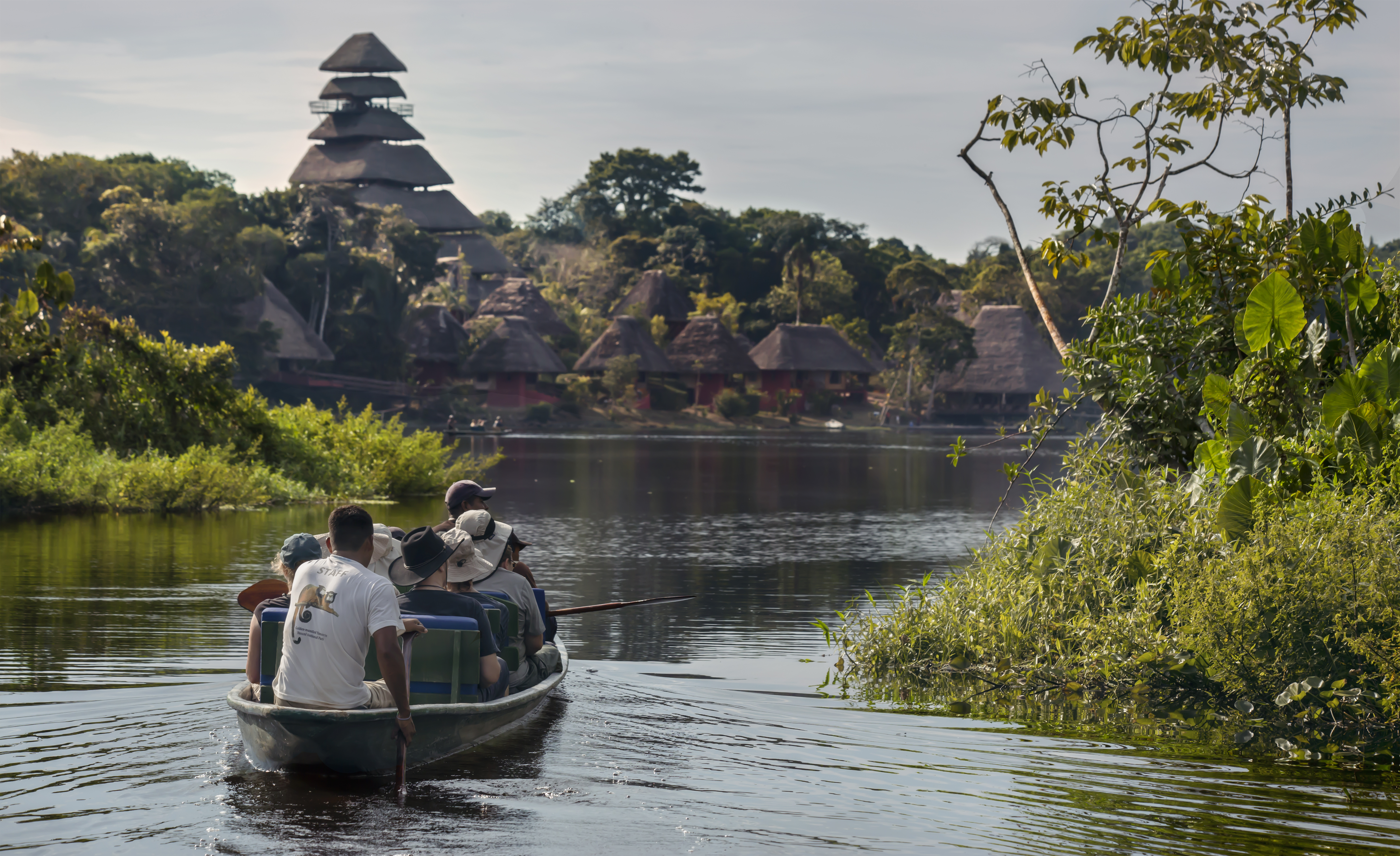 DAY 1--Departing from Quito, a 30 minute flight to Coca will bring you over the eastern Andes mountain range. After landing during the mid-morning, a 5 min transfer will take you to "La Mision" Port, where you will embark on a comfortable covered motor-boat. Here we will ride along the Napo River for about 2 hours while enjoying a box lunch and coffee, which is provided en-route.
Along the way, you may be able to spot birds like herons, kingfishers, and others. After arriving at Napo Wildlife Center's entry dock, we disembark for a short break and to visit the restroom. Next, we take you on a  peaceful 2 hour paddle canoe ride surrounded by trees and wildlife, paddling along a narrow creek that connects to the lake where the lodge is located.
There will be chances to see some species of monkeys as well as large birds like toucans, parrots, or even macaws. A late afternoon arrival to Napo Wildlife Center with an overwhelming view of the Añangu Lake will be accompanied by a welcome drink followed by a briefing from the local manager.  After time to settle in to your selected cabana or suite, you'll enjoy dinner at the lodge followed by an optional cayman (alligator) observation around the lake and natural sounds at night.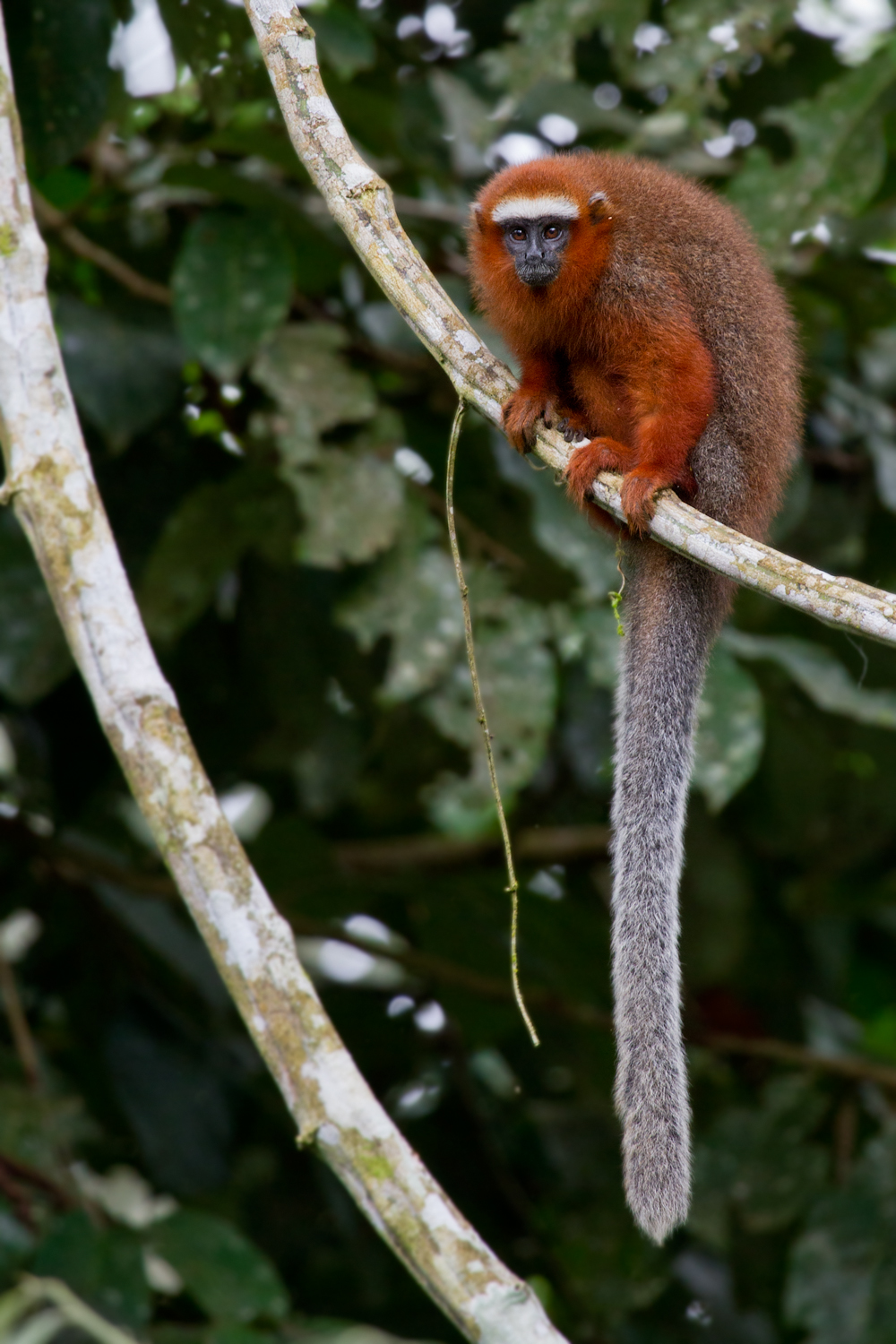 DAY 2--Wake up for an early breakfast and an early start to reach the most accessible parrot clay licks in Ecuador, about 1 hour away from the lodge. Guests reach this destination just before parrot activity kicks off at the clay lick between 7:30 to 8:30am to ensure the best viewing experience. A total of 11 species of parrots, parakeets, and macaws can be seen on a daily basis. Many other animals also visit on a less frequent basis.
Later, hike along a forest trail to visit the Kichwa Community of Añangu and share time with a family on one of their many activities. Enjoy lunch at Napo Cultural Center, where you share with people of the Kichwa community.
Then return to the creek and hike through a Terra Firme Forest for about 30 minutes until we arrive at the second parrot clay lick. If the weather conditions permit, we will be able to find different species of parrots, parakeets, and even macaws.  When you arrive back at the lodge during the late afternoon or early evening, a delicious dinner will be awaiting you.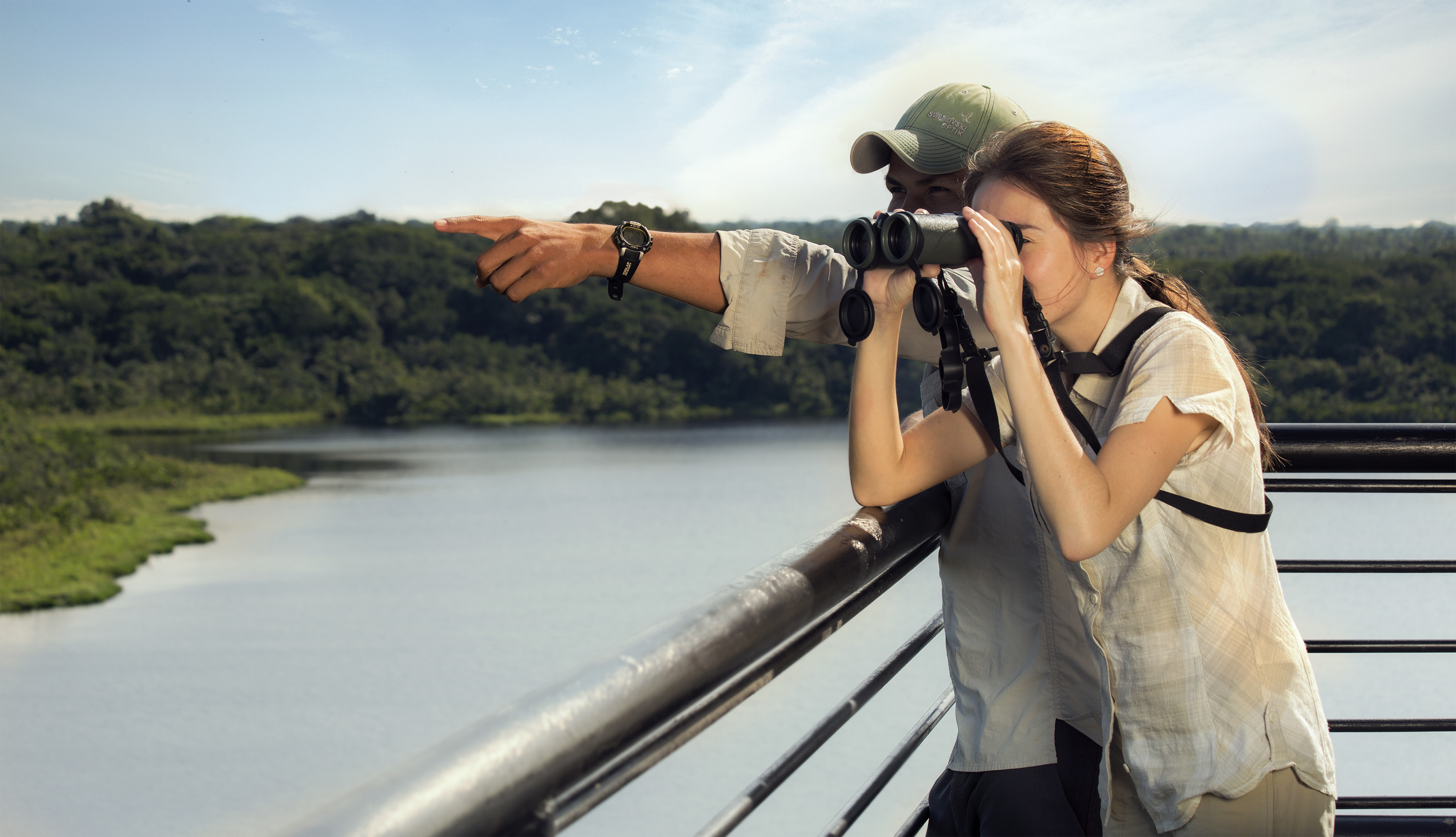 DAY 3--After another early breakfast, we leave the lodge to experience an amazing view of the rainforest from a 36 meter tall canopy tower, a great way to see the hustle and bustle of life above ground-level. This is the second tower at the Napo Wildlife Center, located about 30 minutes from the lodge deep within the Terra Firme forest. As you ascend the 12-floor tower, you pass through different levels of the forest and emerge at the top of a huge Ceiba tree.
Flocks of colorful tanagers pass right through the canopy of the tree. Blue-and-yellow macaws fly past while, in nearby trees, adorable spider monkeys search for fruit. Two species of large toucans call in the early mornings and afternoons, and the life of the forest canopy is laid out before you. Birds that are virtually impossible to see from the forest floor far below are suddenly right beside you, usually oblivious to your presence. The canopy tower opens a whole new world to guests of the Napo Wildlife Center!
Lunch is served at the lodge. Your afternoon can include discovering another Terra Firme trail, where we hike along primary forest to see the forest interior, possibilities of finding lizards, colorful manakins, or the unique and endemic Golden-mantled tamarin monkey. After the hike, explore the lake and creeks in a dugout canoe and enjoy a likely chance meeting with our local Giant otter family on the way.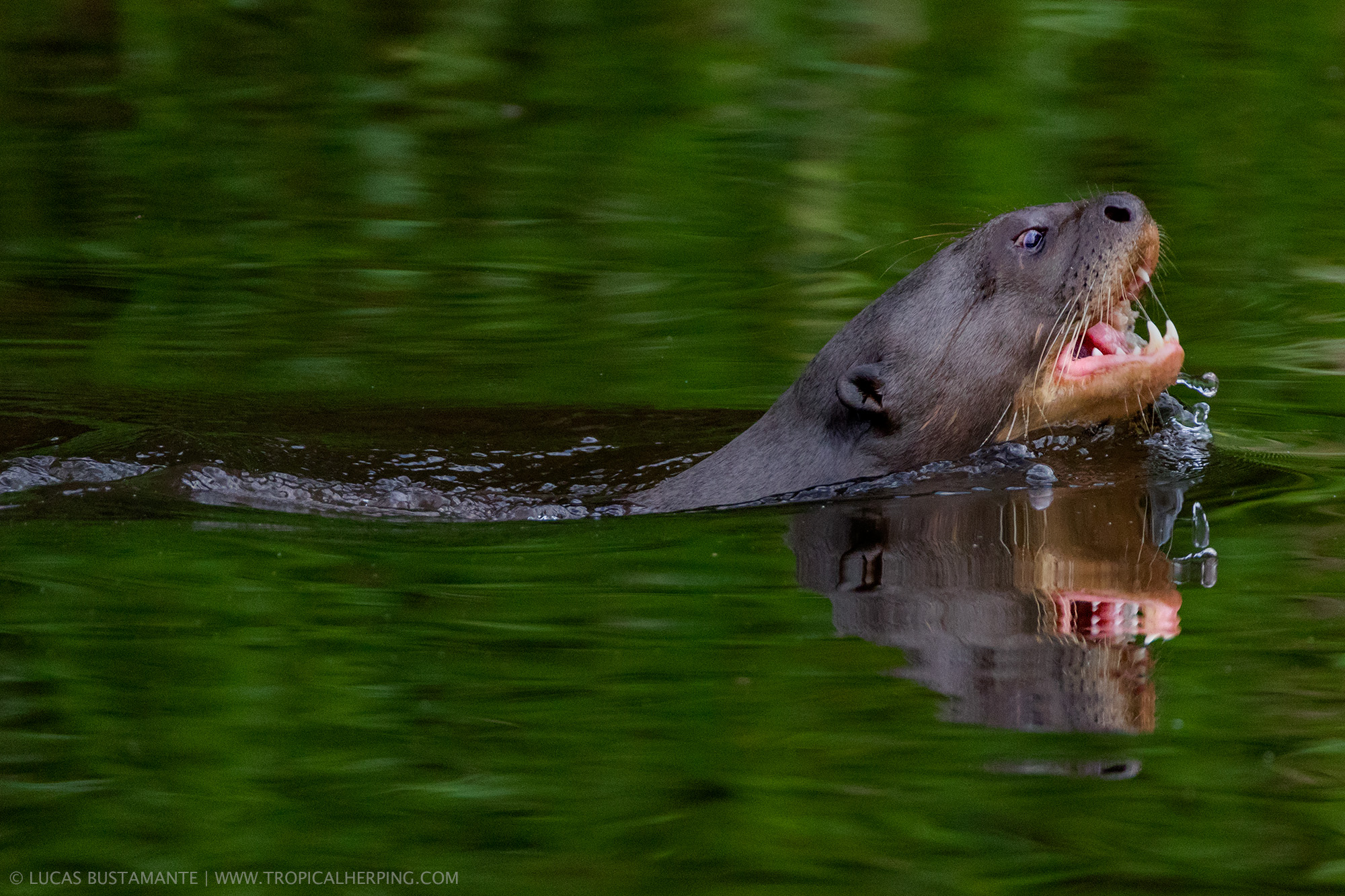 DAY 4--Your last day will entail an early departure and final 2 hour excursion canoeing back to the Napo River. The creek may reveal new sights of giant otters, monk saki monkeys, and rare birds along the way. Once we have reached the river, you will transfer to the motorized canoe to return the way you came. You will arrive in Coca after an approximately 2 hour boat ride in order to check-in for your Coca – Quito flight. Precise schedule to be announced according to departure details and arrangements.
Additional Day(s): Optional excursions such as hikes through different trails and forest types. Canoe rides exploring deeper areas of surrounding creeks with more wildlife possibilities, additional mammal clay lick excursion, handicraft workshop with the local community among other options. A typical added day for a 4night/5 day itinerary may include a hike on the Tiputini trail. Enjoy the mixture of Terra-Firma and swamp forests while searching for more wildlife such as golden-mantled tamarins, white-faced capuchin monkeys, two and three-toed sloths, pigmy squirrels, and maybe even a carnivore's tracks on the forest floor.
We return to the lodge for lunch and a well-deserved rest. In the afternoon, paddle canoes will take you deeper into areas of the surrounding creeks with more possibilities of seeing unique wildlife like the hoatzin. After dinner, we can all discuss and share our experiences of the community and Napo Wildlife Center
PLEASE NOTE: this is a sample itinerary subject to change due to weather conditions, safety and particular interests of guests and groups. Changes and additions are made in order to maximize wildlife viewing and wilderness enjoyment, cultural interaction with local people, and all possible time at the richest rain forest in Ecuador: the Yasuni National Park.
Activities: A brief description of possible excursions:
OUR NWC`S UNIQUE PARROT CLAY LICKS--One of the highlights at NWC is going out on a very early excursion to reach two of Ecuador's most accessible parrot clay licks along the Napo region. These parrot clay licks are exclusive part of  our reserve and lodge territory. 
 
DINING ROOM TOWER--There is a 19 m (60 feet) tall observation tower on top of our 13 m (42 feet) hill. High enough to get great views of the lake and lodge. Nearby the active resident birds can be seen nesting and feeding within the lodge grounds. Did you want to see rare monkeys?, the curious Golden Mantle Tamarins  are often  here for a visit.
 
PROFESSIONAL CANOPY TOWER--Only 35 minutes away from the lodge there is the best and most professional canopy tower ever built in Amazonian Ecuador.   This magnificent building, over 125 feet tall, is standing right next to a giant 155 feet Kapok tree where and ample platform provides great space for over 15 guests and their cameras, spotting scopes, tripods and binoculars gear, or other equipment ready to enjoy the canopy of the rain forest!
 
LAKE & CREEKS--NWC has a large lake with two creeks that can be easily explored quietly while sitting on a dugout canoe paddled by our expert guides and staff eager to spot and show you wildlife. The possibilities are great in finding more troops of other species of monkeys like squirrel, saddle-backed and white fronted capuchin monkeys or those that by natural distribution or best habitat occur only on our South side of the Napo and include: monk saki, spider, woolly and golden mantle tamarin monkeys. NWC is home to a total of 11 species of monkeys.
 
FOREST TRAILS & HIKES--Hikes along a variety of forest types are possible by visiting different trails. One can appreciate the tropical forest richness, discover new plants and colorful or well camouflaged insects. On forest trails, guests can see monkeys, lizards, tortoises, frogs and army ants in addition to an array of birds, including toucans, macaws, parrots, manakins and hummingbirds.
 
BIRDWATCHING--Over 562 species of birds have been recorded at the Napo Wildlife Center, more than 1/3 of all of Ecuador`s birds. A vast and rich bird-life  that can reward the most avid birdwatcher with the unrivalled South Napo specialties. NWC and Anangu are a classic visiting location for someone travelling Ecuador seeking the overwhelming bird diversity.
 
COMMUNITY INVOLVEMENT:  Anangu is not only home to the great NWC lodge, it has been the ancestral territory of a Quichua indigenous community that has the same name. Anangu people are active participants of the conservation and management of a large territory within the park as well as our partners in tourism. We would like to invite you see the community that had a dream and initiative long time ago to handle this vast rain forest territory by establishing their own lodge. You can join some families on their daily activities when harvesting bananas, coco, manioc, a starchy jungle root, staple food for Amazonian people, or maybe helping preparing chicha, a traditional drink based on cooked and fermenting manioc. Try this unique time with the Anangu locals, masters of the tropical forest.
We also offer special interest itineraries for birdwatching, cultural visits and photography. Please consult with our staff for current options and prices.
Departures
Year round
Arrivals and departures possible any day except Sundays
Price
2021:
4 day/3 nt from
$1332 p/p
5 day/4 nt from
$1632 p/p
Special programs and longer stays available on request
Travel Style
group trip offered as a component to a complete itinerary