Trekking Torres del Paine | Trip Itinerary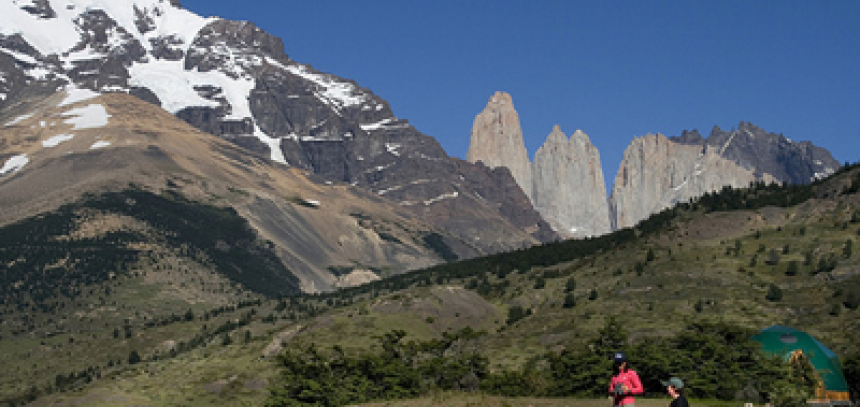 For a map of the route for our Trekking Torres del Paine click here.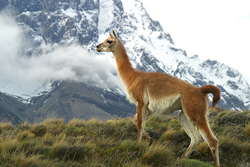 Day 1:  Arrival in Santiago. After clearing customs and immigration proceed outside the airport where our local representative will be waiting to transfer you to the Hotel  Orly, Torremayor, Carmerer, Solace or similar, located in the Providencia  or Las Condes districts of Santiago.  .  Remainder of the day to rest and explore Santiago. Optional tours available on request such as cultural city tours, bike tours, museum visits, etc.
Day 2:  Travel to Torres del Paine National Park Breakfast is included at your hotel.   You will be picked up at the prearranged time for your transfer (unguided) to the airport for your flights to Punta Arenas(flights are NOT included in the trip costs-our office will arrange and quote these based on your specific schedule), which need to be scheduled to arrive before 12:30 PM, which is the last pick-up time.  Transfer (345km/216 miles/ 5 hrs) to Camp Las Torres in Torres del Paine National Park. From Punta Arenas we drive to Cascada EcoCamp located in world famous Torres del Paine National Park. During summer the sun sets around 11 pm, so as you drive in you'll have plenty of light to admire the Patagonian steppe with its guanaco and snow-peaked mountain horizon. Before arriving though, there are a couple stops. One is at Puerto Natales, a small but lively town on the shores of Seno Ultima Esperanza - "Last Hope Sound". You are invited to check out the town, leave any luggage you will not need for the trek in our office, and finally enjoy a hearty lunch with delicious local food. This scenic journey ends with our arrival at EcoCamp Patagonia, nestled in the heart of Torres del Paine National Park with a prime view of the majestic Paine Towers.
Punta Arenas to Puerto Natales: 254 km / 158 miles / 3 hrs driving.
From Natales to Torres del Paine C. Torres: 147 km / 91 miles / 2.5 hrs driving.
(B, L, D)
Day 3:  Paso Los Cuernos.  We start our adventure in the Park with a pleasant walk through the curly Cuernos trail located beside beautiful Lake Nordenskjold. During this 'appetizer walk' we take in the park's charming flora and fauna, its strong wind and the curious 4-seasons weather that will accompany us for the next days. As we advance through the trail we enjoy magnificent views of the park's central lakes and the Paine's Horns which are majestic black horn-like peaks of slate atop gray granite which crown the center of the Massif. We will of course stop to get some great first shots of the park and also enjoy a delicious box lunch to energize us for the rest of the walk. The trek ends at Refugio Los Cuernos, a small and cozy mountain refuge located by the shores of Lake Nordenskjold. Alternatively the trek ends at Domo el Francés, located between Cuernos and Italiano camping sites, with an amazing view of Nordenskjöld lake. The evening is free for relaxing and enjoying dinner.
Approximate walking time: 6 to 7 hrs.
Distance: 16 km / 10 miles
(B, L, D)
Day 4:  French Valley - Valle del Frances-The Heart of Torres del Paine.  After breakfast at Refugio Los Cuernos, we will begin the challenging trek to Valle Frances (French Valley), along a steep trail that leads to the very heart of the Paine Massif. How far in we go depends on our group's trekking rhythm. A swifter walk will lead us to the hanging bridge over the French River, located at the foot of the south east face of the Massif, where we will be treated to fantastic views of the valley. We will then continue to ascend towards the upper section of the valley where we will be able to marvel at the extensive mass of the valley's geological formations: Hoja (Blade), Máscara (Mask), Espada (Sword), Catedral (Cathedral), Aleta de Tiburón (Shark's Fin) and the magnificent Fortaleza (Fortress). After our upward trek, we will pause for a picnic and relax a while. This day's trek will end as we descend through an undulating terrain of mixed grassland and light forest which will take us to Refugio Paine Grande.
N.B. An optional trek to Mirador Britanico is also available.
Approximate walking time: 8 hrs.
Distance: 25 km / 15 miles
(B, L, D)
Day 5:  Grey Glacier.  This day will see us hike from Paine Grande Refugio along the shores of Lake Pehoe to the northern side of the glacially beautiful Lake Grey. We will feast on a picnic lunch before boarding the boat that sails right to the huge, crystalline facade of Glacier Grey, where we will have plenty of time to marvel at the calving glacier.  From the southern end of Glacier Grey we will transfer to EcoCamp.Due to the temperamental weather of the region, boat trips across the lake may occasionally be restricted during the months of October and April or cancelled if the required minimum of 10 passengers is not reached. If either is the case, we will trek up to the sightseeing point and profit from wonderful, panoramic views of the Glacier instead. Then we will return on foot to Paine Grande and take a catamaran to Pudeto's dock, where we will be picked up and driven to EcoCamp.
Approximate walking time 4 hours
Distance: 14 km / 9 miles
Navigation time: 40 minutes
(B,L, D)
Day 6:  In Paine National Park (Valle Asencio).  Today's goal of our 7-day Trek will be to complete the most famous trekking trail in Torres del Paine National Park! We will walk from the campsite towards Hostería Las Torres before ascending to Ascencio Valley on the Tower's eastern face. Mountain ridges, beech forests and small rivers line the scenic walk towards the valley. Our big challenge comes in the form of the steep moraine, a huge mass of boulders which will lead us to that iconic  base-view of the Towers - Three gigantic granite monoliths, the remains of a great cirque sheared away by the forces of glacial ice. After a tough uphill climb, the Towers eventually come into full view, rising majestically before us, with the glacial lake visible below. Is there any better place in the world to have lunch? After feasting on the view and our picnic, we backtrack along the same trail through Ascencio Valley and return to EcoCamp for a well-deserved dinner.
Approximate walking time: 9 to 10 hrs round trip.
Distance: 21 km /13 miles round trip.
(B,L,D)
Day 7: Laguna Azul.  Today will consist of a less strenuous trail in order to counter the exhausting efforts of the previous day. After breakfast, we will take a leisurely car journey towards Laguna Azul,  passing Cañadón Macho, home to many wild guanacos and ñandúes, en route. We will pause occasionally to admire the views of the Patagonian steppe and the towers from a different perspetive. At Laguna Azul, we will hike to the lookout point where we will be treated to a gorgeous view of both the lagoon and granite towers. After lunch, we will drive to the northern shore of Sarmiento Lake where the Fauna Trail begins. As we hike northbound, we will spot an impressive range of Patagonian fauna on the vast plains, including: guanacos, ostrich-like ñandús and maybe the occasional puma print! We will pass the charming Goic lagoon and after approximately 5km of relaxed walking, we will reach the Laguna Amarga ranger station where we will be picked up and driven back to Ecocamp to celebrate over our farewell dinner.
*Please note that if there are more than 6 travellers in the group there's an option to split into two groups, with one group (or the whole group if everybody's in the mood!) cycling to Laguna Azul!
Approximate walking time in the different trails: 3 hours
Distance: 6 km / 4 miles (depending on weather conditions)
(B, L, D)
Day 8:  Travel to Punta Arenas.  Early in the morning board the vehicle back to Punta Arenas in time to catch the evening flight back to Santiago. (flights should be scheduled for departure approximately 5:00- 6:00 PM).  After you collect your luggage, you will need to exit the airport, where our local driver will be waiting to transfer you to your Santiago hotel for a one night stay. 
From Torres del Paine to Puerto Natales: 147 km / 91 miles / 2.5 hrs driving.
From Puerto Natales to Punta Arenas: 254 km / 158 miles / 3 hrs driving.
Note:  if you prefer to continue your travels into Argentina, we can alternately provide transfer from Eco Camp in Las Torres to El Calafate, Argentina. 
(B)
Day 9:  Free day in Santiago. Optional city sightseeing can be arranged for you, or you can explore the city on your own.  You will be picked up at your hotel at a pre-arranged time for your transfer (unguided) to the airport for your departure flights. (B)
B=Breakfast; L=Lunch; D=Dinner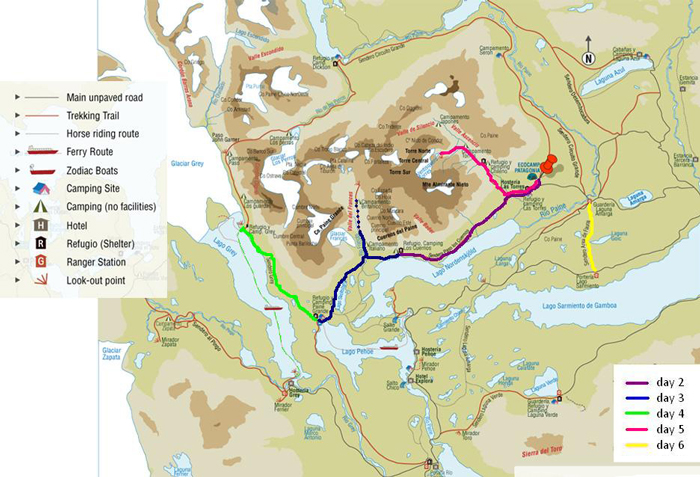 Departures
2021 Departures
Every Sunday
October thru December
Every Sunday
Jan thru April
Price
Low season
$2505 p/p
Shoulder season
$2800 p/p
High season
$3600 p/p
Peak
$3755 p/p