Trekking Torres del Paine | Trip Accommodations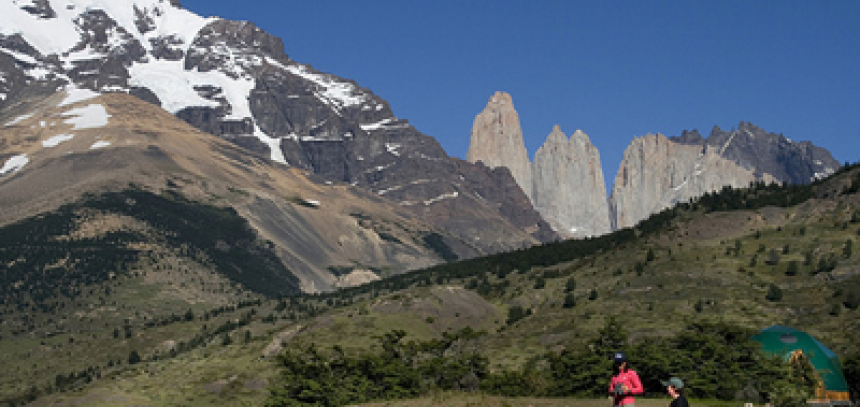 Day/Location
Lodging
Day 1 & 8/Santiago
Hotel Torremayor, Oporto,
Altiplanico Bellas Artes, Meridiano Sur
Day 2/Torres del Paine
Eco Camp Patagonia
Day 3/Torres del Paine
Refugio Cuernos or Domo el Francés
Day 4/Torres del Paine
Refugio Paine Grande
Day 5, 6 & 7/Torres del Paine
Eco Camp Patagonia
Patagonia EcoCamp design was inspired on the traditional Kawesqar hut resembling and igloo and a dome at the same time. The instinctive engineering ability of the Kawesqar can be easily understood these days. The semi-hemispherical structure of the EcoCamp domes is formed by a number of isosceles triangles that provides uniform distribution of the stress caused by severe wind loads.  At the Camp you'll find our Standard Domes, Superior Domes, Suite Domes, and Core Domes.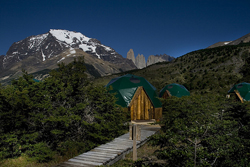 Standard Domes  have vitrified wooden floors and are 2m/6.5ft high with a diameter of 4m/12ft, allowing plenty of space for sleeping comfortably. They are resistant to the strongest Patagonian winds, rains, and snow and come equipped with two single beds, fleece sheets, blankets, and feather quilts. There are round windows in the ceiling to observe the stars of Patagonia before falling asleep.
We offer comfortable and well illuminated shared toilettes, divided for male and female. Both have showers with hot water, w.c., hand wash, special furniture and warm details that will make you feel at home. Each shower is located inside a closed space where the person can dry himself off and put on clothes with privacy.
In EcoCamp we provide towels for our guests on their arrival. For sustainable purposes you will keep the same towel and blankets during your stay. Additionally since our toilettes facilities are powered with solar panels generators, there is no electric capacity to plug devices such as hair dryers, electric shavers, etc.
These are the domes used for all our group tours, with optional upgrades possible to the superior/Suite domes for an additional fee.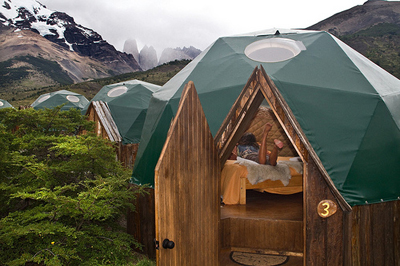 Eco Camp Standard Dome-Entry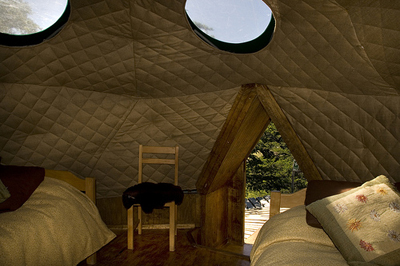 EcoCamp Standard Dome Interior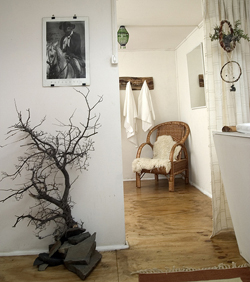 EcoCamp-Shared baths for standard domes
Superior Domes measure 23sq meters/25 sq feet. They are spacious, comfortable and equipped with private bathrooms, Superior Domes are the optimum choice for trekkers wanting that bit more space and comfort at the end of a long day's walk. Guests can fall asleep looking up at the star-lit sky from their cozy bed and wonder at nature's immensity as they hear the wind hurtling outside. Each Superior Dome has comfortable queen-size or twin beds, a propane heater and a private bathroom with a sophisticated composting toilet.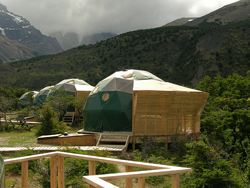 Suite Domes are comfortable 28mt2/ 300 ft2 tented igloo-type double domes built the same way as the ancient native Kaweska's dwellings. Its structure produces minimal environmental impact while providing an efficient thermal and wind resistant unit, with great exposure to nature in the most magnificent Patagonian setting.
Each dome has a private bathroom, comfortable double or twin beds, and it is heated by a modern low-emission wood stove. In addition, every dome has its own composting device to process waste. Electricity is generated with a micro hydro turbine and solar panels.
EcoCamp's Suite domes are located in a Lenga (beech) forest next to the existing standard domes but allowing enough distance so as to create a separate and independent atmosphere with more refinement and comfort. The domes are set up with enough space between them to provide adequate intimacy and introspection.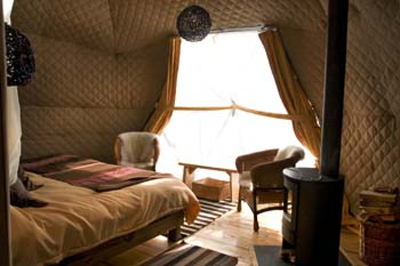 EcoCamp-Superior Suite Domes Interior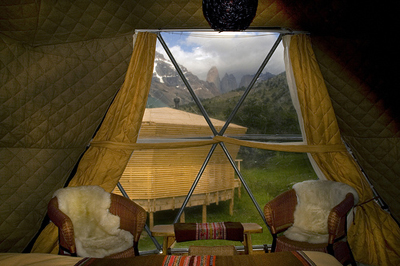 EcoCamp Suite and view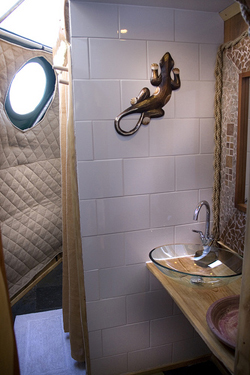 EcoCamp Suite Private Bathroom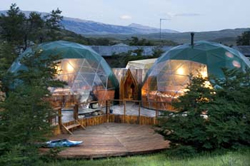 There are three Core Domes all connected with dormitory domes by raised wooden walkways. Dining takes place at two connected Giant Domes, 9m/ 30ft in diameter and 4.5m/13.5ft tall. The space inside is bright and airy with large windows offering a panoramic view of the Paine granite towers. Each of the Core Domes has a low-emission wood stove. There is a bar, three different resting areas, and a small shop.
A separate Resting Dome of 6 m/19.5 ft in diameter contains a small library where guests can sit, chat, read, and relax.
This dome is the meeting place for organized groups where EcoCamp guides can show guests the different trekking routes and wildlife watching spots.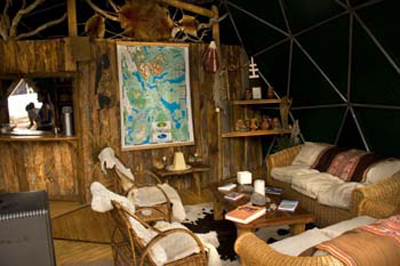 EcoCamp Lounge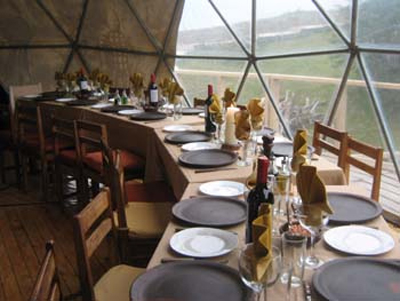 EcoCamp Dining Room
Here is a short description of the meals we serve:
Breakfast:  All that you will find at home: fruits, whole grain and white bread toast, cheese, scrambled eggs, butter, peanut butter, jam, cereals, granola, yoghurt, milk, juice, honey, ham, coffee, tea, herb teas, and much more.
Box Lunch:  We call it a "buffet box lunch"  It is prepared after breakfast by each client before starting the excursion- they will find a pretty big table full of tasty elements to prepare a great sandwich: whole grain and white bread, cheeses, tuna, chicken, turkey ham, beef, salami, sauces, variety of vegetables, hard boiled eggs, and more; additionally they will also find chocolate and granola bars, nuts and fruits.
Lunch or Dinner:  It starts with a cocktail consisting of our famous pisco sour and different small appetizers. Then the meal starts with a local soup and is followed by a piece of white or red meat with rice, potatoes or vegetables, everything accompanied by good Chilean wine - we provide a bottle per each 3 persons. Finally a cup of coffee or herb teas with a delicious dessert will crown the meal. The meals often vary to make client experience different flavors and local preparations. We also serve vegetarian and gluten-free meals if indicated with anticipation when booking.
Guests can also buy: juices, sodas, beers, wines and alcoholic drinks.
Departures
2021 Departures
Every Sunday
October thru December
Every Sunday
Jan thru April
Price
Low season
$2505 p/p
Shoulder season
$2800 p/p
High season
$3600 p/p
Peak
$3755 p/p