Colombia's Colonial Gems | Trip Itinerary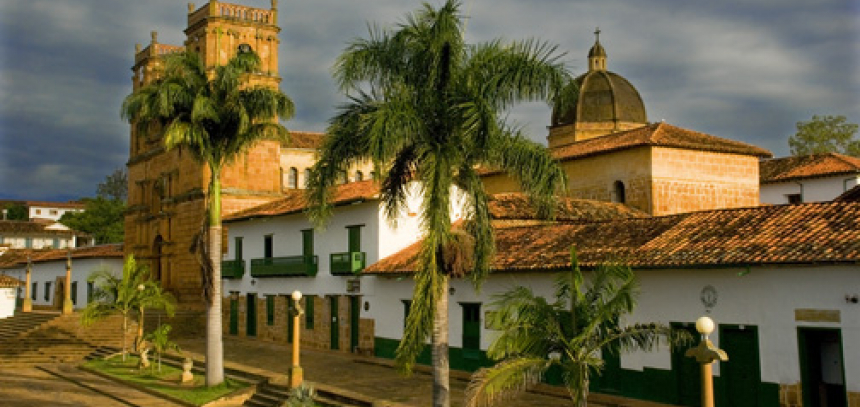 Note:  This tour is a suggested, customized itinerary that is very flexible. We can make changes in hotels, excursions and destinations to suit your travel dates, style and budget.
Day 1: Arrival in Bogotá. After clearing customs and immigration, you are met by our local representative and transferred to your select hotel.
Bogotá is the capital of the Republic of Colombia. The city is located on the high plateau called 'Sabana de Bogota', at an altitude of 2640 meters (8600 feet) above sea level, surrounded by the eastern range of the Andes. It was founded in 1538 by the Spaniard Gonzalo Jimenez de Quesada. Since that time and mostly since the end of World War II, Bogotá has grown rapidly to a real metropolis. The actual population of the city is about 7 million inhabitants. Because of the fast growing development of Bogotá, you will see many contrasts, such as skyscrapers standing side by side with old houses of one level or high-powered automobiles sharing a modern expressway with mule carts.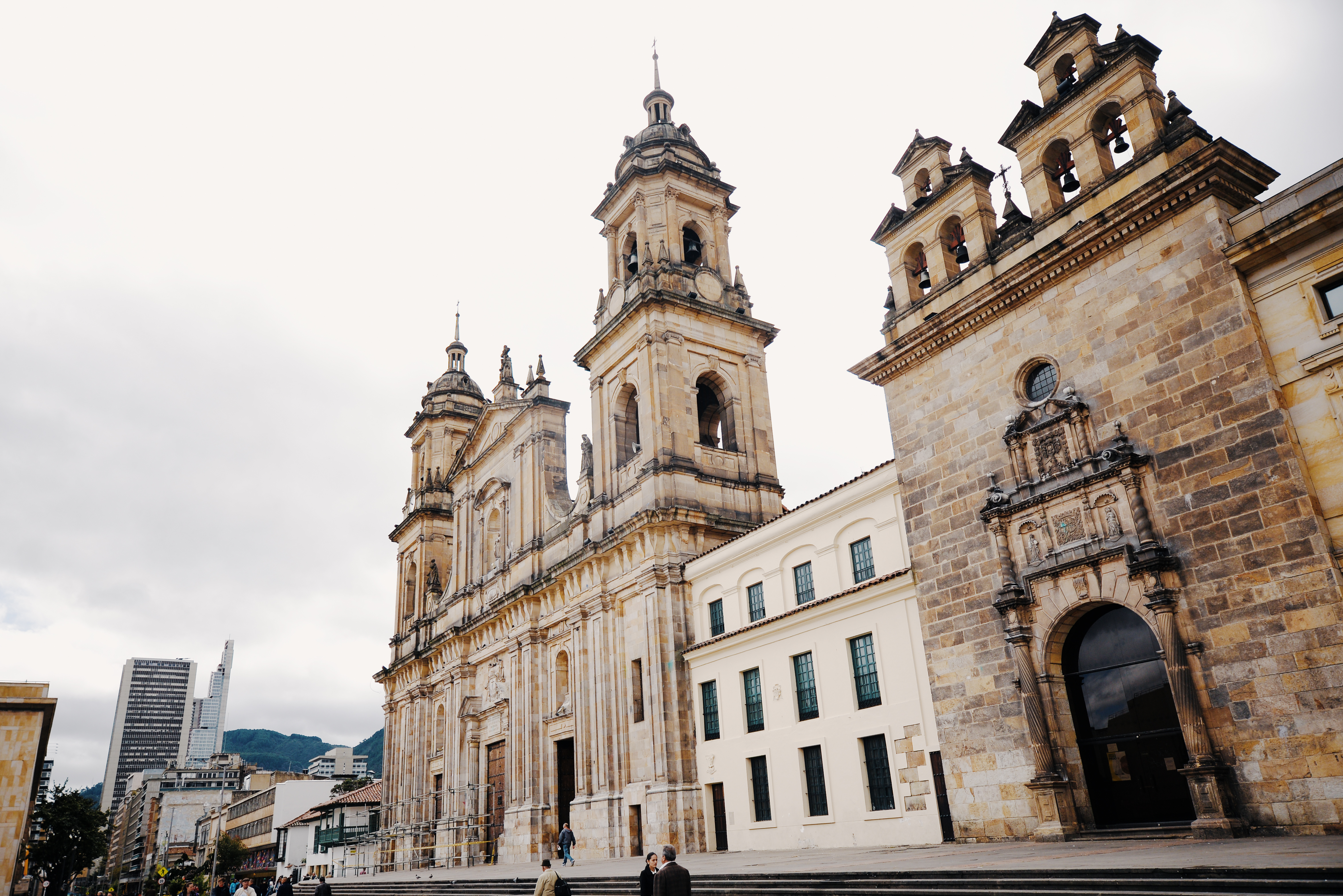 Day 2: Full Day BOGOTA CITY TOUR, including Paloquemao market, Monserrate viewpoint and monastery, La Candelaria Historical district, the Botero Museum and Gold Museum.
Meet your private guide at your hotel for the drive into the historical center of Bogota. Your first stop will be the Paloquemao market. The second largest market in the city and one of the most important retailers in the country, Paloquemao offers a great insight into the life and customs of Bogotanos. Walk through the market with your guide to explore the labyrinth of stands offering a large variety of fruit, vegetables, dairy products, meats and an abundance of flowers.
A short drive from the market takes you to the base of the hill that leads up to the view point and monastery of Monserrate. Ascend to the summit by either funicular railway or cable car. From the highest point the view across the city will enable you to see the different sectors of Bogota--from La Candelaria and its terracotta tiled roofs to the high-rise business sector and across the sabana (flat plains) and off in to the distance. The new convent is a pilgrimage site for many Colombians whom make their way past the fourteen Stations of the Cross until reaching the convent. There are a few artisan shops, with others selling snacks and refreshments.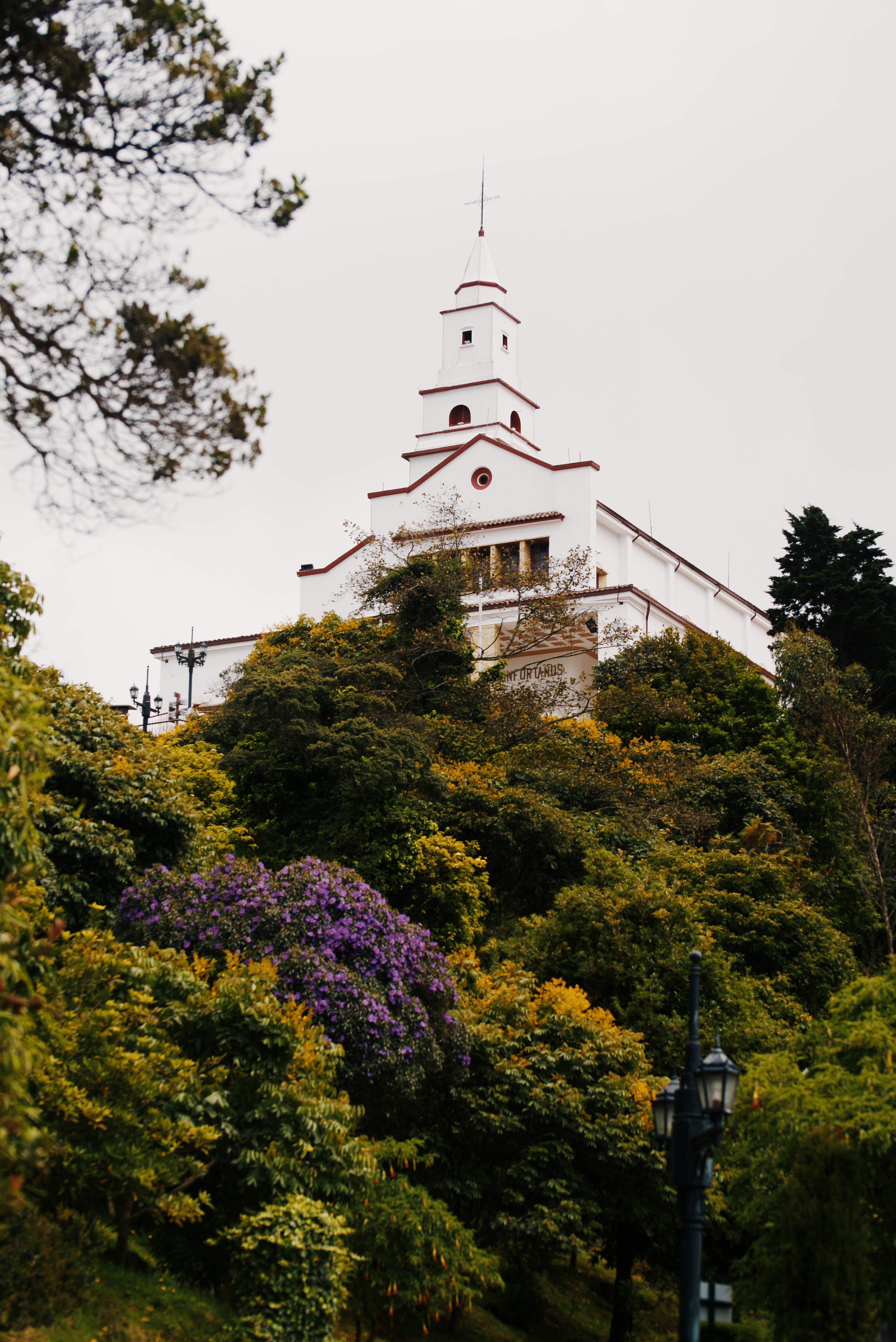 After your visit to Monserrate you'll have some free time for lunch on your own in the historical Candelaria district.  Afterwards continue with your walking tour through the historical heart and soul of the city,  with the Plaza Bolivar (Main Square) as the focal point. Surrounding the square are several important Colonial and Republican style buildings. As you wander the streets of La Candelaria away from the main square, enjoy the unique and diverse architecture as your guide explains the history of Bogota along with the intricacies of current Colombian culture and daily life. After a refreshment stop in one of the city's coffee houses, your tour continues with visits to two of the most important museums of the city.
The Botero Museum is a permanent exhibition of paintings and sculptor by Fernando Botero, Colombia's most famous artist whose "oversized" art is instantly recognizable. In addition, you'll find pieces of Botero's private art collection featuring world famous artists such as Picasso, Dali, Monet and Van Gogh.
Next stop will be the nearby Gold Museum. This museum displays one of the finest collections of Pre-Hispanic gold in the world. Many of the works are said to be unsurpassed by goldsmiths of today and it's easy to understand when you allow yourself time to study examples such as the Balsa Muisca (Offering boat). This golden raft is one of the focal points of the display and was the driving force in the Spaniards quest to find El Dorado. After this visit you'll be transferred back to your hotel, with the remainder of the afternoon & evening to enjoy Bogota on your own. (B)
NOTE: The Gold Museum is closed on Mondays and the Botero Museum is closed on Tuesdays. Order of visits this day may change due to weather, operational schedules, etc.
Day 4: BOGOTÁ-Free Day--We suggest this day be a Sunday so you can do some fun exploring on your own (or consider optional tours in & around the city). The Usaquen is a fun neighborhood to visit with its lively flea market, many restaurants and pubs and its colonial/Andean village feel. Bicycle rentals are also popular as many streets are blocked off all over Bogota on Sundays for its weekly "Ciclovia".  Graffiti Art tour, Botanical gardens, and/or hiking in the nearby areas are also great options. (B)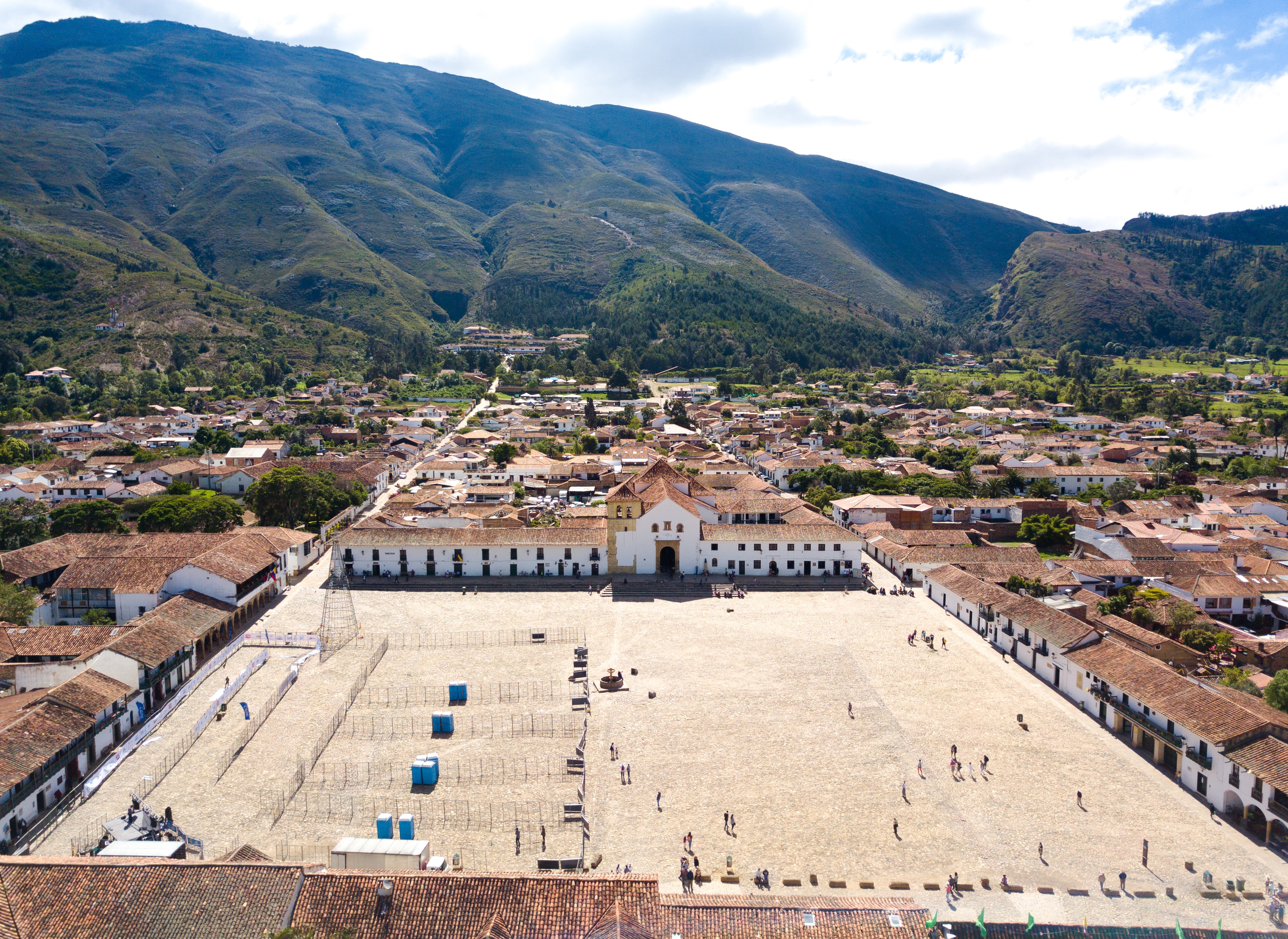 Day 4: BOGOTÁ – ZIPAQUIRA SALT CATHEDRAL--VILLA DE LEYVA .
After an early breakfast, depart Bogota with your private guide for tour north to the charming town of Villa de Leyva.  Your tour begins with a stop at one of the marvels of Colombia, the Salt Cathedral of Zipaquirá  For some this is a religious monument, others a celebration of engineering or maybe even an artistic masterpiece. 
The subtle lighting pronounces the fourteen Stations of the Cross as you descend in to the mine, each station sculpted by a different artist. At the deepest point of the cathedral, almost 600' below the earth's surface, you encounter the nave and the north and south aisles dominated by the 52' high central cross. The illumination and execution of the work is a tribute to modern techniques and years of work from the miners and artists. Your guide will explain all about the cathedral's construction and how it and the mine still function in harmony. Around the central square of the town of Zipaquirá the colonial buildings still hold their charm footed by brickwork paving and overlooked by the Cathedral Diocesana de San Antonio. Lunch is included in the nearby town before continuing your drive north to Villa de Leyva taking in magnificent mountain scenery as you make a short stop at Puente de Boyacá. This is where Simon Bolivar defeated the Spanish forces and assured the Independence of Colombia in 1819.
After this visit a secondary road winds its way to Samacá with stunning landscapes and beautiful views which is on route to Villa de Leyva. check-in to your select hotel for a 3-night stay. (B, L)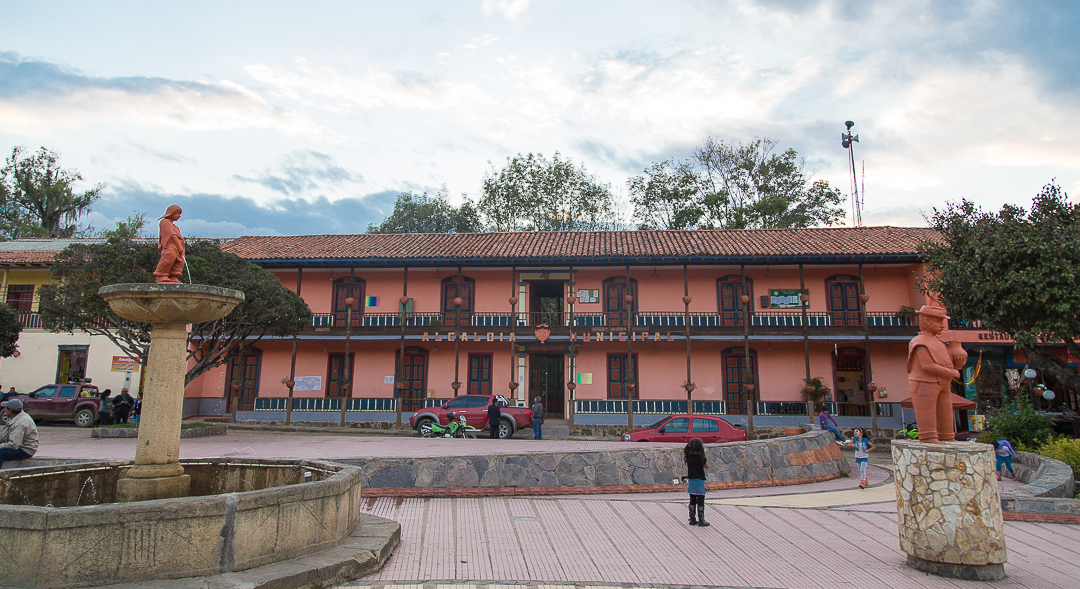 Day 5: VILLA DE LEYVA This morning is dedicated to a half day walking tour of this charming colonial town. Visits include the Antonio Nariño Museum, "Nuestra Senora del Rosario" and the "Carmen" Churches, Villa de Leyva Plaza, Antonio Ricaute Park and streets featuring artisan craft shops. After your tour you have free time for lunch and to explore on your own this afternoon. (B)
Day 6:  SAN AGUSTIN CONVENT – ECCE HOMO – EL FOSIL MUSEUM & RÁQUIRA
Today you'll meet your private guide to venture outside of Villa de Leyva to explore the highlights of the surrounding countryside. Stops include the San Agustin Convent and El Fósil Museum where an impressive complete 120 million year old Kronosaurus queenslandicus fossil is on exhibition. The tour continues to Ecce Homo Monastery located in the desert area of La Candelaria. Your final stop is to the nearby town of Ráquira, famous for its pottery and colony of artisans.(B, L)
DAY 7:   VILLA DE LEYVA – BARICHARA – WALKING TOUR
After breakfast depart for your transfer directly to Barichara--called the "prettiest village in Colombia". (Transfer takes 4.5 hours with Spanish speaking driver). On arrival you will check-in to your select hotel for a 2-night stay. (or a 3-night stay if you selected the option to upgrade to the luxury style Casa Yahri--which comes with full board and daily half day included tours--please consult us for a list of their cultural, cooking & wellness and hiking & adventure activities.  Casa Yahri is a great alternative if you'd like to tack on a little "down time" to your travels--and can be upgraded from any of our hotel categories).   This afternoon meet your local guide for a walking tour of this picturesque town. (B)
DAY 8:  GUANE HIKE ON THE CAMINO REAL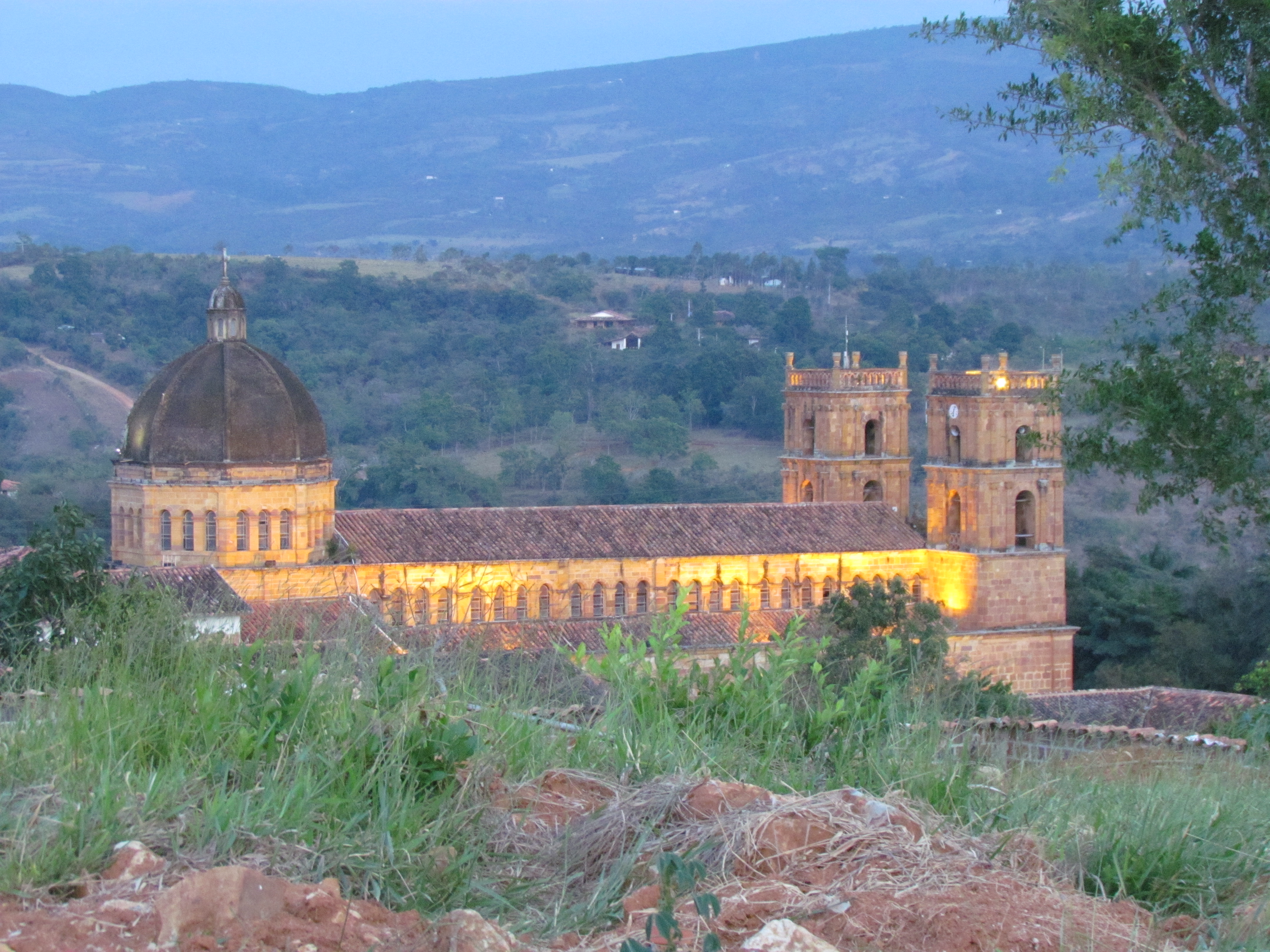 Breakfast and morning  departure for the mostly down-hill hike to the village of Guane.  The trail is approximately 8 km (5 mi) along a stone path constructed in 1840.  Enjoy spectacular views on the approximately 2 hour hike, and a short tour around  Guane.
Time for coffee and snacks in Guane (on your own) before taking a "tuk tuk" ride back up the hill to Barichara. **For those that prefer to skip the hiking, we can arrange for transportation both directions and a visit around the town & to their small archaeology/paleontology museum.
Uphill return to Barichara where you have the remainder of the day free to explore the treasures of this charming town--enjoy not only its colonial architecture but also the many artisan workshops where quality local products and handicrafts are manufactured, such as intricate interlaced sisal bags and paper; a small cigar factory which stands up to Cuban quality and a lamp and furniture factory that uses un-endangered wood from local forests. (B)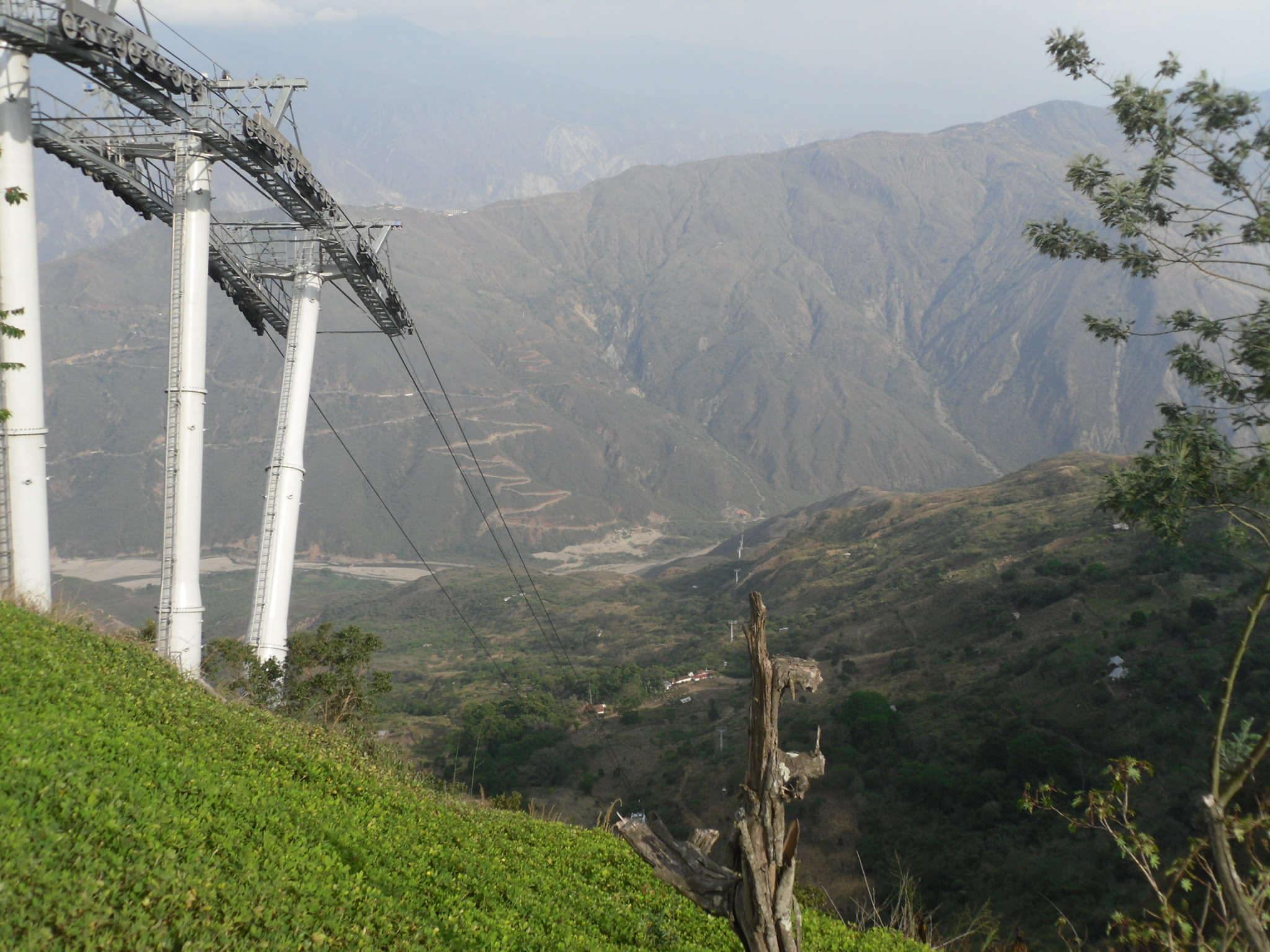 DAY 9:  CHICAMOCHA CANYON - BUCARAMANGA
After breakfast meet your driver for your transfer to the Bucaramanga Airport through the spectacular Chicamocha Canyon. along the way enjoy breath-taking 360 degree views of this magnificent countryside. The vegetation varies from subtropical plants to desert. (Approximately 3.5 hrs including scenic stops en-route). Exact departure time depends on  your flight schedule.
Optionally we can add a guide with this transfer and include a stop at Chicamocha National Park for an incredible ride on their famous Cable car--one of the longest of its kind at 4 miles long--followed by lunch along the canyon rim.  Continue with your scenic drive in to Bucaramanga in time for your departing flight to your next destination We suggest an extension to Cartagena, Medellin, or the coffee region to enhance your Colombia experience. (B)
B=Breakfast; L=Lunch; D=Dinner
Departures
2022 Departures
Itinerary and pricing designed for Friday arrival to take advantage of Bogota's discounted weekend hotel prices and to enjoy a free Sunday in Bogota.
Price
Moderate Hotels:
From $1495 p/p
First Class Hotels:
From $1595 p/p
Deluxe Hotels:
From $1740 p/p
Travel Style
recommended custom itinerary