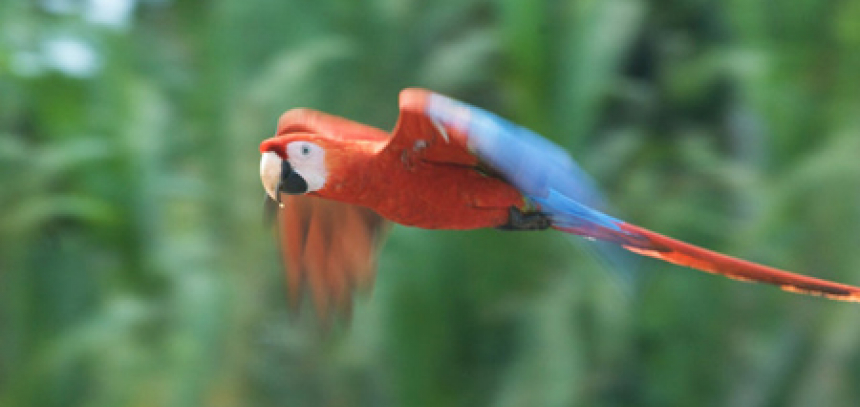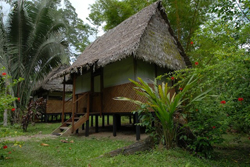 Manu Wildlife Center is located east of the Manu River on the north bank of the Madre de Dios River, deep in the Amazon basin of Peru.   The Lodge contains 22 double-occupancy fully screened bungalows with private bath (and hot shower), a large fully screened dining room, and a bar with hammocks for relaxing. Comprehensive 4 and 5 day programs offer the Amazon's finest short, in-depth wildlife safari.
Our Manu itineraries allow us to witness wildlife spectacles that are rare or nonexistent in other locations. Within the highly protected Manu National Park, abundant wildlife that is seldom seen elsewhere – ranging from Jaguars, large caimans and Giant Otters to Red Howler Monkeys – are frequently seen at close range along the riverbanks and in the area's the oxbow lakes.
No other lodge in Manu offers all the major wildlife attractions in one spot:
The world's largest tapir lick.
The most photogenic large macaw lick.
Miles of monkey-rich trails through mature rain forest.
Two 120-foot-tall (35-m) canopy platforms.
Two mature lakes complete with Hoatzins and Giant Otters.
Special interest itineraries for birdwatching, photography, students, etc are available on request
Departures
2021 departures
Mondays and Thursdays
Price:
4 day/3 night
$1895 p/p
5 day/4 night
$2250 p/p
Travel Style:
group trip offered as a component to a complete itinerary