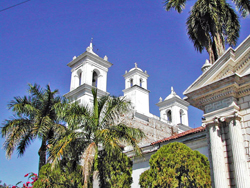 Beginning with a 2-night stay in the capital city of San Salvador, you will still be able to see a great sampling of the beautiful scenery and historical sites that make up this interesting country. The next six nights are spent out of the city, exploring El Salvador's history, archaeolgy, natural beauty and handicraft regions.
One of El Salvador most famous sites is the Mayan archaeological complex of Joya de Cerén, which has also been called the Pompeii of the Americas. Due to a large volcanic ash fall 1300 years ago, you will have a unique glimpse into the daily life of the Mayan people. Next is a full day exploring all the colonial and artistic charm of El Salvador's "Ruta de las Flores".  You'll also spend a day exploring the stunning volcanoes of Izalco, Cerro Verde and Ilamatepec and the beautuiful volcanic Lake Coatepeque.
Next head out to the lovely colonial town of Suchitoto, with its charming boutique hotels.  You stay here for two  nights to get  "real feel" of the town & the surrounding lakes & sites.  
Along the Pacific coast stretch mile after mile of beaches--some with full service resorts, and others that are more remote with as much solitude as you wish. The coast also boasts spectacular cliffs of volcanic rock and pristine estuaries where you can go canoeing, bird-watching, or enjoy some world-class surfing.
Departures
2019 departures
Daily, on request
Museums and archaeological sites are usually closed on Mondays
We recommend Tuesday or Wednesday arrival to San Salvador
Price:
2 people/1 room
Moderate
$1425 pp
First Class
$1675 pp
Deluxe
$1875 pp
Travel Style:
recommended custom itinerary