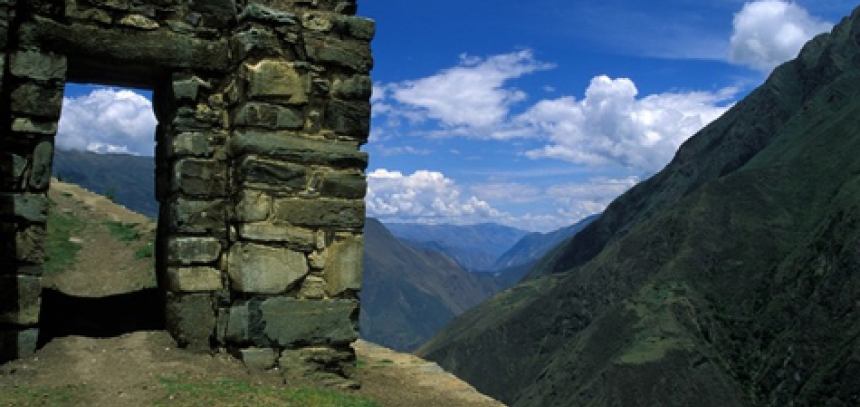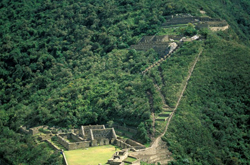 Choquequirao has been called "Machu Picchu's sacred sister" because of the striking similarities of design and ceremonial architecture to its famous counterpart above the Urubamba Gorge. Yet it remains an enigmatic place whose history is a matter of speculation. One theory of its origins holds that it was a royal estate built for the emperor Topa Inca, perhaps in an attempt to rival his father Pachacuti's spectacular domain at Machu Picchu.
For centuries Choquequirao lay shrouded in obscurity, protected by its remoteness. Unlike Machu Picchu, people knew it was there – it was first mentioned in a Spanish document of 1710, later visited by various explorers and treasure hunters, and roughly surveyed in the 19th century by the French consul in Lima, Leonce Angrand. Finally, in 1909, the indefatigable U.S. explorer Hiram Bingham –the future scientific discoverer of Machu Picchu -- explored and mapped the site.
Today we can trek to Choquequirao via a modern footbridge across the Apurimac River. The journey is as awe-inspiring as ever, taking us through an astounding range of ecological zones, from Andean farming valleys, descending through a hot and arid canyon environment featuring kapok trees, cactus and agaves, and climbing again to a region of lush cloud forest, beneath the dizzying snowcaps of the Cordillera Vilcabamba.
Whether you are on your first visit, or wish to discover some new and different corners of Peru, this trek will challenge and amaze you.
Departures
Price:
Moderate
3 star hotels from:
$2225
High End
3 star hotels from:
$2375
4 star hotels from:
$2775
Travel Style:
combination recommended custom itinerary and group trip