Uruguay Culture & Adventure | Trip Itinerary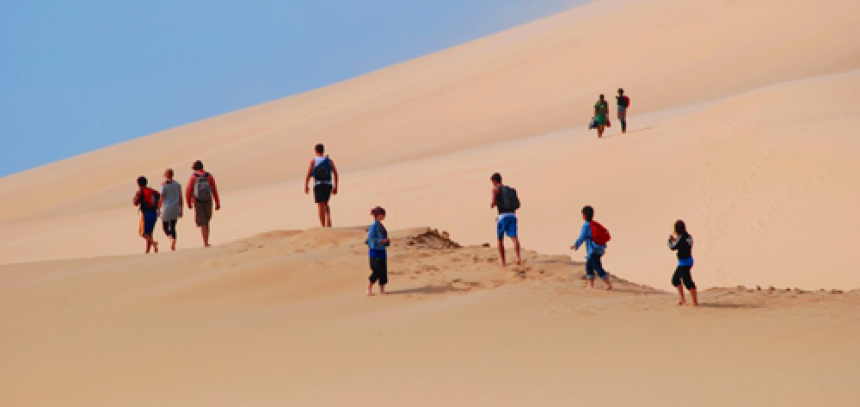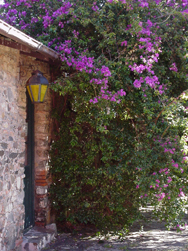 DAY 1: COLONIA DEL SACRAMENTO
Arrival to "Colonia Del Sacramento" and transfer to Plaza Mayor Hotel (or similar) located in the Old town of the City. Colonia is an old Portuguese city founded in the seventeenth century that has been declared a Patrimony of Mankind by UNESCO.
Early arrivals can enjoy an optional walking city tour along the cobbled streets of the old town.  You'll visit old buildings and forts; the Spanish and Portuguese Museums and the most important tourist spots of the town.
After free time for lunch, meet your guide for your afternoon bike ride.
Travel along the cobbled streets of the old town of Colonia and the riverside boulevard to the Casa de los Limoneros, a lovely posada located about 6 miles from town. Here you will enjoy some nice drinks in their beautiful garden. Afternoon ride back to Colonia, where you can discover its cobbled streets full of small bars, excellent restaurants, artisan shops, museums and a yacht harbor.
Note:  Options to arrive to Colonia can be via hydrofoil from Buenos Aires, or by bus/private car from Montevideo city or airport. We strongly suggest those arriving directly from an international flight—or anyone wishing to enjoy the charms of Colonia a bit further-- to add an extra night in this charming town to rest up from your travels and best prepare you for the activities to come.
DAY 2: MONTEVIDEO
After a transfer with regular bus to Montevideo, enjoy lunch at the vibrant port market. Take a walking tour of the Ciudad Vieja (the colonial historic neighborhood) and visit different neighborhoods during a cycling tour along the riverside boulevard. Spend one night in the capital of Uruguay at Hotel Esplendor Cervantes (or similar). B, L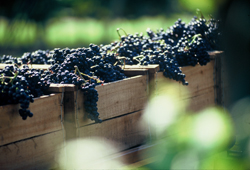 DAY 3: WINERY & ESTANCIA GUARDIA DEL MONTE
Morning pick up at your hotel for a short panoramic city tour of the rest of the city and visit of one winery in the region of Montevideo. Afterwards, take a bus ride of about 1.5 hours through the Uruguayan countryside to Castillos.  On arrival you'll be met be a local representative and transferred to Estancia Guardia del Monte, where you check-in for a 2-night stay.  Note that depending on the season, we might spend these two nights at Guardia del Monte or Charabon Estancia and the available activities will be adapted to the area. Enjoy a relaxing afternoon exploring your surroundings and getting familiar with your estancia. Dinner at the Estancia. B, L, D
DAY 4: A TRADITIONAL ESTANCIA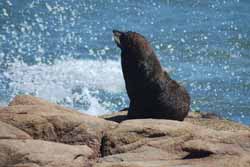 We wake up in Guardia Del Monte, a traditional estancia with outstanding landscape beauty and important ecosystems containing a great variety of birds and native scrublands. We will enjoy some quality birdwatching along the large area of marshlands and wetlands both of which are teeming with bird life (more than 400 species in this area), otters, coypus and capybaras. We will be able to spot the graceful black-necked swan (largest populations in the world found here), the rare white goose, the pink flamingo (a species of flamingo with very bright pink pigment and quite common in Uruguay) and many ducks and other birds such as the largest bird in South America - the 'ostrich-like' "ñandú" (American rhea). After a typical "asado lunch" we will enjoy some horseback riding to explore the estancia surroundings. Dinner and accommodation at Guardia del Monte or Charabon Estancia.  B, L, D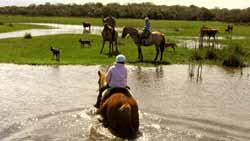 DAY 5: TREKKING FROM VALIZAS TO CABO POLONIO, INCREDIBLE SAND DUNES AND SEA LIONS
After breakfast, transfer about 30 minutes toward the coast to the nearby small village Barra de Valizas.  Meet your local guide here to start an unforgettable tour to "Cabo Polonio" Village. After a short walk around the town, we will start the trekking along the coastline that will take us towards the incredible shifting sand dunes. We will trek up the "Buena Vista Hill" from where a fantastic view of the ocean can be appreciated, to continue down towards Cabo Polonio (4 hours trek). After a delicious seafood lunch at a local seaside restaurant, we will visit the light house and sea lions reserve (one of the biggest ones in the world!). Afternoon 4x4 truck drive towards the main entrance of Cabo Polonio where a private transfer will drive guests back a short distance down the coast to Paloma, where you check-in to the Zen Boutique Hotel for an overnight stay. B, L
DAY 6: PUNTA DEL ESTE
Take a regular bus from Paloma to Punta del Este where you will be met and transferred to the Hostal la Barra (or similar). Check-in here for a 2-night stay.  You'll have free time for lunch & to discover the neighborhood of La Barra, where your hotel is located.
Enjoy an afternoon city tour of Punta del Este. We will visit the most important attractions: "Juan Gorlero Avenue", the yacht's port, the residential areas, the lively La Barra where we will cross the famous undulated bridge just before arriving to the Brava Beach of Punta del Este. We will finish at the lovely Casapueblo, a strange and attractive construction designed by the renowned Uruguayan artist Carlos Páez Vilaró where we will visit his museum. B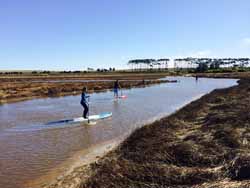 DAY 7: ANASTASIO
Morning transfer to the nearby José Ignacio area, where you will enjoy a full day of outdoor activities at Refugio Anastasio, a charming construction formerly house to local fishermen which has been converted into a cozy small restaurant. In the morning you will be able to choose between the two activities canoeing or Stand-up paddle. At midday, you will return to "El Refugio" for a picnic lunch. Enjoy a ride along the estancia fields and the coasts of the lagoon. The day ends with a typical "afternoon merienda" including mate and typical biscuits or tarts. Transfer back to Hostal de la Barra or similar. B 
DAY 8: TO MONTEVIDEO
After breakfast, transfer to the bus station of Punta del Este and take the regular bus to the Montevideo bus station. From there, a private transfer will take you either to the port or to the airport. B
 
B=Breakfast; L=Lunch; D=Dinner
Departures
Travel Style
recommended custom itinerary