Estancias & Andes of Argentina's Patagonia | Trip Itinerary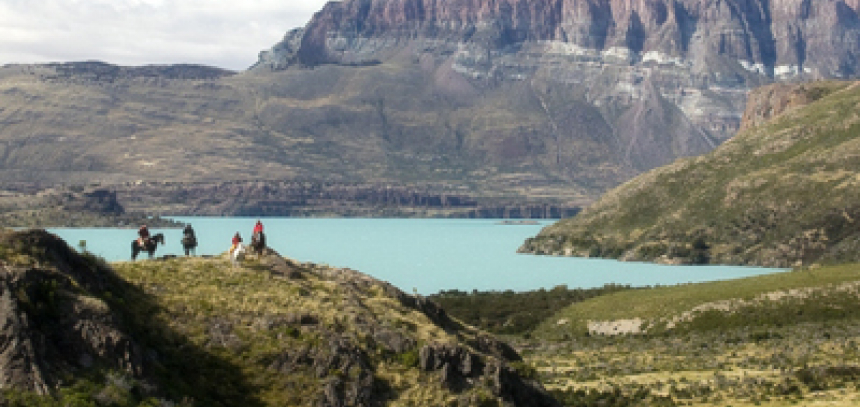 Day 1: Arrive to Buenos Aires. On arrival, you'll need to clear customs and immigration. As you exit the airport, you'll be met by our local driver and transferred to your hotel for a one night stay.  (hotel Moreno or similar) Time to rest and recover from your overnight flight. If you'd like to explore Buenos Aires, we suggest arriving a day or two early, and taking our exclusive Four Balconies Tour for an in-depth look at the history and culture of the city. Hotel Moreno or similar.
Day 2: Buenos Aires- Puerto Deseado.  Pick up this morning by our local guide and trasnfer to the Aeroparque airport for your flights to Comodoro Rivadavia. Meet and greet at the airport and transfer to Puerto Deseado.
Located in the Province of Chubut, Comodoro Rivadavia is a modern booming city, named after Commodore Martin Rivadavia, who traveled the Patagonian shores between 1890 and 1892 (commissioned by the Argentine government) to create a harbor in central Patagonia. The city´s boom started in 1907, when while a desperate search for drinking water was under way important oil fields were found in the area of the San Jorge Gulf.
The surrounding mounts have forced a whimsical shape in the urban geography. Today, Comodoro Rivadavia is a typical Patagonian city, with flat roofs, tall buildings, fisheries, textile factories and the ever present Patagonian wind; it is the gateway to one of the most important oil producing centers in Argentina.
We leave Comodoro Rivadavia, where the sights will be of small beaches of white sand and elevated peninsulas of up to 100m, from the deep blue sea. Time and weather permitting we will stop to enjoy a short hike in the area. The first part of the drive goes parallel to the old tracks of the train that linked the estancias in the Andes and the port in Puerto Deseado and which operated till 1978.
From Caleta Olivia, (about 80 km South of Comodoro Rivadavia) the landscape changes dramatically to the harsh Patagonian steppe.
Arrival in Puerto Deseado, a fishing port with a deep estuary which was first explored by Magellan and Thomas Cavendish in 1520 and 1586 respectively. Check in for a two night stay/Hotel Los Acantilados
Total: 280 km (168 Miles) – 3 hours drive on paved road.  Meals:  B, D.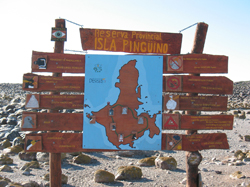 DAY 3 – PUERTO DESEADO.
In the morning we meet at the private pier for another exciting adventure. We will leave the calm waters of the estuary and venture into open sea. The navigation will be about 45 minutes to get to the famous Penguin Island.
On the way the dolphins will be our company putting on a great show that will be our delight. We get to the island where we debark on a small pier to start our exploration. A 20 minute walk will take us to the first and very big penguin colony of Magellanic species. This will be a common sight all day.
Our next stop will be an abandoned lighthouse, which has –funnily – been "taken over" by the penguins. We will be able to get the most hilarious photos of the penguins roaming around the lighthouse as they master the place; great panoramic views are also granted there. Further on we get to a promontory where we will find the beautiful rock Hopper penguins and a big colony spreads ahead of us. This is a mesmerizing experience, seeing these very funny birds roaming around and sharing their space with the Magellanic penguins as well. A very special experience to have them so close and be able to observe their funny movements and great beauty.
The rock hopper penguin is about 60 cm tall with White chest and black feathers and characteristic red eyes, orange beak and yellow stripes above the eyes. There are about 400 couples on the island that build their nests on top of volcanic rocks, breed of crustaceous, fish, calamari and are excellent divers reaching about 100m depth.
When we will have enjoyed them A LOT! It will be time to move forward and stop for a pack lunch and rest a bit. In the afternoon while we return to the pier there will still be one more stop at a big sea lion and elephant seals colony as a grand finale to our exploration.
Our path will take us back to the pier where we will board our boats to return to Puerto Deseado and call it a day!
Duration: 7 hours.  Meals: B- Box Lunch- D
DAY 4: PUERTO DESEADO – CHACRA KAIKEN, Crossing the legendary Patagonian steppe.
The paved road that connects Puerto Deseado with Perito Moreno traverses the most important oil producing area in Patagonia.
The oil was discovered on Dec 13th 1907 in Comodoro Rivadavia on the Sedimentary basin of San Jorge Golf. The main producing areas are closed to Caleta Olivia, Pico Truncado, Las Heras in the province of Santa Cruz; Comodoro Rivadavia, Pampa del Castillo, km 20 and others in Chubut.
Lunch in an authentic local bar "El Pluma", close to the Deseado river valley.
Afternoon resume our trip crossing the legendary steppe, a memorable experience.
We will visit the lake Buenos Aires, second largest in Latin America after Titicaca, and the tiny village of Los Antiguos, also known as the capital of the fine fruits (blueberries) in Argentina. We continue then to the south until we reach Chacra Kaiken. Check in for an overnight stay at Estancia Chacra Kaiken.  Accommodation and dinner.
Total:  600 km.(480 miles)  Meals: B – L- D.
LAGO BUENOS AIRES. It is the second largest lake in South America after the Lake Titicaca; it is shared with Chile, where it is called Carreras. This huge lake is 1850 km2, 880km2 of which belong to Argentina. Its waters flow mostly into the Pacific Ocean through the Baker River and a small amount into the Fenix Chico which in turns flows into the Rio Deseado and then into the Atlantic. The lake is 590 m deep and very rich in trout and salmon.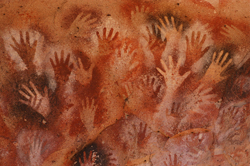 DAY 5: THE CAVE OF THE PAINTED HANDS – LA ORIENTAL
Transfer through the seemingly endless Patagonian plains and eroded badlands to the spectacular valley of the Pinturas (paintings) River, frequented by lesser rheas, guanacos, armadillos, pumas, eagles and impressive condors. The drive will have a climatic end when we reach several caves with countless painted hands (in various colors) of incredible aesthetic value and still puzzling archaeologists who have not been able to explain their meaning.
Pinturas means "paintings" in Spanish and the river and valley are so called precisely because of the abundance and magnificence of the cave paintings which we will visit, in particular the series of caves known as "Painted Hands", one of the most impressive expressions of rupestrian art dating from more than 9000.
We resume our trip to Bajo Caracoles and onto Perito Moreno National Park where we find our home for the next two nights-- Estancia La Oriental.  The estancia is a true privileged- 16 hectares large property dedicated to sheep breeding and it is one of the wildest corners in Patagonia. The house is the typical Patagonian construction made of woods and tin keeping its original charm.
This special place encompasses the Andean Patagonia, amazing lakes, and great mountains, unique fauna and colourful landscapes.
Total km drive: 260 (230 of gravel road and 30 of pavement).(total 156 miles)
Approx. time: 9 hours
Meals: B – box- L & D.
DAY 6: PERITO MORENO NATIONAL PARK.
Full day dedicated to exploring this amazing National Park.
In the middle of this wonderful area we find the lake basin of the National Park formed by Belgrano, Nansen, Volcán, Azara, Escondido and Burmeister lakes.
All of these provide the best environment to sight the tame guanaco and if lucky enough we might be able to spot the shy huemul.
For those who would like to go further, we can attempt the summit of Cerro Leona which will reward us of the aerial view of this magnificent park, a symphony of colors. 
The Perito Moreno National Park, so contrasting with its snow-capped peaks, glaciers, forests and lakes vis-à-vis the drier windswept steppe just left behind. This park is one of the most beautiful areas of the Patagonia. However, due to its location away from the traditional tourist circuits, it is one of the best kept secrets of the country. We will trek in an unforgettable site: a fascinating peninsula in the unbelievably milky turquoise-colored Belgrano Lake. This heavily forested peninsula abounds in small lakes and ponds which congregate black-necked swans, the immaculately white coscoroba swan (both of these graceful species are exclusive to southern South America), flocks of very reddish flamingos, various types of ducks (the colorful Southern widgeon outstanding with its shiny green head) and several species of grebes. The woods host Chilean flickers (from the woodpecker family) with their very particular calls and on every hill you will find a curious neighing guanaco acting as sentry for its herds. Watchful eagles and condors circling high above will be your only other companions in this area.
Meals: B –L-D.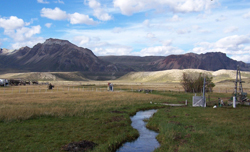 DAY 7: PERITO MORENO – ESTANCIA EL CONDOR.
Full day southbound drive along the legendary Patagonian steppe to Lago San Martin, along the way we will stop as many times as desired to spot the fauna of the area: lesser rheas, hares, the Mara (Patagonian hare), foxes and piches (kind of a smaller armadillos) and guanacos (family of the South American camelids). The drive along the steppe will be only interrupted by the lonely Lake Cardiel.
Lunch at LA SIBERIA, located between the route 40 and Lake Cardiel.
Arrival to Lake San Martin, one of the best kept secrets in Patagonia and maybe one of the most spectacular in the area.
We will overnighta at Estancia El Condor which stands on the imposing Andes Range, on the shores of the turquoise waters of Lake San Martin. 
LAGO SAN MARTIN. The Argentine explorer Perito Moreno found Lake San Martin most fascinating. He wrote: "Civilization still ignores the existence of this lake; we must give it a name that will sponsor its progress… We shall call it San Martin, because its waters bathe the solid base of the Andes which is the only pedestal worthy of bearing the great warrior's heroic image".
Total km drive: 440Km (390 gravel; 50 paved) (265 miles)
Approx. time: 8 hours Meals: B – L & D.
DAY 8: ESTANCIA EL CONDOR. 
Full day activities at the estancia. There are many possibilities which will be arranged locally with the guide according to one's interests and abilities.
The comfortable estancia EL CONDOR is located by Lake San Martin. It offers 2 double rooms + 1 triple and 1 quadruple rooms all of them with private facilities.
The estancia has about 1300 hectares of native forest of lenga, coihue and ñires. Wildlife observation includes such species as: condors, eagles, torrent ducks, woodpeckers and fire crowns among the most notable ones.
Along its 35 km of Lake Coast, we find peninsulas, deep cliffs, and small beaches.
At the Estancia there are several options to enjoy, it is possible to hike through woods of native species (Nothofagus subantartica), go horseback riding or Trekking to great natural viewpoints of San Martin Lake, the Peninsula Avellaneda and the ranch headquarters.
Distance: 30 Km. (gravel road)
Meals: B – box- L & D.
DAY 9: LAGO SAN MARTIN – EL CHALTEN.
Drive back to Route 40 and then turn again towards the W to reach El Chalten. Arrival by noon.
Total km drive: 205 km (170 km gravel & 32 km paved)
Approx. time: 5 hours
Meals: B.
From here you can elect to add on days in El Chalten for hiking the stunning Fizroy peak area, or continue to El Calafate (bus transfer option) tothe south.
El Calafate is a charming small village with good facilities and the gateway to the magnificent PERITO MORENO GLACIER and LOS GLACIARES NATIONAL PARK.
Located in the Southwestern area of Santa Cruz Province, this park, created in 1937, stretches over 240000 acres. Due to its spectacular beauty, its glaciological and morphological interest and the danger of extinction of part of its fauna, the UNESCO declared it a "World Heritage Site" in 1981
Total km drive: 230 km/138 Miles Approx. time: 5 hours
End of services. Some suggested options if you have extra days: add on additional time in Calafate, travel overland to Chile and Torres del Paine National Park, visit Iguazu Falls, or travel south to Ushuaia. Please request a quote for any additional services you may need. (B)
B=Breakfast, L=Lunch, BL-Box Lunch, D=Dinner
Departures
Nov 24-Dec 2
Dec 22-Dec 30
Jan 26-Feb 3
Feb 23-Mar 3
Travel Style
either a recommended custom itinerary or group trip