Sacha Jungle Lodge | Trip Itinerary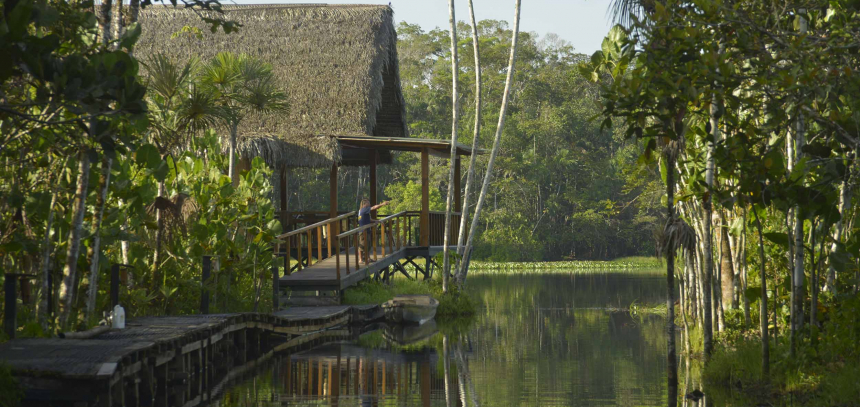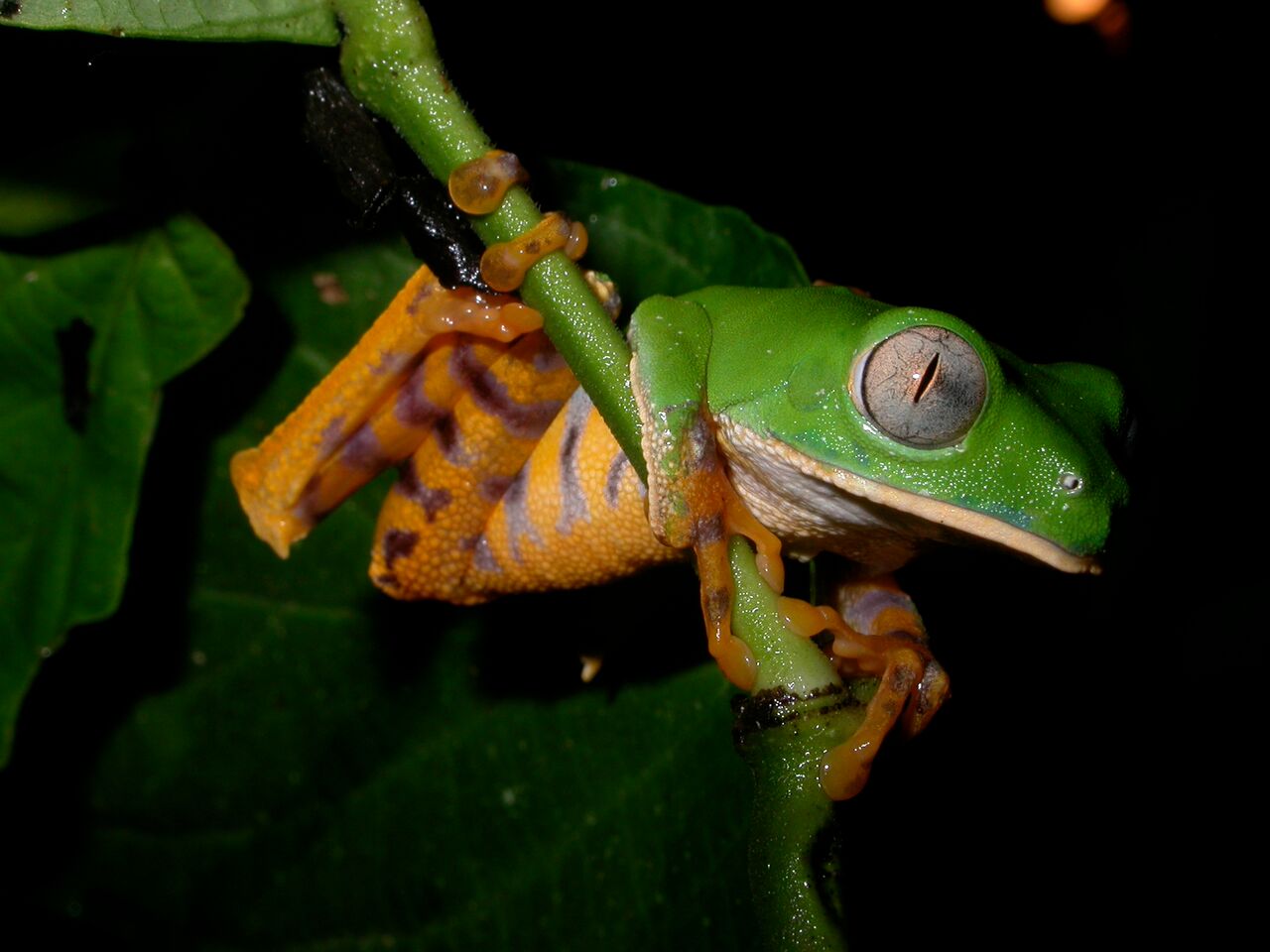 The journey to Sacha Jungle Lodge begins in Quito, Ecuador's capital city. From here, a 25-minute flight takes you over the Andes Mountains' majestic snow-covered peaks and down over 8500 feet (2600 meters) into the Amazon Region. The flight destination is the port town of Puerto Francisco de Orellana, locally known as Coca, where you will be met by a bilingual guide and taken to a private dock. Here we will pause for a snack and to use the rest rooms before boarding our covered motorized canoe for a 2-hour, 50-mile (80-kilometer) trip down the sediment-rich waters of the Napo, the largest river in Ecuadorian Amazonia. Be sure to carry in your hand luggage sun screen, insect repellent, a sun hat, light jacket or poncho, camera, binoculars and sun glasses. On arrival to Coca your checked luggage will be sent separately directly to Sacha Lodge.
Typical 5 day/4 night itinerary
(The 4 day/3 night itineraries generally skip day 4 when the Yasuni parrot lick is visited-available Wednesdays and Sundays only)
Day 1
*Arrive at Quito´s airport at 10h30 to receive boarding passes and briefing for the trip to Sacha.
Depart Quito´s airport at 11:30am. A 30 minute flight over the Andes Mountains leads you to a bustling oil town called Coca located in the Amazon Basin.  A quick lunch in Sacha´s private house and then its off to the town docks where you will board Sacha´s private canoes for the 2 hour journey down river to Sacha´s Lodges property. During the ride it is easy to spot handsome shore birds such as herons, kingfishers, spoonbills and ospreys between the scattered native huts as you travel steadily away from civilization. A 30 minute hike through the rainforest leads you to lake Pilchicocha. Here, you are met by native workers to paddle you across the lake to your final destination.
-Arrive at Sacha Lodge around 4:00 or 4:30 pm.
-Swim in Lake Pilchicocha, which is a black water lake home to many species of fish and animals. A refreshing swim after arriving may be just what you need after being in the equatorial heat all day.
-Bird observing from the mini tower offers guests an excellent opportunity to view several species of birds common around the lodge. Also a great place to watch the sun set.
-Visit the butterfly house with your naturalist guide to view the beautiful colors of many different species of butterflies.
-After dinner, accompany your naturalist guide on a night walk through the rainforest to view the hundreds of different species of animals that can only be found at night. Or maybe a canoe ride on the lake to view the spectacled and black caimans with their glowing orange eyes as you silently paddle across the lake to get a closer view.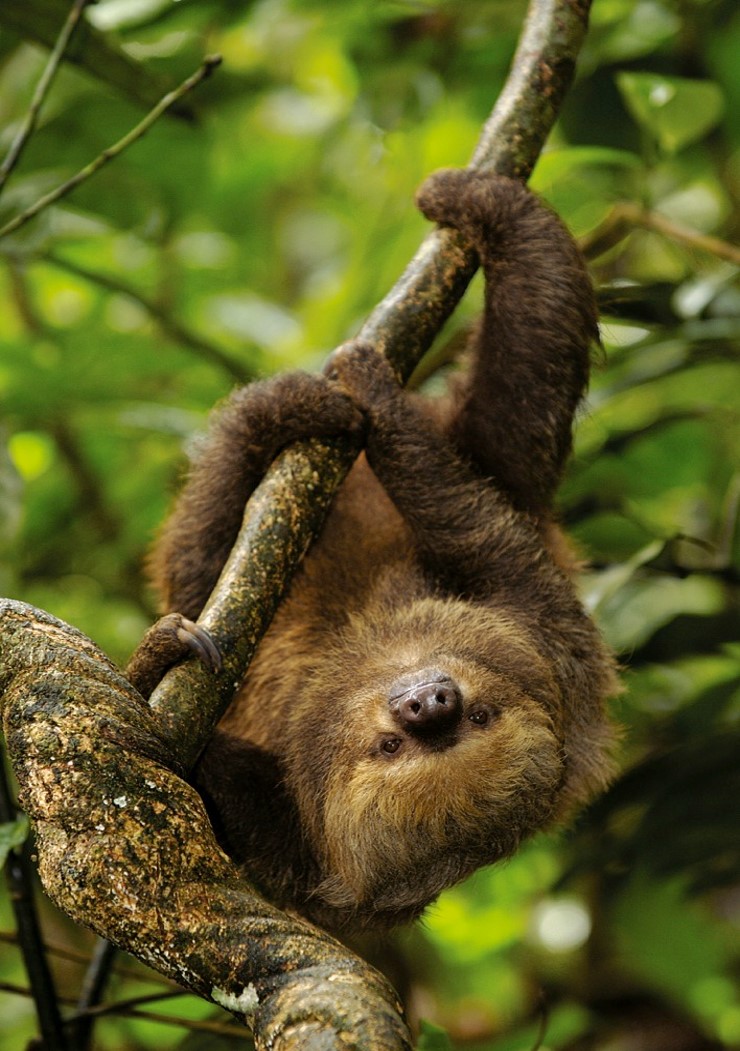 Day 2
-Begin morning activity between 6:00 and 7:00.
-Begin walking on trail Liana Chica and arrive at the canopy walk, for spectacular views of the rainforest canopy and the many different species of vibrantly colored birds.
-Designed to be a self-standing rigid suspension canopy walk. It is one of only a few in the world! Located within Sacha´s private reserve, 2 miles from the shores of the Rio Napo and 1 mile from the lodge, the bird walk gives guests the opportunity to get an up close and personal view of the rainforest canopy. Two of the three towers have observation decks every 12 meters making towers accessible for everyone. The canopy walkway is at 36 meters high and 275 meters long, giving guests a "birds eye view" of all the wonders and beauty the tropical rainforest has to offer. The canopy walk is designed as a sturdy walkway enabling guests to casually move along while enjoying the spectacula rviews.
-After the canopy walk, Liana Grande through terra firma and igapo forest habitats where native guides will explain many different species of medicinal plants that have been being used in their culture for hundreds of years.
-Liana Grande will turn into the trail Higueron, which will take you through pristine primary forest with huge Kapok and Fig trees towering hundreds of feet above your head.
-After lunch, you may choose to take a leisurely hike along the Rio Napo, or choose a little more challenging hike on the trail Leoncillo to try and spot the elusive dusky titi monkey. Either way the trails will lead you back to the main boardwalk for your final hike and canoe ride back to the lodge.
Day 3-Leaving the lodge after breakfast, you begin your hike on trail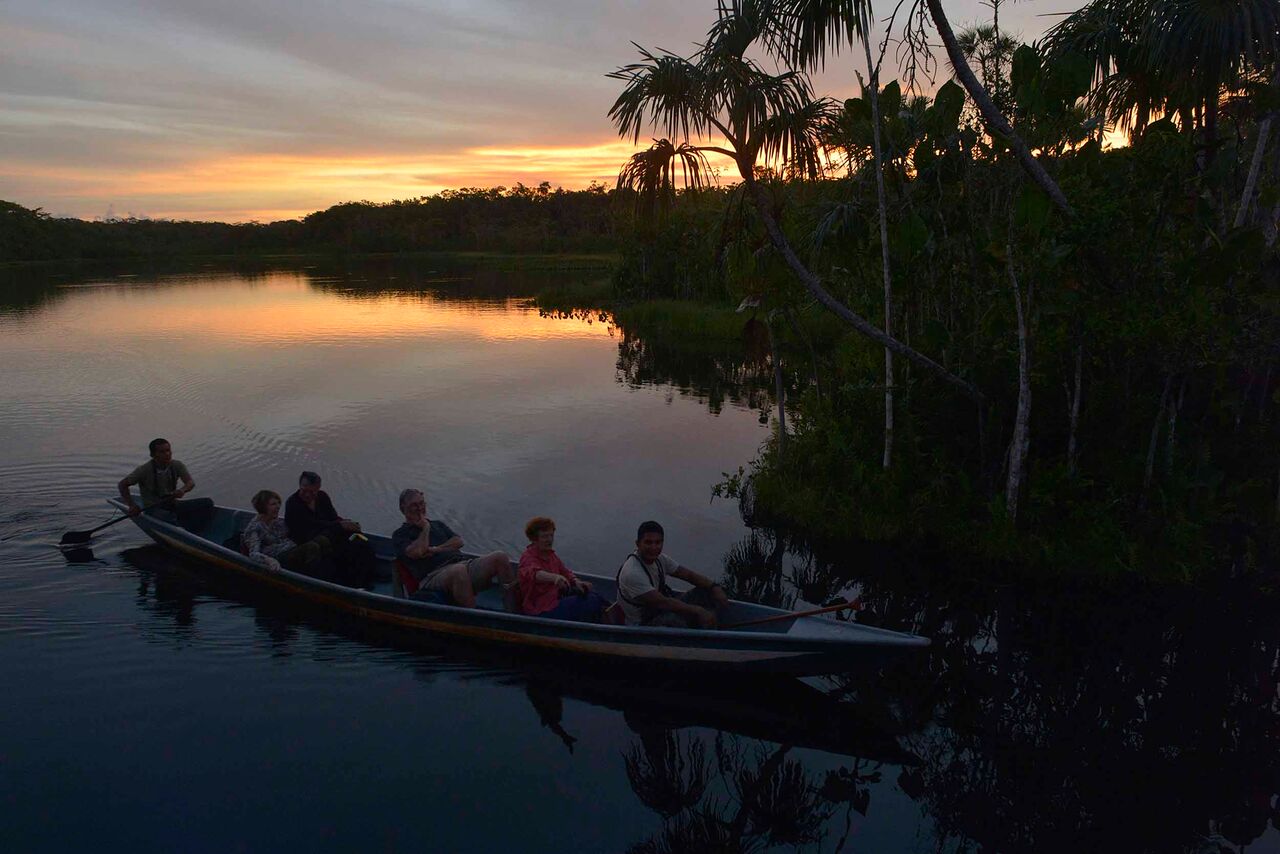 Lagartococha. This trail offers you the chance to learn more about the native people and their relationship with the forest. Learn about the trees where native people believe the spirits of their ancestors live, and the mysterious "dwende" or devil-man of the forest.
-After arriving at lake Lagartococha, take a tranquil canoe ride through a natural swamp, which is the home of anacondas, caimans, and capybaras.
-After the canoe ride, a walk on the other side of Largatococha may give you the opportunity to spot capuchin or squirrel monkeys playfully jumping through the trees.
-Return from the walk or canoe ride and head back to the lodge for a refreshing dip in the lake, or a nice relaxing nap in your personal hammock on your private balcony.
-After lunch, your native guide will teach you how to fish for the infamous razortoothed piranha. Keep in mind that piranhas will never attack a person and swimming at the same time is perfectly safe and fun!
-Around 4:00 you will begin what many think is the best trail at Sacha, a silent canoe ride through the flooded Amazonian forest. Where you have a good chance of being surrounded by troops of squirrel, capuchin, and howler monkeys. Keep your eyes peeled for the shy and elusive river otter as well as the incredibly well camouflaged three-toed sloth!
-After your eye-popping ride through the flooded forest, you will arrive at Sacha´s135-foot wooden tower built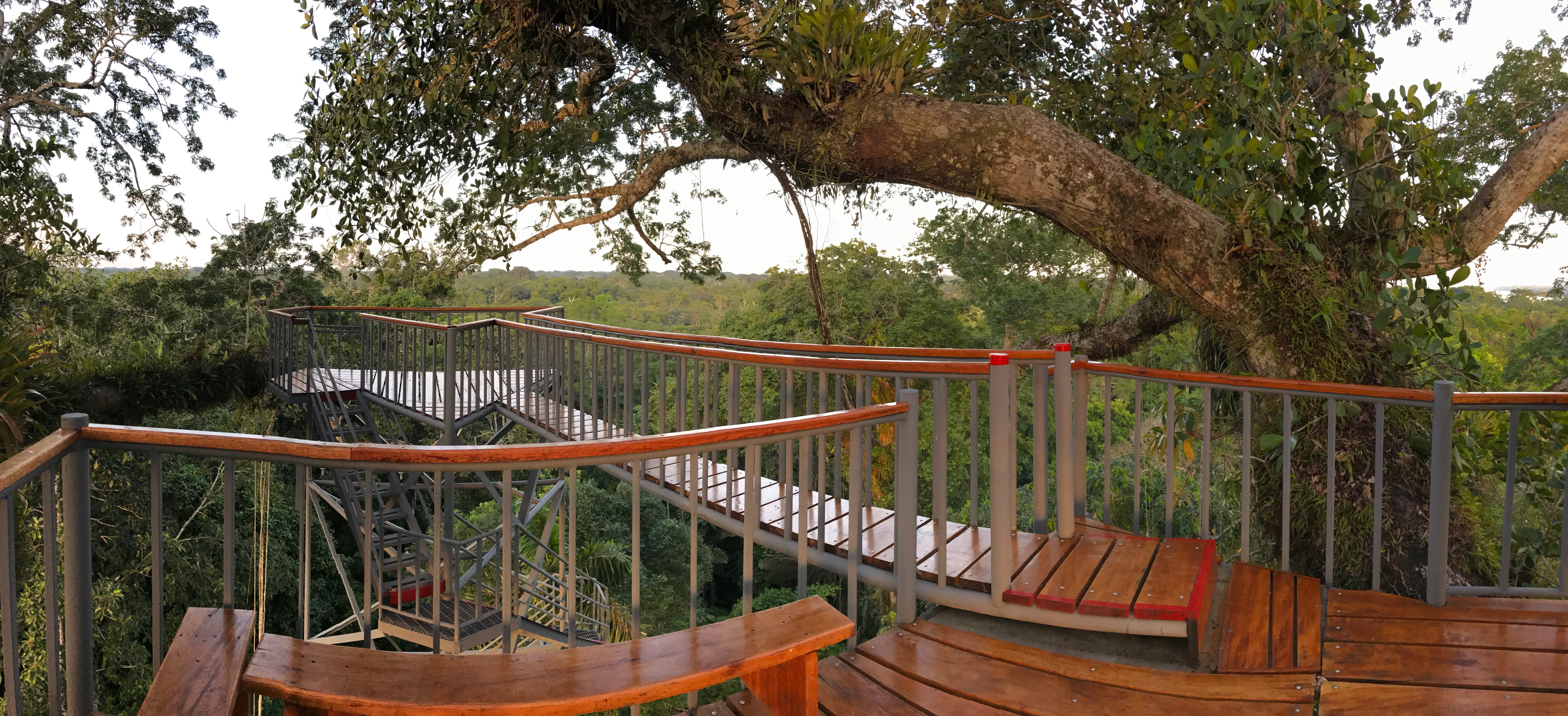 around an ancient Kapok tree. Get close up views of vibrantly colored birds through Sacha´s powerful scopes, and watch the sun set with an amazing view of Mount Sumaco, a volcano, and possibly a view of the snow-covered caps of the Andes!
-Leaving the tower just before or after sunset will give you an experience not soon forgotten. A canoe ride back through the flooded forest at night will be an awe-inspiring experience. Listen to the symphony of frogs and insects as you navigate through the narrow flooded forest trail, keeping your eyes open for caimans. Watch the several species of bats flying over your heads and listen to the many species of nocturnal birds making their eerie nighttime calls. Finally, after your mesmerizing canoe trip through the Amazon, you will arrive back at lake Pilchicocha and the welcoming lights of Sacha lodge.
Day 4 (Wednesdays and Sundays only)
-A chance to view four different species of parrots at the same time is something that should not be missed. Sacha is close enough to Yasuni National Park that a thirty minute motorized canoe ride down the napo to the parrot lick is well worth it. (Note a small additional fee for the Yasuni entrance is required for this excursion) Leaving at six in the morning from Sacha and arriving at the lick around 7:30 will give you plenty of time to get close up views of the parrots eating the clay to neutralize the acids which they get from eating their many different types of fruits and leaves.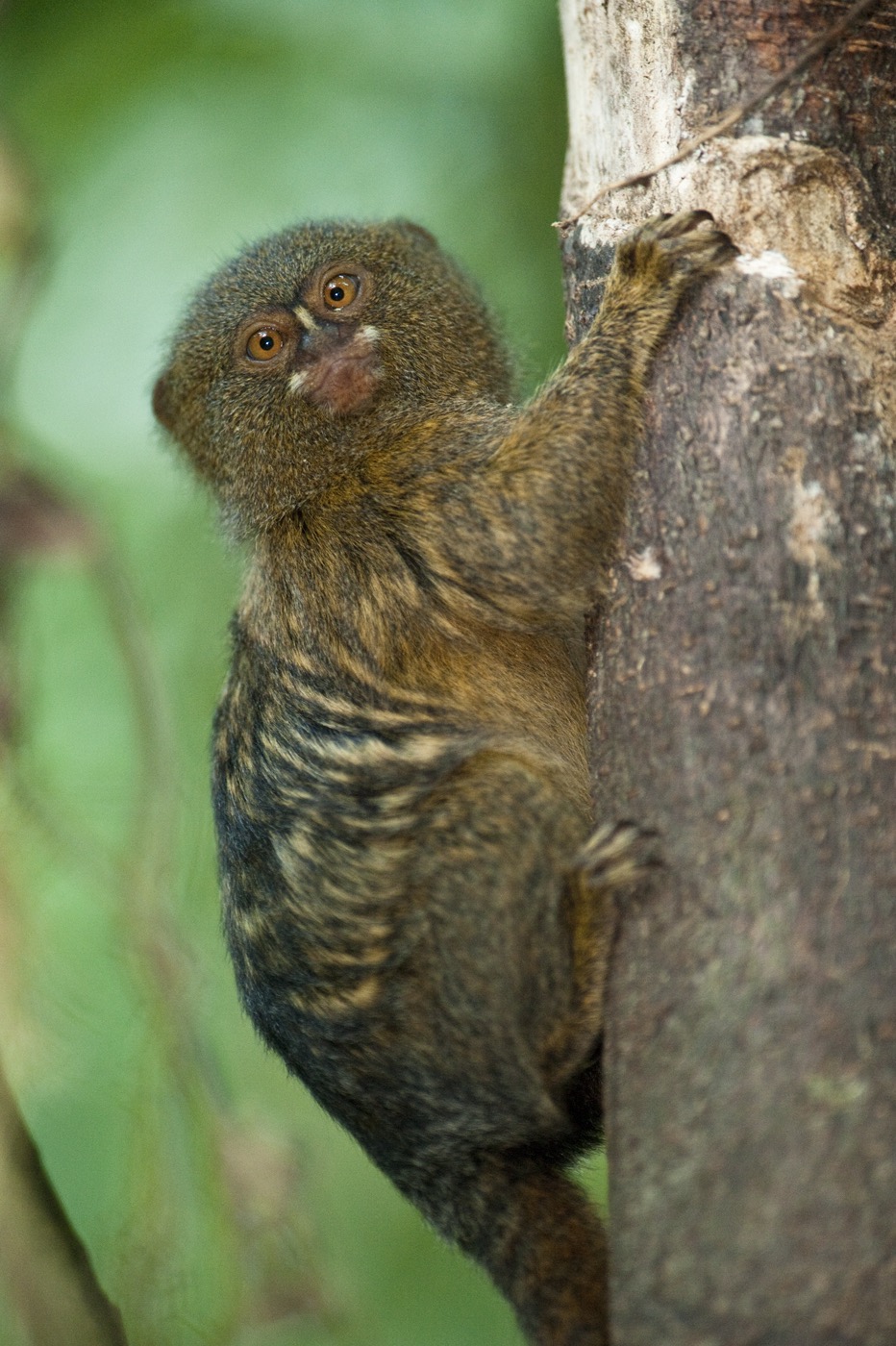 -Arriving back at the lodge around 11am or so gives you plenty of time to swim or relax before lunch is served. Visit the butterfly house once again to photograph the beautifully colored butterflies.
-For your afternoon activity, Pantano is the trail to take. Pantano offers you several different types of rainforest habitats. From secondary to primary forests as well as flooded forest and swampy areas. An excellent trail for monkeys and birds in the afternoon, your naturalist and native guides will intrigue you with their knowledge of the jungle and its inhabitants as well as provide you with an everlasting experience and memory of the neotropical rainforest.
Day 5
-7:00 am breakfast and a departure from the lodge at 7:45am.
-Leave the actual lodge itself at 7:45 am for an easy walk on the boardwalk to watch monkeys one last time before your final departure.
-Arrive in Coca and be escorted to the Coca airport where all plane tickets will be in the hands of Sacha employees waiting to help you board the plane and a final farewell.
-Scheduled arrival at Quito´s airport is at 13:00pm
Typical Day: A typical day at Sacha begins at sunrise or earlier, in order to take advantage of the cool morning hours when the rainforest's animals are most active. Each group may decide on its own wake-up and breakfast time, as well as the difficulty and duration of their morning outings. In the afternoon, visits begin at around 3:00 and often continue into the evening, when the nocturnal insect and frog chorus begins. A night activity is offered every evening after dinner.
Activities: Activity options will be discussed with guests; with each tour led by a bilingual naturalist guide, and a local native guide. Activities are spread out over a wide area and allow visitors to explore several distinct but equally fascinating habitats. Several trails lead through pristine terra firme forest, where 150 foot kapok trees tower above and roots form huge buttresses to give trees support. Others follow strategically raised boardwalks in seasonally flooded forests, where walking on the ground would be nearly impossible during most of the year due to groundwater. One trail many choose to follow even leads across fallen tree trunks and a steel cable zip-line through rich swampland!
Exclusive Activities: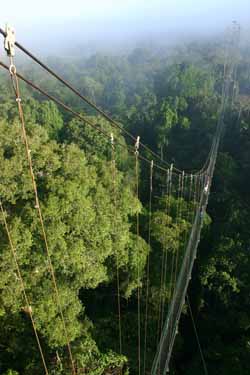 Canopy Walkway--A new and much anticipated addition to Sacha's activities is our 940-foot (275-meter) long canopy walkway. At approximately 94 feet (30 meters) above the ground, imagine exploring the rainforest up in the treetops! This sturdy walkway is fixed to the ground by three metal towers for stability, and offers an unbelievable opportunity to spot dozens of animals and epiphytes seldom seen from the ground. Thousands of colorful birds await to be spotted, and with some luck you might even follow along with troops of monkeys as they forage through the forest canopy. Taking a leisurely walk above the trees on this incredible structure, to emerge even higher on the top of the towers surrounded by an endless sea of rainforest, is an experience not to be missed, and as far as we know found nowhere else in the world
Kapok Tower--One of Sacha Lodge's original attractions and an all-time favorite of our guests is the famous 135-foot (43-meter) kapok observation tower. Situated on a hill and constructed around a giant kapok tree for stability, this tower allows guests another opportunity to climb into and above the rainforest canopy for a magnificent view of the surrounding area. This tower has been a faithful delight for birdwatchers, where our specialist bird guides have on many occasions reported seeing over 80 species in a single morning! With some luck, noisy howler monkeys or the gentle three-toed sloth may also be seen, especially with the aid of a powerful telescope provided by your guides.
Butterfly House--Sacha Lodge is home to one of the largest butterfly farms in Ecuador. Designed as a live exhibition conservatory, the Butterfly House is now successfully breeding nearly 40 local butterfly species! Guests will be shown how these beautiful insects are bred and raised, and later be free to wander through "the flying room", where hundreds of colorful butterflies flutter from flower to flower. Transparent glass-wing butterflies, spectacular blue morphs, striking tiger longwings, bright yellow swallowtails and giant nocturnal owl butterflies are only a few of the species you'll encounter here, up close and personal.
Special Programs: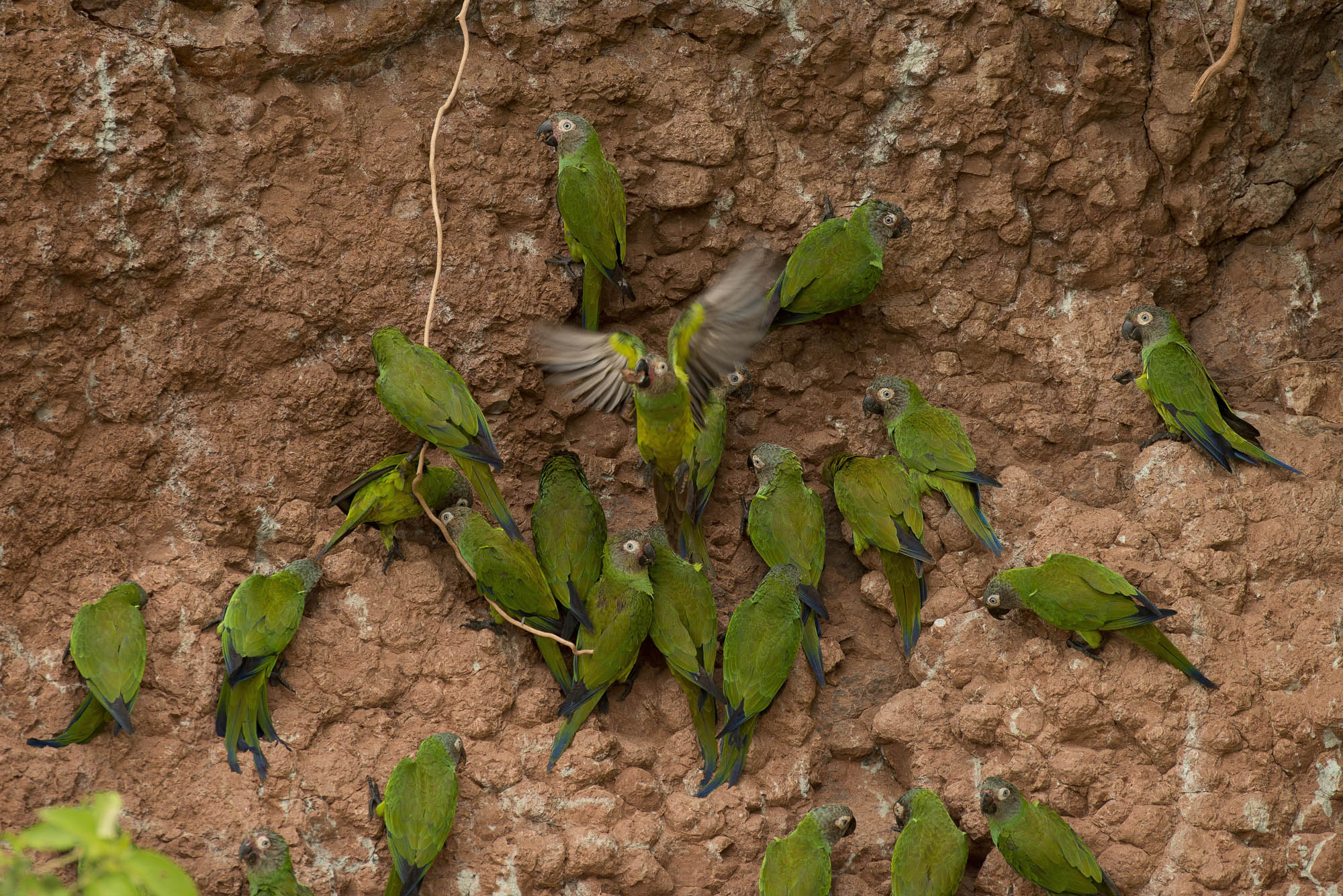 Yasuni Parrot Lick--At a short distance from Sacha Lodge is Ecuador's most accessible parrot lick, an exposed clay riverbank where brightly colored parrots of several different species gather in the early morning. In ideal conditions (sunny and dry) hundreds of parrots will perch on and eat the exposed clay in a spectacular show of sound and color! The lick is located on the edge of Yasuní National Park, which may be reached from Sacha by a short canoe trip down the Napo River. Recently, the park service has set up blinds in order to watch the parrots from very close. If weather permits (the parrots won't be there in the rain!), and you would like to participate in this activity, it is now offered free of charge on Wednesdays and Sundays only. Note: This program usually offered with a 4 night program.
Wildlife--Anyone who has ever planned to visit the rainforest has at least once asked: "What animals will I see there?" There is an incredibly high diversity of species found around Sacha Lodge, and we are sure that you will have the opportunity to see many fascinating creatures here. However, the wild is unpredictable and no two visits are ever the same! Monkeys are seen quite frequently, but how many of the 8 species found here will cross your path? They range in size from the tiny half pound pygmy marmoset to the noisy 17 pound red howler monkey, and night monkeys can be found in groups as small as 2 while squirrel monkeys can travel in groups of more than 150. And besides monkeys, there may be as many as 60 other species of mammals within our reserve (not including up to 50 species of bats)! So keep your eyes open, and maybe you'll spot an anteater, a 3-toed sloth, or even an ocelot as you explore their natural habitat.
As for reptiles, be sure take advantage of our night activities to look for one of Pilchicocha's resident spectacled caimans. Members of the alligator family, caimans are often seen from canoes out on the lake, and sometimes the babies even come to hide under our dining room! A variety of lizards and snakes can also be found along our trails, if you move quietly and keep your eyes peeled. Several different boas, vine snakes and even the giant anaconda have been seen during many of our excursions. There are a few poisonous snakes as well, but not to worry – they try to stay out of peoples' way and no one has ever been bitten here.
Frogs, on the other hand, are much more common to see, from bulgy-eyed tree frogs to camouflaged leaf frogs to tiny colorful poison-dart frogs. So watch your step, day or night!
Bird-watching--In recent years Sacha Lodge has become a favorite destination of both professional and amateur ornithologists. So far there have been an incredible 587 different species of birds found here! This is a staggering number, especially if you consider that approximately 900 species have been registered in the entire continental United States and Canada. In only 4 or 5 days, it is not uncommon for even the most casual birder to see over 250 species here. With only minimal effort you can expect to see dozens of colorful parrots, toucans, hummingbirds, tanagers, hawks and oropendolas, and of course there are plenty of elusive "LBJs" (little brown jobs, of course) to keep the avid bird enthusiasts occupied for days. Our guides will carry telescopes along to bring your birdwatching experience close-up, and be sure to keep your binoculars handy at all times!
Departures
2023 Departures
Arrivals and departures any day except Sundays
Arrivals and departures any day except Sundays
Price
2023
4day/3nt from $1490/pp
5day/4nt from $1890/pp
2024
4day/3nt from $1690/pp
5day/4nt from $2050/pp
Travel Style
group trip offered as a component to a complete itinerary