Costa Rica Caribbean Adventure | Trip Itinerary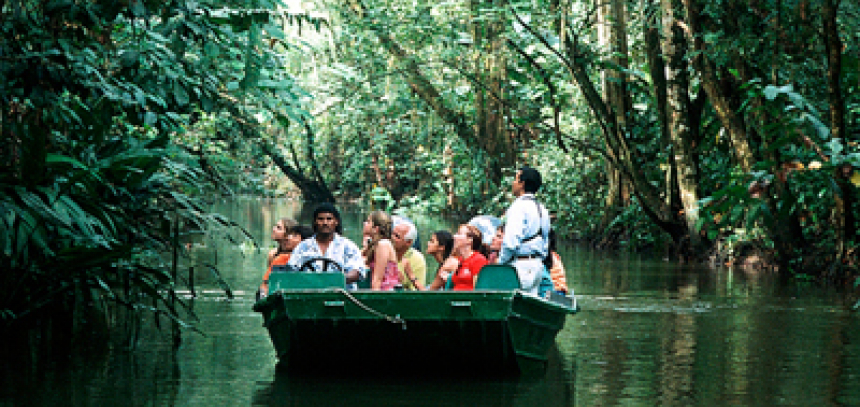 Day 1: Arrival to San Jose, Costa Rica. Clear immigration & customs formalities, then meet our local representative as you exit the airport. Transfer to either the Park Inn or Presidente hotel for an overnight stay.
Day 2: San Jose –Tortuguero
Early pick-up from your hotel by Mawamba Lodge for your shared transfer to the Caribbean region of the country.  Around 8:00 a.m. you'll stop for a Costa Rican style breakfast at Grupo Mawamba's Río Danta Restaurant in Guápiles. This private facility features a comfortable dining room, and beautiful tropical gardens for you to discover,
After breakfast depart to La Pavona dock in Guapiles (Caño Blanco in Siquirres is an alternate dock in case of weather conditions) where you board small boats for the ride into Tortuguero National Park and Mawamba Lodge.  Arrive to the lodge around 1:00 PM, in time for a leisurely lunch and time to explore the lodge & surroundings. This afternoon is a great opportunity to visit the Village of Tortuguero along with your guide. Through this visit you will learn the ways of life of the local residents of Tortuguero. After the visit and some free time, we will return back to the Lodge walking by the trail on the beach directly to the Lodge (weather permitting) . Dinner at the restaurant, located close to the Beach entrance.
8:30 – 10:30 p.m. Optional tour. (Night walk on private trail or Turtle Nesting Tour)
(B, L, D)
Day 3:  Optional early morning guided boat tour. Discover the canals and tour around the National Park as the wildlife awakes to a new morning and enjoy the rainforest sounds and magical lush forest. Return in time for breakfast, followed by a guided walk with our naturalist guide to the "Mawamba Park". Located on the lodge's property, it includes the butterfly farms, frog farm and garden, bio-digester and gardens. This visit is combined with a walk in the trails at the Lodge. Return  in time for lunch and some relaxing time at the pool or hammock before your afternoon tour of the canals, which will be to a different area than the one visited on the morning tour.
Return in time for sunset and free time before dinner. After dinner you have the option of a 8:30 – 10:30 p.m. optional tour. (Night walk on private trail or Turtle Nesting Tour)
**Note that turtle nesting tours should be reserved well in advance of arrival to the lodge.
(B, L, D)
Day 4: Pacuare River
Enjoy a scenic boat ride back to the port and transfer to Rios Tropicales Operations center where you check-in for your rafting adventure, and have lunch. Facilities here include lockers for any items you don't need on your overnight river trip, changing rooms & an outfitter's store in case you need to shop for any last minute needs.
After lunch depart for our private rafting put-in on the Pacuare River in San Martin. There your professional guides will load your gear into dry bags, prepare all the rafting equipment, give you complete safety and paddle instruction. Once on the river we paddle downstream about eight miles to our riverside accommodation, a rustic, thatched-roof jungle lodge. This is a good opportunity to get familiar with the steep, technical drops typical of the Pacuare. Along its course lie several densely vegetated gorges sheltering many animals, including sloths, river otters, and anteaters, and an incredible variety of birds—toucans, egrets, herons, kingfishers, sunbirds, and trogons.
Before you know it, you will arrive at our unique Rios Tropicales Lodge where you can spend any free time relaxing, hiking or soaking in our waterfall and pools. Nestled in the jungle on our 1,500-acre private reserve, the lodge offers you all the comforts you need in Cabecar Indian style bungalows. Private single and double rooms are spacious and completely provided with fresh linens and comfortable pillows and beds.
Don't worry about bathrooms - our lodge enjoys modern, clean bathrooms and hot water showers, thanks to our self-sufficient mini-hydro-plant that generates all our electricity. We built our lodge as a sustainable eco-lodge including the building materials, waste management system, recycling practices, and the clean, renewable energy that powers the entire facility.
You'll get the chance to settle into your deluxe riverview room with private bath, than come on down to our open air dining area, where our guides prepare fresh appetizers and our guest-acclaimed "famous jungle punch. As the sun dips behind the hills and the twilight fades, you will be treated to a delicious freshly prepared dinner with candlelight and wine. Ahh, this is adventure vacationing at it's best! (B, L, D)
Day 5: Whitewater Action! Class IV Rafting on Lower Pacuare- Puerto Viejo
After yet another serving of Costa Rica's tastiest coffee and a hearty breakfast, we will pack up and load the rafts in preparation for paddling down the Pacuare gorge past gushing waterfalls, serene pools and pounding rapids. A snack stop by the riverside lets you explore more waterfalls and natural waterslides. An adrenaline-packed afternoon running rapids like Upper and Lower Huacas, Cimarron, Dos Montanas and many more, will have you cheering ecstatically. We will have transportation waiting for us at the take-out in the town of Siquirres, where we will whisk you away to our Operations Center just a few miles up the road. We will have a hearty hot lunch waiting on us upon arrival. Showers, changing rooms, cold and hot drinks, snacks, a bar, and souvenirs are all available.
At end of the tour, you will be dropped off at your hotel in Puerto Viejo de Limon.
Puerto Viejo offers a broad variety of hotels, lodges, and cabins, most of them featuring simple bungalows with Caribbean architecture, set in landscaped gardens in front or close to the beach. You will also find a diversity of restaurants offering great Caribbean style food, freshly caught seafood, superb international cuisine, delicious natural juice drinks and energetic breakfasts. Women in town make coconut bread, biscuits and other traditional goodies of Limon.  Check-in to the Hotel Cariblue/ superior room for a two-night stay. (B, L)
Day 6: Biking Tour  Nature Reserve & Caribbean Village
Pickup from your hotel for this half day nature and adventure tour. Drive about 20 minutes to the Almonds & Corals Lodge, where you begin your bike tour. Head towards Manzanillo, a typical fishermen Caribbean Village located about 2 miles away from this lodge.
Beautiful golden and white sandy beaches will appear along the gravel road, as well as cozy little houses of Caribbean style. Thanks to the conservation efforts of the Gandoca Manzanillo Wildlife Refuge you can find a great variety of wildlife along the road, such as birds, toucans, sloths, monkeys and coatis, as there are 380 different species of birds only at this Refuge. Half way on the road the group will stop at a local bar to sample a refreshing cold Costa Rican beer or soda.
We will keep on pedaling and we'll go through this authentic Caribbean Village. Once we arrive to Manzanillo, we will walk on the beach and have time to enjoy the blue waters of the Caribbean sea.
Once we are back to Almonds & Corals Lodge, will be a delicious tropical fruit platter to quench the thirst while chatting about this marvelous journey. Return transfer to your hotel, with the remainder of the day free to enjoy the beach (across the street) or your hotel's facilities. (B)
Day 7: Puerto Viejo - San Jose
Afternoon return to San Jose on your shuttle transfer. (Private transfers are available at an additional cost).  Check-in to either the Park Inn or Presidente Hotel for an overnight stay. (B)
**Feel like more beach time? Just let us know and we can extend your stay.
Day 8: Departure. At the pre-arranged time, our local representative will pick you up at your hotel and transfer you to the San Jose Internatioanl airport tocheck-in for your departing flight.  (B)
B=Breakfast; L=Lunch; D=Dinner
 
Departures
Daily with a minimum of 2 travelers
Travel Style
recommended custom itinerary