Costa Rica Caribbean Adventure | Trip Accommodations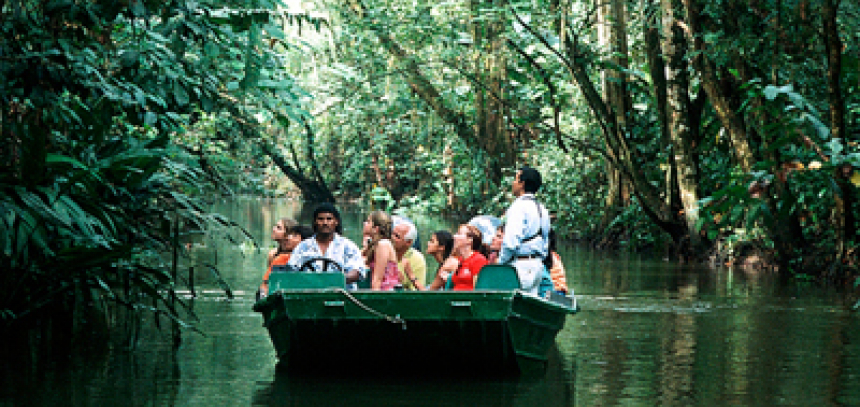 | Location | Hotel/Lodge |
| --- | --- |
| San Jose | Park Inn or Presidente Hotel/standard |
| Tortuguero | Mawamba Lodge/standard |
| Pacuare River | Pacuare EcoLodge/deluxe |
| Puerto Viejo/Cairbbean coast | Cariblue/superior |
Upgraded hotels/room categories can be quoted on request.
Hotel/Lodge Descriptions
Tortuguero/ Mawamba Lodge
Mawamba Lodge has a unique and privileged location in the exquisitely Tortuguero Canals and National Park. Nestled on fine strip of land, between the Caribbean Ocean and the Tortuguero Canals, it blends in with the surrounding natural richness to welcome you in this tropical sanctuary. Mawamba's experience is laid-back, Caribbean style, and it can get as adventurous as you want. From the soft, quiet boat outings to discover the jungle to the adrenaline filled kayak tours and evening exploration tours. It is fit for the traveler of all ages, where children will learn to cherish the beauty of natural resources, couples who enjoy nature will romance discovering unique experiences and families can experience a fantastic time.
Pacuare River/Rios Tropical Eco-Lodge
At the Rios Tropicales Lodge you are surrounded by the beauty and splendor of primary rainforest without having to sacrifice luxury or comfort. Equally important, they didn't sacrifice the gorgeous environment to make you feel welcome and comfortable. Sustainably built using reclaimed wood and hydroelectric powered, Rios Tropicales Ecolodge is a model of ecotourism.
For this itinerary we will confirm you in a deluxe riverview room.
Don't worry about bathrooms - our lodge enjoys modern, clean bathrooms and hot water showers, thanks to our self-sufficient mini-hydro-plant that generates all our electricity. We built our lodge as a sustainable eco-lodge including the building materials, waste management system, recycling practices, and the clean, renewable energy that powers the entire facility. At our ecolodge, you can relax, explore and enjoy all that Costa Rica offers on our 2,000-acre private reserve at the mouth of the Pacuare Gorge. We have more than 40 miles of hiking trails and numerous waterfalls, streams and pools. Our open-air dining pavilion and lounge let you watch the local wildlife and listen to the sounds only found in a tropical paradise.
Puerto Viejo/Hotel Cariblue
Hotel Cariblue is a small distinctive bed & breakfast resort located in Puerto Viejo, Talamanca in the province of Limon. Puerto Viejo is a rustic and charming town whose people are very relaxed and friendly. The town's night life includes discos with Caribbean music, fun "chill out" bars and an array of International and local cuisine restaurants.  Cariblue is an ideal place to relax and enjoy nature in comfort. The hotel offers secluded hardwood bungalows set in an exotic tropical garden close to the pristine white sand beach of Playa Cocles and the lush tropical jungle of Puerto Viejo. It also has a nice, fresh water pool and a palm-thatched restaurant that offers great Italian and International food.  The hotel is dedicated to the vision of saving the environment through eco-tourism and its goal is to give their guests the most comfortable and satisfying experience of Costa Rica's natural beauty.
Room category for this itinerary: Bungalow superior: hardwood bungalows with two queen sized beds and a bunk bed which will house up to 6 people, private porches with hammocks, mosquito nets, private bathrooms decorated in mosaic with hot water. Optional upgrade--ideal for famlies:  House: spacious house, fully equipped with kitchenette, 2 bedrooms and 2 private bathrooms with hot water, porch with hammocks and mosquito nets.
San Jose/Park Inn
The Park Inn by Radisson is perfectly situated just three blocks from Paseo Colón, the city's main avenue, walking distance from downtown. Relax at the Park Inn's comfortable accommodations after a long day exploring San José or its surroundings, sample local and international cuisine at RBG Bar & Grill, and enjoy a dip in the shimmering outdoor pool. In-room amenities like free wireless Internet access and 42-inch flat-screen televisions make it easy to unwind after your adventures in the city.
San Jose/Presidente Hotel
A four-star, 92-room hotel in the heart of Downtown San José, the Hotel Presidente is located on the corner of the Central Avenue Pedestrian Boulevard and Seventh Street, just 20 minutes from the International Airport (SJO). Business travelers find the many business services, including our free wireless Internet access, free breakfast buffet, gym, make it easy to remain productive while staying at the city's top hotel for business travel to Costa Rica. All of our guests at the Hotel Presidente are sure to enjoy the many amenities the hotel offers, such as our restaurants and lounges and concierge services. It features an excellent location to explore San José and it is ideal to visit the main attractions such as museums, casinos, bars and restaurants.
Departures
Daily with a minimum of 2 travelers
Travel Style
recommended custom itinerary