Hamanasi Dive & Adventure Resort | Trip Accommodations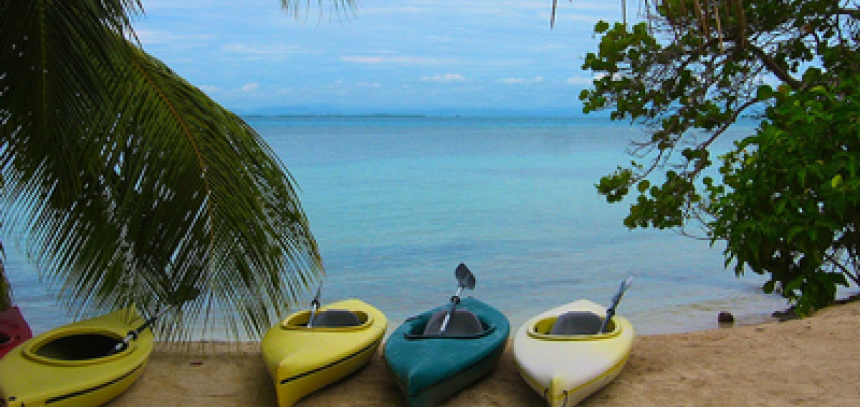 Hamanasi offers 5 different types of accommodations so you can select the one that best suits your travel style and expectations.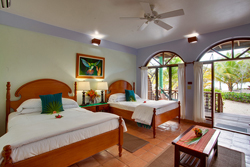 Beachfront (8)
The beachfront rooms boast magnificent sea views and plenty of space. These rooms have either a king size bed or two queen beds made of Belizean hardwoods. Additionally, all rooms have a futon couch that can pull out into a full size bed. The louvered windows will allow you to enjoy the refreshing ocean breeze. These rooms are 16 X 24 feet plus an 8-foot porch. You'll enjoy sunrise and sunset from your Beachfront Rooms!
Number of units: 8
Bedding: 1 king bed and a futon or 2 queen beds with a futon.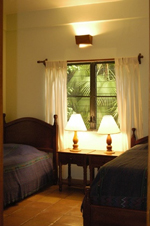 Maximum occupancy: 4 persons
Beachfront Plus (2)
Traveling with kids? A group of friends on vacation? The commodious beachfront plus rooms are an ideal solution for those wishing to share a room. The beachfront plus rooms are 17 X 28 Feet plus an 8-foot porch. One room has a mahogany king size bed and a table and chairs. In a separate room there are two twin beds. Both rooms have their own entrance to the shared bathroom.
Number of units: 2
Bedding: 1 king bed and 2 twin beds.
Maximum occupancy: 4 persons
Treehouse (8)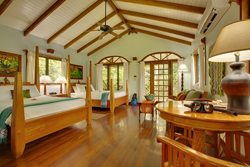 Hamanasi's most popular rooms, these spacious, individual cabanas provide the utmost in privacy. Each unit is raised 12-feet and is surrounded by a variety of trees, orchids and birds. The treehouse size is 17 X 26 feet plus an 8-foot porch. Four treehouses feature stately king-size beds made of the hardwood barba jalote. Two rooms have 2 mahogany queen beds. All treehouses have air conditioning, louvered windows, ceiling fans, hardwood floors and full size futon couches. The bathrooms are spacious and have double vanities and a shower with a 5-foot window and skylight. Porches have comfortable mixed hard wood clam chairs, a table and hammock. The primary attraction of the treehouses is privacy. Each cabana is freestanding without a room above, below or directly beside it. Because of the surrounding trees you may see up close a plethora of birds.
Number of Units: 8
Bedding: 1 king bed and a futon or 2 queen beds with a futon.
Maximum Occupancy: 4 persons
Beachfront Suite (2)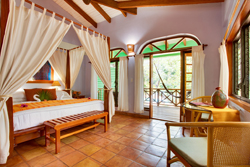 The two spacious Beachfront Suites are 17 X 28 feet plus an 8-foot porch overlooking the beach. Bedrooms have romantically draped four-pollster king size beds made of barba jolote wood. The bedrooms open into a large front room complete with a comfortable sitting area and a dining table and chairs. Walls are painted in cool, tropical tones and have vaulted ceilings with exposed barbe jolote beams. Porches boasting views of the ocean and lush foliage have mixed hardwood deck chairs and cozy hammocks. These rooms have coffee makers, I-Homes, ironing boards and robes. For a honeymoon in Belize, or just a romantic getaway, with so much space, comfort and romance, you'll never want to leave!
Number of Units: 2
Bedding: 1 king Bed
Maximum Occupancy: 2 persons
Deluxe Treehouse (5)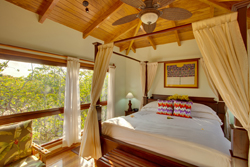 Tucked into its coastal littoral forest are Hamanasi's newest units, the Deluxe Treehouse. Named "Black Orchid" after the Belizean national flower which graces the paths, the Deluxe Treehouse enjoys a spacious living room in cool tropical tones furnished with handcrafted Belizean furniture and local art.  Adjoining is a large, charming kitchenette with a dining table, stocked mini bar, coffee maker and bottled water. Bold blue tiles adorn the commodious bathroom, which boasts double vanities, plenty of storage space and his and her robes. Guests enjoy views of the tropical vegetation through the expansive window in the huge shower/tub with twin showerheads. This treehouse also features a wrap-around veranda with jacuzzi.
Number of Units: 5
Bedding: 1 king bed and a futon.
Maximum Occupancy: 4 persons
Scroll Down for Photos of the Hamanasi Resort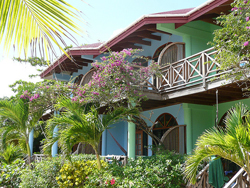 Hamanasi Resort/Beachfront rooms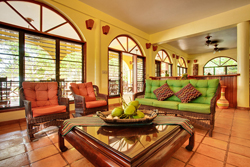 Hamanasi Resort/Great Room Lounge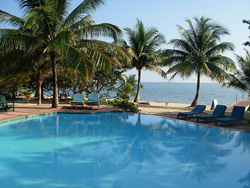 Hamanasi Resort/Pool
Hamanasi Resort/Deck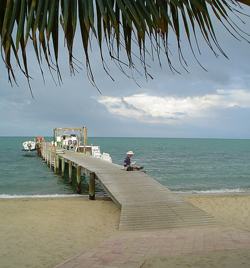 Hamanasi Resort/Pier
Departures
Price
Dependent on length of stay and room category. Select the "Pricing/Trip Notes" tab to display options.
Travel Style
recommended custom itinerary