M/V Tucano-Into the Wild Amazon | Trip Accommodations
Follow these links for additional information on the M/V Tucano: 
Photos of the cabins & interior;  Deck Plan;  Boat Specifications
The Tucano is a big boat, over 80 feet long. There is plenty of space to spread out, study the forest nearby, and contemplate the wonders of nature.
Windows to See the Forest: There are 76 large windows on Tucano and all of them open and close. There are large insect screens, though generally there are very very few mosquitoes on our voyage. Air-Conditioning: All the cabins and the Salon are air-conditioned. Every cabin has its own thermostat and individual controls. Your cabin can be as cool or as warm as you wish. We encourage travelers to from time to time turn off the air-conditioning and smell the blossoms.
The Salon is at the forward part of the vessel and is surrounded by a broad balcony. Thoroughly paneled and lighted by brass lamps, this room serves as our vessel library and dining room. It is a good place to observe the forest, read or relax. From this large space, filled with windows and situated at the front of the boat, you can see the fantastic forest around us.
Deck Space: The top deck is open and has a large sun canopy --a wonderful place to spot wildlife or soak in the vastness of the Amazon. There is also space to catch some sun and watch the Macaw parrots screeching across the afternoon sky.  The middle deck has a wide balcony around the entire front of the boat. Passengers can see where we are going and observe monkeys jumping from one vine to another.
All of the staterooms on the Motor Yacht Tucano are outside staterooms with large windows, private baths with showers, and air-conditioning. There are nine staterooms within the three categories.
Yellow Category Staterooms: The five double staterooms in the Yellow category are the largest on the vessel. They have beds side by side with a small night table in between. They are numbered 3, 4, 5, 6, and 0. Stateroom number "0" has a queen size bed and a single bed and can be used as a triple. Beds in staterooms 3, 4, 5 & 6 can be converted to 1 queen.
Blue Category (Single Staterooms): These staterooms are for single travelers. They are numbers 1 and 8 and have a single twin bed. On request, these can be converted to Green staterooms (bunk beds)
Green Category Staterooms: There are two staterooms in the Green category. These are numbered 2 and 7 and they have above and below berths. These staterooms are smaller than the Yellow staterooms, but are they are still comfortable, are outside staterooms and have large windows, private bathrooms, and air-conditioning. Green staterooms are less costly than the Yellow Staterooms.
| | |
| --- | --- |
| Cabins | 9 |
| Length | 82' |
| Maximum Width | 22' |
| Passengers | 18 |
| Crew | 8 |
| Cruise Range | 1000 miles |
| Air-Conditioning | Salon/Cabins |
| Electricity | 110 v/ 60 cycle |
Scroll down for photos of the M/V Tucano's cabins and interior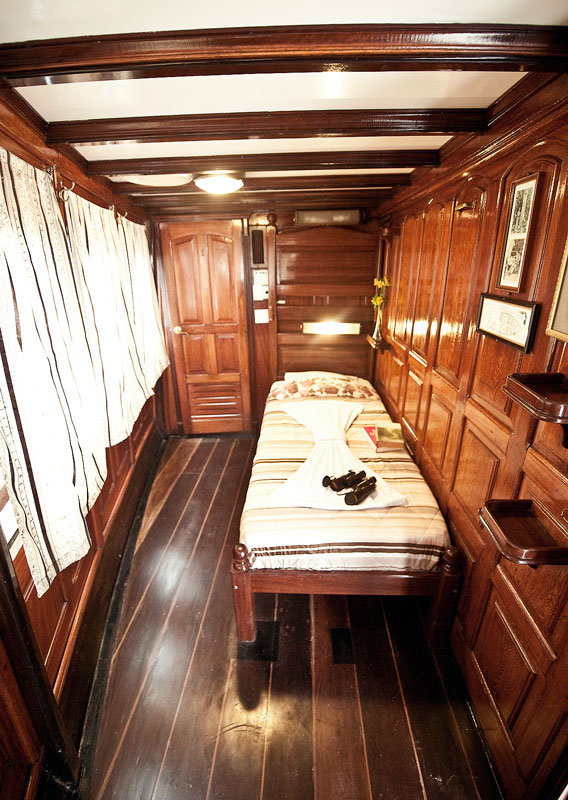 M/V Tucano-Stateroom #1/Blue Category for single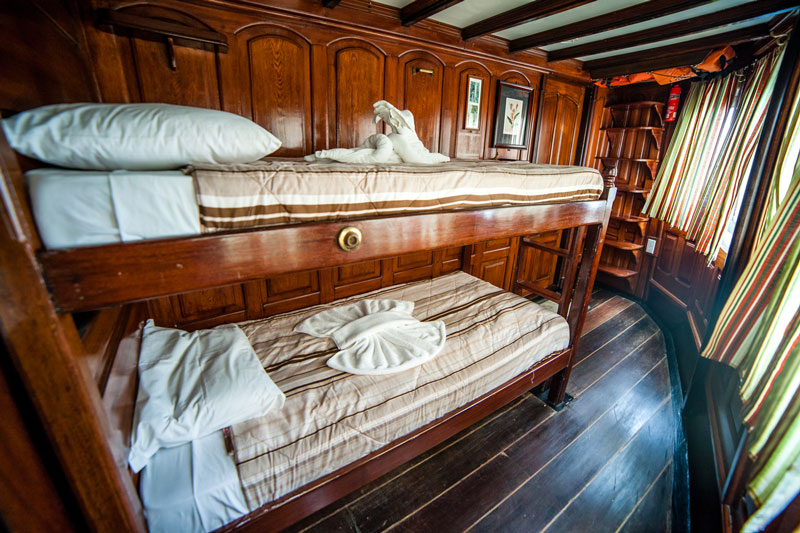 M/V Tucano/Stateroom #2/Green Category Bunk Beds
M/V Tucano-Stateroom #0/Yellow Category with 1 queen and 1 twin bed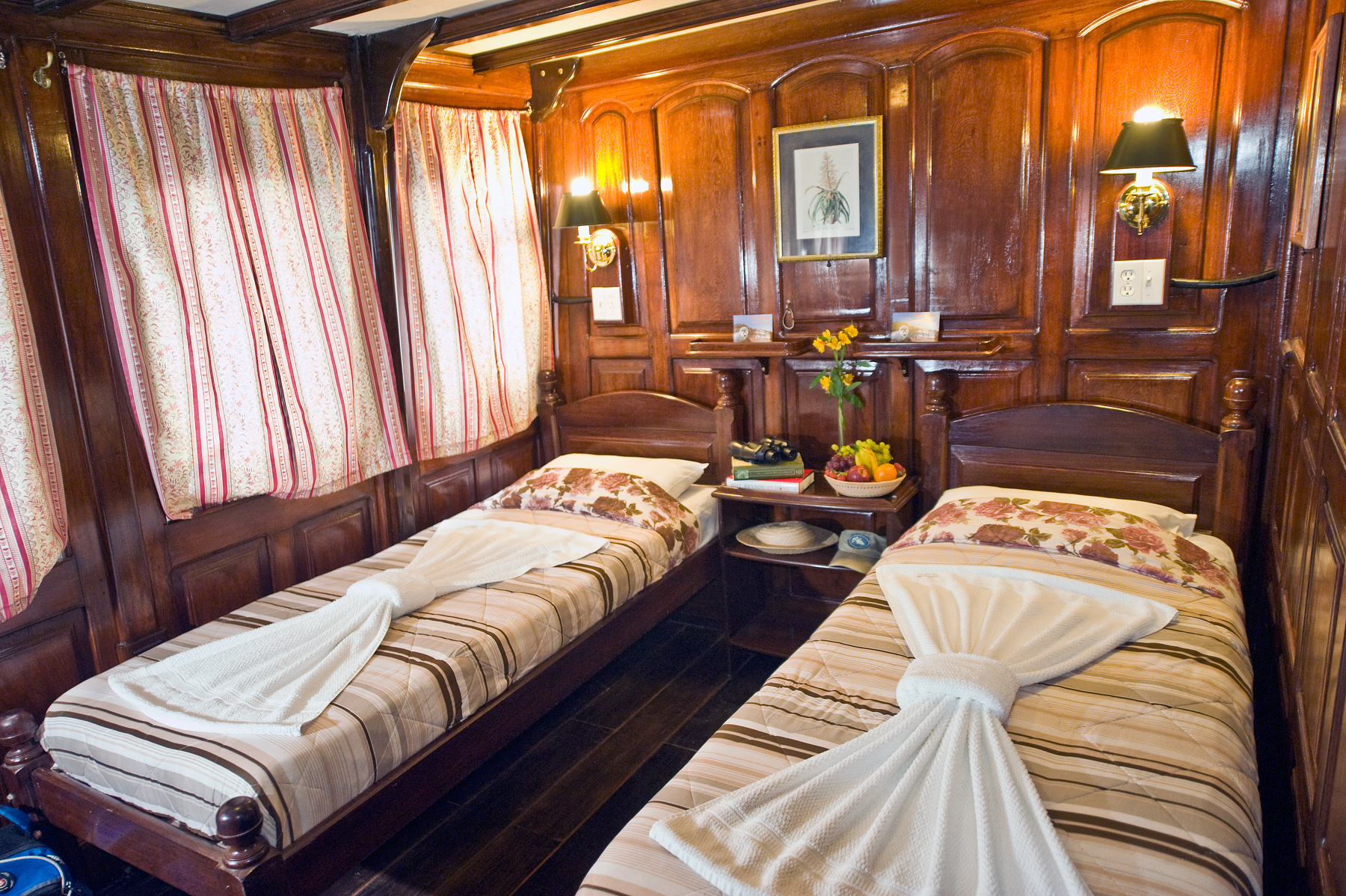 M/V Tucano-Stateroom #5/Yellow category.  Can convert to Queen bed.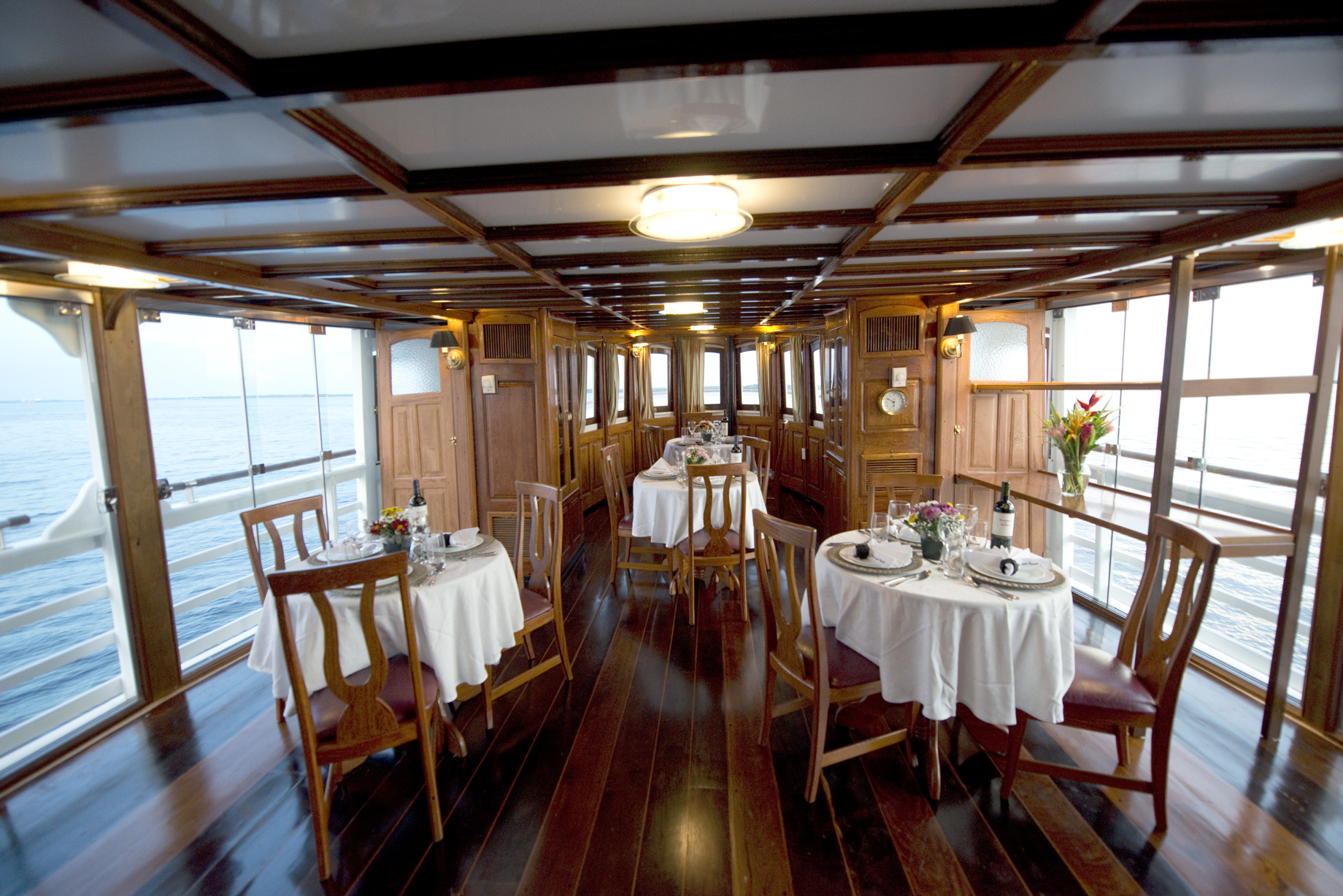 M/V Tucano-Dining area/Salon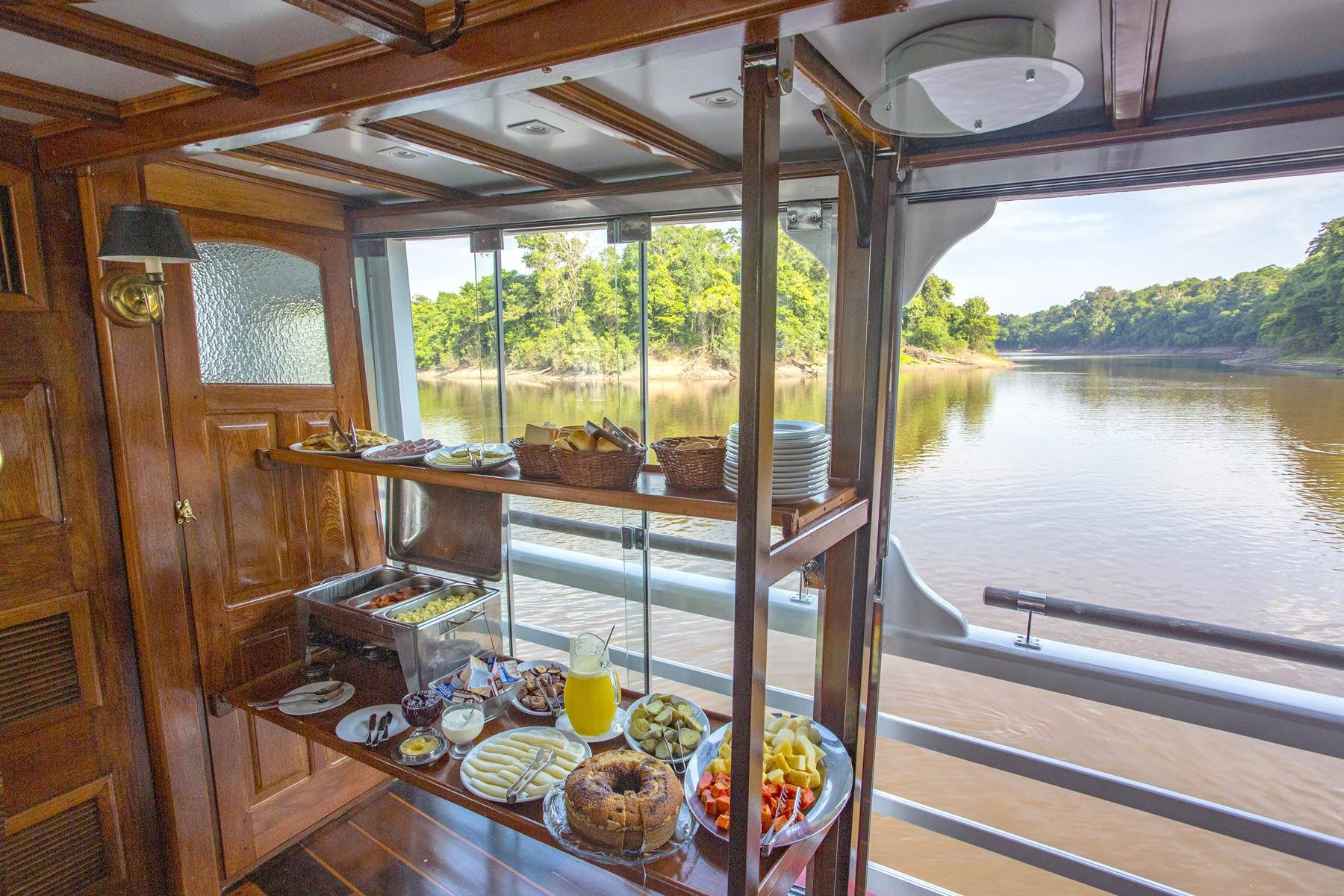 M/V Tucano-Breakfast Buffet with a View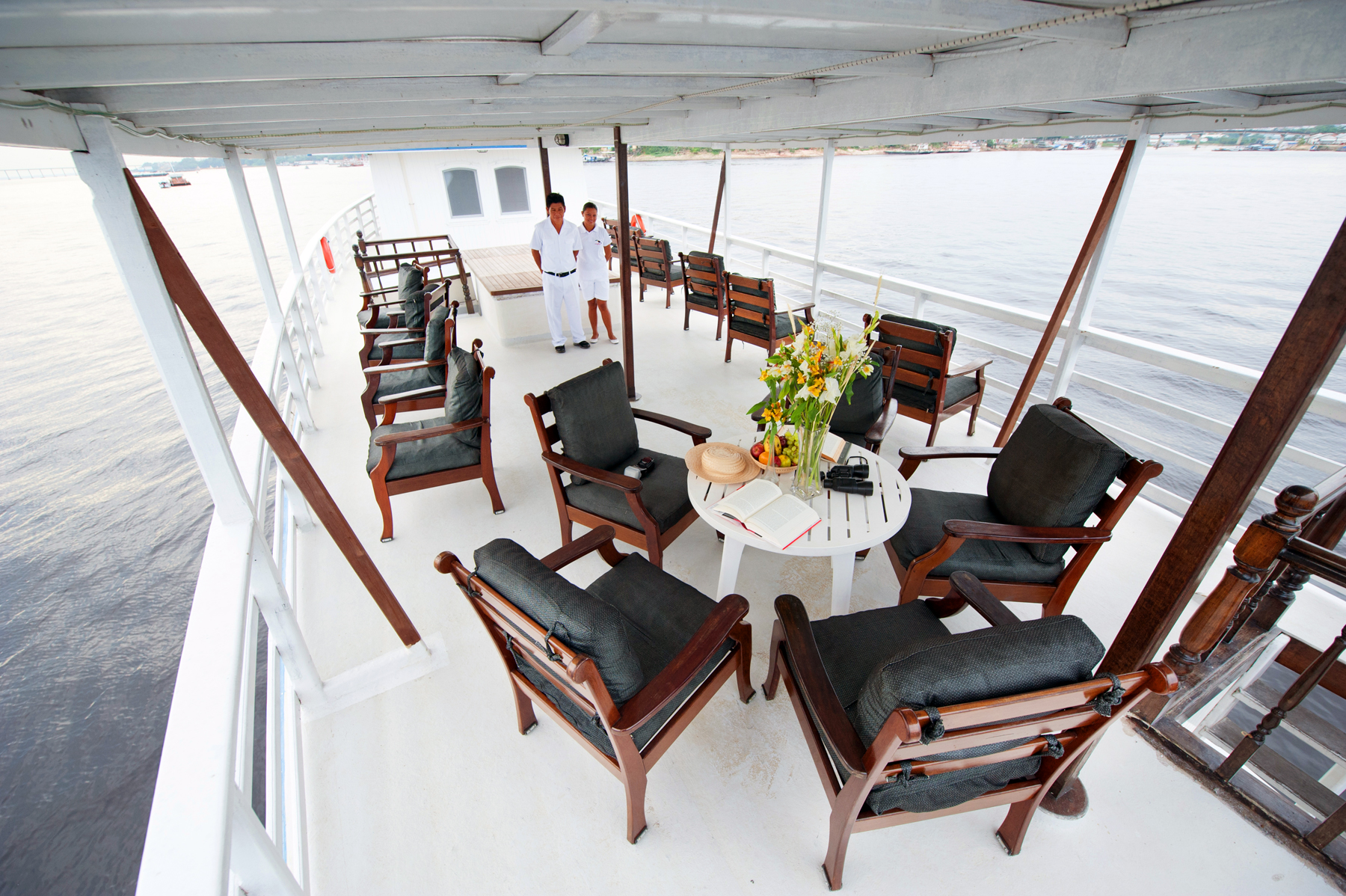 M/V Tucano-Observation Deck
Follow this link for  a deck plan of the M/V Tucano.
Departures
2023 Departures
Price
$2000 for cabins
with upper/lower beds
$2750 for cabins
with two lower beds
$2750
single cabin