Nicaragua Explorer | Trip Accommodations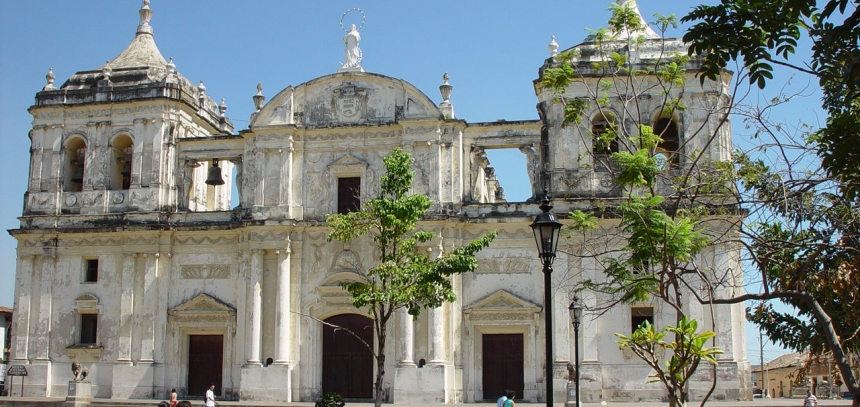 | Location | Moderate Hotels | Premium Hotels |
| --- | --- | --- |
| Managua | Los Robles/Deluxe | Real Intercontinental/Standard |
| Matagalpa | Selva Negra/Bungalow | Selva Negra/bungalow |
| Leon | Flor de Sarta/Standard | El Convento/Executive Premier |
| Granada | Patio del Malinche/Superior | Plaza Colon/Superior |
Alternate hotels and room categories can be quoted on request
Room categories are "standard" unless noted differently
HOTEL DESCRIPTIONS
MANAGUA:
Hotel Los Robles.  The hotel is ideally located in a residential area, a few minutes away from Managua's financial and commercial center. The owners of the hotel have tried to create a pleasant and relaxing atmosphere inside a distinctive colonial Nicaraguan home. Thanks to its small size, the hotel staff focuses their efforts on service and personalized attention to guests. All the furniture and antique items have been made with precious tropical woods, cotton bedspreads have been crocheted by hand, forged ironworks can be appreciated throughout the hotel and many other details have created a distinguished and unique atmosphere.
Each of their 14 rooms offer: Air conditioning, ceiling fan, bathroom with shower/bathtub, direct phone line, safety deposit box, hair dryer and small private patio. The services the hotel offers are: bar and room service 24 hours, laundry and dry cleaning, business center, internet free of charge & multilingual staff.
Real Intercontinental Metrocentro Managua.  Centrally located close to Managua's restaurant district Zona Rosa in the heart of the business and entertainment district, this 5-star deluxe hotel offers all of the best amenities and comfort for your time in Managua. Common areas offer very stylish and contemporary with three restaurants, a big outdoor pool, a well-equipped gym and efficient service. The hotel has an infrastructure that provides the standards of any 5-star hotels with its 157 comfortable and elegant guestrooms.
MATAGALPA:
Selva Negra Eco Lodge At the Bavarian-style gatehouse the guard lifts the red and white stripped bar permitting entrance into the unique world of Selva Negra. Here at more than 3,000 feet you will have to pinch yourself to believe that you are still in Nicaragua. Selva Negra is a sustainable coffee plantation that welcomes tourists. From the food on the table in the lakeside restaurant to the electricity in the quaint half-timbered cabins, everything needed to run this little kingdom is produced at Selva Negra. Located in the highlands of central Nicaragua, the hills of Selva Negra are draped in green year round and the temperature is always comfortable. Fourteen trails, six of which are designed for horses, make this beautiful and pristine cloud forest easy to explore. Selva Negra's one bedroom bungalows have one intimate bedroom, bath and living room & front porch.
LEON:
El Convento Hotel This hotel has been reconstructed where the San Francisco Convent used to be. San Francisco convent was the first and most antique convent in Leon city. Its church was founded in 1639. Because in 1830 religious groups were expelled from Nicaragua it became the I.N.O. (Instituto Nicaraguense de Occidente) The hotel itself has plenty of art and religious exhibitions and an elegant restaurant next to the enormous indoor patio awaits their guests. The hotel has 31 rooms. All rooms have TV cable, hot water, international dial tone, internet access, air conditioning, 24-hour room service and laundry service. In 2013 opened a gym and a beautiful pool.
Hotel Flor De Sarta is stylish boutique hotel located just a half block from the city's historic cathedral. The hotel offers 24 rooms, all with flat screen TVs, WIFI, air-conditioning and ceiling fans. You'll find a 24-hour reception, garden, terrace, bar, and outdoor pool. Breakfast is included, and you'll find many dining options for lunch and dinner with-in a 5-minute walk.
GRANADA:
Hotel Plaza Colon remains faithful to its historic roots, preserved over two floors with each of its 27 bedrooms retaining its former persona as a private colonial-era mansion. The rooms reflect the classic, slightly old-fashioned colonial look of the rest of the hotel with high ceilings, whitewashed walls and tiled or polished wooden floors. A nice upgrade is to a room overlooking Parque Central, as these come with broad balconies and rocking chairs – perfect for front row views onto Granada's lively scene. A large pool, plenty of outdoor seating, a café and bar area complete the amenities.
With the hotel's prime location, you're right in the heart of the highly walkable old quarter. Calle La Calzada, with its affordable restaurants and bars leading down to the shore of Lake Nicaragua, is a five-minute walk away. Behind the hotel are Granada's best museums, oldest churches and monasteries.
Hotel Patio del Malinche is located on "el Caimito", a street is in the center of this historical town that links the central park with the lake Cocibolca. From here, you will be able to visit the most interesting parts of town, stroll down the streets with their sun-dried brick houses and relive scenes from the past by observing the locals just sitting in their rocking chairs watching life go by.
The core of the hotel is a colonial home restored to its original architecture, creating a space that is attractive, comfortable and spacious.  El Patio del Malinche has a first patio that contains a garden surrounded by four corridors and a second patio features a swimming pool surrounded by 16 guest rooms, a recent addition to the hotel includes a third patio area and four new superior rooms, combining the comfort and beauty of old traditional Granada houses.
Departures
2023 Departures
Any day--
Recommend Tues thru Friday for optimum Museum visits
Price
Moderate hotels
4 people/2 rooms
$1275 pp
2 people/1 room
$1475 pp
Premium hotels
4 people/2 rooms
$1795 pp
2 people/1 room
$1995 pp
Travel Style
recommended custom itinerary