Guyana Savannah and Rainforest Adventure | Trip Notes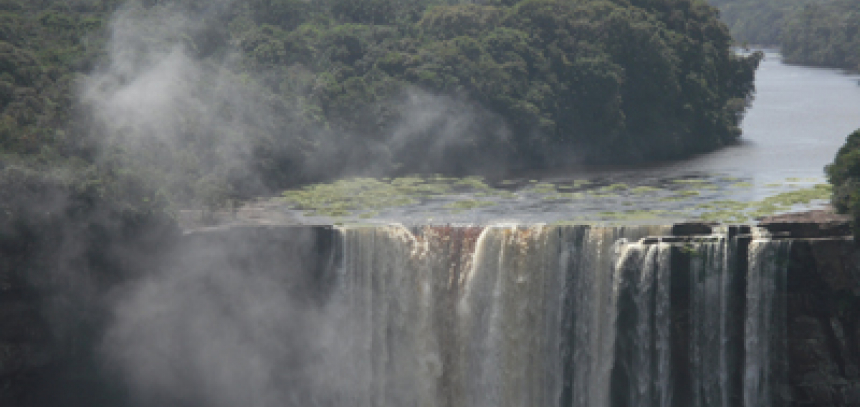 | 2018 Rates | 4 people/2 double rooms | 2 people/1 double room |
| --- | --- | --- |
| Per person | $5550 | $6650 |
Trip Notes:
For Kaieteur Falls:  Flights to Kaieteur and Orinduik Falls are operated on chartered aircraft and all flights have a minimum passenger restriction.  Therefore, any booking to Kaieteur and Orinduik Falls is subject to a minimum of 5 passengers being available to travel.  In most cases we are able to fill flights, especially if scheduled for a weekend.  However, in the rare case that we cannot meet the required numbers we will reschedule the trip to another day during your stay, if this is possible.  Wilderness Explorers retains the right to reschedule a flight as a first option.  If we cannot reschedule the flight Wilderness Explorers will guarantee a flight, with a minimum of 5 passengers, to Kaieteur Falls only or a combination of Kaieteur Falls and Baganara Island Resort.  This means you see the major falls of Kaieteur, but miss Orinduik Falls


If a flight is cancelled due to circumstances beyond our control, such as weather, we will endeavor to reschedule the flight during your itinerary.  If this is not possible then a full refund on the flight will be made.
Note: Passenger/s traveling on internal flights in Guyana are allowed a free baggage allowance of 20lbs/9.1KG exceeding this weight passenger/s will incur a cost of GY$150.00 (price subject to change) equivalent to US$ 0.77cents per pound. Please note that additional baggage allowance is subject to availability and cannot be confirmed until day/time of check-in by the airline.  We can book excess weight on your behalf but it is subject to being within the payload of the aircraft and at the discretion of the airline. Contact us for more information.
Please be advised all customers must provide us with body weights of passengers booked to travel on tour to Guyana for all internal flights. Failure to provide us with this information or the incorrect information can cause delays to flights and inconvenience to other passengers and in some cases either passengers and/or luggage being taken off the flight.  To ensure a holiday that is enjoyable and hassle free, it is imperative that passengers provide us with this information.  We appreciate some people are sensitive about providing their body weights, but all customers and their baggage are weighed at check-in.  This is procedure by the airline so as to ensure that the weight of the load is within the payload limit for the aircraft, and neither they nor our local operator Wilderness Explorers will compromise on safety.  All passengers are subject to removal of themselves or luggage from the flight if over the weight they provided and/or over the baggage allowance.  Passengers are advised to provide a body weight with clothing similar to that which they would expect to travel in on the flight.  Wilderness Explorers cannot be held responsible for any passenger denied boarding or luggage not transported if they are over the weight provided.  Weights supplied are provided to the airline in advance to ensure the flight is within the allowable payload. Please be advised of internal flights free baggage allowance of 20 lbs per person.
PLEASE BE ADVISED THAT DUE TO THE NATURE OF THE TERRAIN, WEATHER, ROAD CONDITIONS, RIVER CONDITIONS AND OTHER ELEMENTS. BEYOND OUR CONTROL SOME PARTS OF THE TOUR MAY HAVE TO BE CHANGED OR CANCELLED DUE TO THE CONDITIONS.  IF ANY ACTIVITY IS CANCELLED OR CHANGED IT WILL BE REPLACED WITH AN ALTERNATIVE ACTIVIY THAT IS MORE APPROPRIATE FOR THE CONDITIONS AT THE TIME.   ADVANCE NOTICE WILL BE GIVEN FOR ANY CHANGES WHERE POSSIBLE, ALTHOUGH AT TIMES CHANGES MAY BE MADE WHILST THE TOUR IS IN PROGRESS.
With any trip involving wildlife it is impossible to guarantee a sighting, but each trip is designed around know habitats.  Our staff will make every effort to ensure a sighting, but cannot be held responsible if no sighting is made due to the wildlife itself, weather, or any other elements beyond our control
Departures
2018 Departures
Price
4 people/
2 double rooms
$5550p/p
2 people/
1 double room
$6650
Travel Style
recommended custom itinerary