Galapagos Island Hopping Adventure | Trip Notes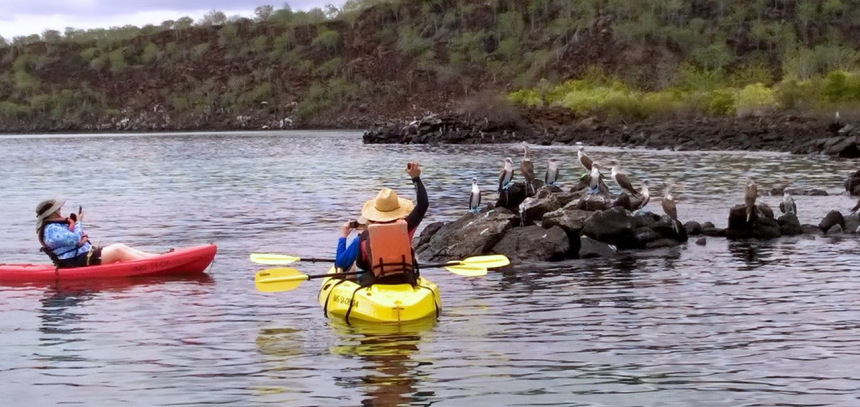 2022 Prices
Galapagos Island Hopping Adventure
prices per person
2 people/
1 double room
4 people
2 double rooms
Moderate hotels
$3225
$2650
-Upgrade to ocean view room/Pto Ayora/3 nts
+$80
+$80
First Class Hotels
$3825
$3250
Holiday Surcharge apply for travel beginning Dec 22-Jan 3.
TBA
TBA
**A great deal for families & friends--children's rates available on request
INCLUDED: Accommodations in your select hotels, meals as described, all inter-island air and boat transportation, all land & boat transportation w/in the Galapagos Islands, private or shared tours (per itinerary) with professional English speaking naturalist guide, guides.
NOT INCLUDED: Airfare to/from Galapagos  $485-$525, subject to change) Galapagos National Park Entrance Fee ($100 per person), $20 Transit control tax, hotel & restaurant dinners, beverages, tips or gratuities, or personal expenses.
IMPORTANT: This itinerary is subject to change without notice due to seasonal changes, last minute weather conditions and adjustment of Galapagos National Park policy.
Trip notes:
This trip begins and ends in Quito, Ecuador, which can be reached via daily flights on a wide variety of airlines. Latin American Escapes offers excellent discounted airfares, please contact us for a quote from your home city.
Additional days may be added in Quito at either the beginning or end of this itinerary if you wish to explore the city in more depth, or visit other interesting areas of Ecuador---the Amazon rainforest, colonial cities, Indian markets, volcanoes, hot springs, etc.
Additional Information:
SEASON: All year
ALTITUDE: Sea level to 600 m.
WEATHER TEMPERATURES: December to May: 80ºF to 90ºF / 25ºC to 30ºC. June to September: 60ºF to 70ºF / 15ºC to 20ºC. October to December: 70ºF to 80ºF/ 15ºC to 25ºC
WATER TEMPERATURE: The waters of the Galapagos Islands are a unique mixture of warm and cold water, ranging between 65ºF and 85ºF.
SUGGESTED: Water sandals, rain shell, flashlight, water bottle, non-cotton trekking gear, sun block, hat and mosquito repellent.
Departures
2022 Departures
Price
2022
4 people/2 rooms
From $2650 pp
2 people/1 room
From $3225 pp
Travel Style
recommended custom itinerary