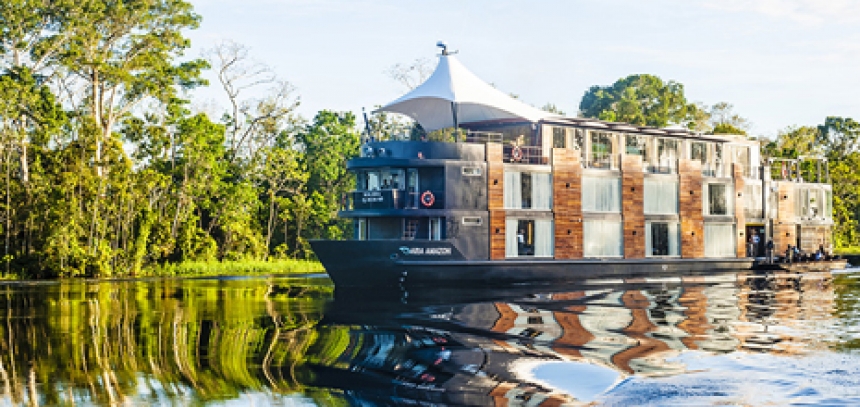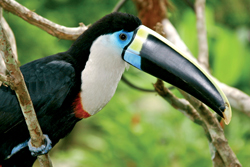 With just 16 luxury suites, and a crew of  24, the M/V Aria Amazon is a top choice for combining superb service with a wonderful wildlife expedition.  Enjoy fine wine and haute cuisine, in all-inclusive comfort equivalent to a five-star boutique hotel. The 16 over-sized staterooms all feature en-suite seating areas, generous beds, and wall-to-wall panoramic windows.  Top-notch guides, spacious decks and public areas let you explore the Amazon rainforest in comfort and style.
The ideal way to experience Peru's northern Amazon is by river, bringing you deep into the Amazon rainforest and jungle.  Your destination is the Pacaya Samiria Reserve, located on the headwaters of the Amazon basin, and spanning more than five million acres. Daily water-based excursions on comfortable launch boats allow guests to experience such wonders as pink dolphins and six-foot-wide water lilies, to fish for sharp-toothed piranha, giant river otters, and to interact with the people who live out their days along the river
Every excursions is led by a trained and knowledgeable naturalist guide who is fluent in English and/or French. You'll have plenty of time  to explore, listen to your guide's explanation, and photograph the abundant wildlife.
Departures
2021 departures
Fridays:
8 day/7 nt or
4 day/3 nt
Mondays:
5 day/4 nt
Price:
4 days from $3525
5 days from $4700
8 days from $8225