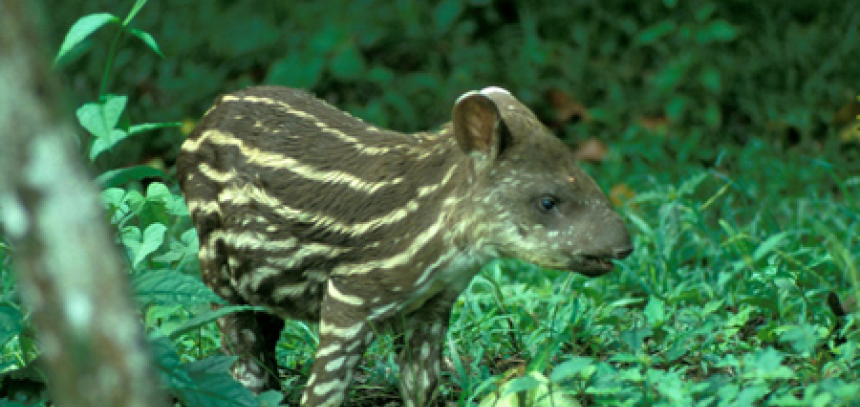 A comprehensive exploration of Peru's remote Manu province.  Arrive by air and then travel by motorized canoe to a rustic, tented camp in the heart of the Manu Biosphere Reserve, and then to the comfort of the Amazon's finest wildlife lodge.
In the area near to the Manu Tented Camp or Albergue Machiguenga we navigate the waters of an isolated oxbow lake, home to Giant Otters, caimans, monkeys and an endless variety of birds. After two nights here, we continue downriver to the Amazon's finest wildlife viewing opportunities, at Manu Wildlife Center. This lodge offers the finest Tapir viewing in ALL the Amazon, as Tapirs are nightly visitors to the lodge's mud wallow. The mornings feature clay licks and fruiting trees teeming with parrots and macaws. A network of trails, two towers for forest canopy viewing, and two adjacent pristine lakes round out the perfect rainforest experience.
Manu National Park, Amarakaeri Communal Reserve, Manu Wildlife Center Private Reserve, and Los Amigos Private Reserve comprise a single, continuous complex of protected areas in Manu province—the best protected section of the one percent of the 20%.  The oldest of these units, Manu National Park, boasts the coveted status of UNESCO World Heritage Site. The entire complex covers 2.5 million hectares/6.2 million acres, almost the size of Belgium or the U.S. state of Maryland.  The region includes vast areas inhabitated only by either uncontacted tribes or a handful of intrepid scientists.
Departures
2021 departures
Thursday to Monday
March thru November
Travel Style:
group trip offered as a component to a complete itinerary