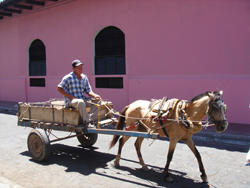 We've included the main highlights and best activites of Nicaragua on this comprehensive eight-day itinerary.
First you'll explore Leon's majestic plazas, architecture and history before moving on to the warm, vibrant and friendly colonial city of Granada. Based here, explore the nearby artisan's market & volcano, take a boat ride through the scenic islands of Las Isletas on Lake Nicaragua, and stroll the shops, museums and parks of the city.
Your final stop is the majestic Ometepe Island, reached by a short ferry ride from the mainland.  Marvel at this perfect setting, as village spread out between the two impressive, and distinctly different volcanoes of Concepcion and Maderas. You'll spend a day exploring villages, a museum, petroglyphs and wildlife as you interact with the friendly locals and experience life on Nicaragua's most famous island.  Have a few extra days? check out our 3 night beach extension to San Juan del Sur!
Departures
2023 departures
Any day
Most museums are closed on Mondays
Price:
Moderate hotels:
2 people/1 room
$1750 pp
4 people/2 rooms
$1275 pp
Superior hotels:
2 people/1 room
$1995 pp
4 people/2 rooms
$1525 pp
 
Travel Style:
recommended custom itinerary