Galapagos Explorer | Trip Itinerary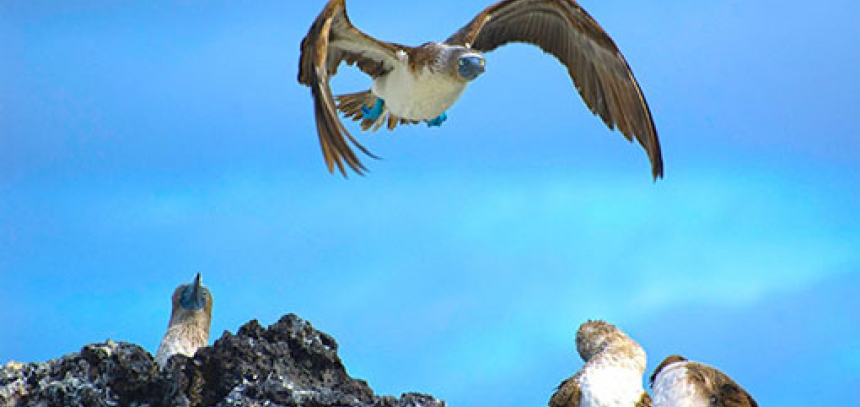 2016 Shared/Group Tour Departure Dates 
| | | |
| --- | --- | --- |
| Mar 20-27 | Jun 28-Jul 5 | Oct 23-30 |
| Apr 16-23 | Jul 3-10 | Oct 30-Nov 6 |
| Apr 22-29 | Jul 24-31 | Nov 27-Dec 4 |
| May 8-15 | Jul 31- Aug 7 | Dec 11-18 |
| Jun 1-8 | Sep 11-18 |   |
| Jun 12-19 | Sep 25-Oct 2 |   |
ITINERARY/ VISITOR SITE DESCRIPTIONS
Day 1:  ARRIVAL IN QUITO.  Our local representative will meet you at the airport, and transfer you to your select hotel in the city of Quito. Check-in for a two-night stay, including daily breakfast
Day 2:  QUITO CITY TOUR and FREE TIME. Half day tour of historical and modern Quito with your private guide. Enjoy a through Colonial Quito taking place in the most important and famous sights, and a drive up to the famous Panecillo Hill for a tremendous view of the city and surrouding volcanoes. You will also visit the Plaza de Independencia overlooked by the Parliament Building, scene of many revolutions in Ecuador's brief but dramatic history. Included in the itinerary is a visit to the Compañia and San Francisco churches with their impressive façades and gilt interiors that have changed little since the days of the Spanish.  After your tour you are dropped off at your hotel with the remainder of the afternoon free to explore on your own and get ready for your trip to the Galapagos Islands.  Enjoy the many museums, restaurants and handicraft shops & markets of the city.   (B)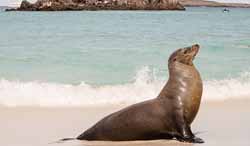 Day 3:  Early pick up at your hotel (driver only) and transfer to the Quito airport for your flights out to the Galapagos Islands. Flight reservations will be confirmed by our Quito office, and schedule provided with your final trip documents. Boarding passes and Transit Control Cards will be provided to you when you are in Quito
 Note:  there is a strictly enforced luggage limit on Galapagos flights of one piece of checked luggage not to exceed 44 pounds. In addition you are allowed one carry-on. If you are spending more time in Quito/Ecuador after your Galapagos visit, we can make arrangements to store your luggage at your Quito hotel.
 If possible, we will prepay your Transit Control Tax ($20 & itemized on your invoice).  You will need to show your transit control card upon departure from the islands, please keep it in a safe place.
Arrival mid-morning to Galapagos, where you pass through an airport inspection point to insure that no foreign plants or animals are introduced to the islands, as well as to pay the park entrance fee of $100 (payable in USD/cash only).
Welcome to Galapagos! Arrive at Baltra Airport. Reception and Transfer In to Puerto Ayora (Santa Cruz Island). Check In at Cucuve Suites for a 3-night stay.  After settling in, your guide will take you to enjoy a delicious lunch in the local town of Puerto Ayora.
This afternoon your first visit is at Garrapatero Beach which is situated on the northern side of Santa Cruz; El Garrapatero is a gorgeous sandy beach surrounded by mangroves. A fresh water lake behind the beach is home to flamingos, herons, stilts and other shore birds. The beautiful turquoise waters provide a good opportunity for swimming and snorkeling. Return to Puerto Ayora and overnight at Cucuve Suites. (B, L)
Cucuve Suites has a great location which allows an easy access to Puerto Ayora's restaurants & shops. .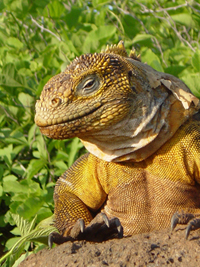 Day 4 & 5: Breakfast. Day Tour with navigation: Puerto Ayora is a great point to take a day tour to the nearby islands like Bartolome, Santa Fe, North Seymour, South Plazas or Floreana. (see tour descriptions below) During this day you will enjoy of one of these wonderful island; the journey includes hiking, wildlife watching and snorkel time. A delicious lunch will be served on board of the yacht. Return to Puerto Ayora and transfer to Cucuve Suites. (B / L)
Day 6: Breakfast. Early departure to Isabela Island by speed public boat. After about 2 hours you arrive at Isabela, where our representative will be waiting for you and transfer to Albemarle Hotel.   Note there is currently a $5 port tax to arrive to Isabela, which you will need to pay on arrival. 
Check-in for a two night stay in an ocean-view room. After that our first visit will be Flamingo Lake located to the west of Puerto Villamil.  Here you'll find various salt and brackish lagoons which house an impressive variety of coastal and sea birds, and also the largest concentration of flamingos in Galapagos. Lunch.
Our next visit is Tintoreras… one of the wonderful sites of Isabela: The Tintoreras Islets located a short distance from Puerto Villamil, is home to a great variety of wildlife. Its turquoise, crystalline waters are inhabited by white-tipped reef sharks, Galapagos penguins, marine turtles and sea lions. One of its beaches, surrounded by mangroves is one of the few sites where marine iguanas can reproduce successfully. During this hike you can admire iguana marine and blue-foot boobies" colonies as well as wonderful landscapes. The snorkeling in this place is a unique experience where you can enjoy swimming between marine turtles, iguanas, sea lions and more. Return to Albemarle Hotel. (B / L)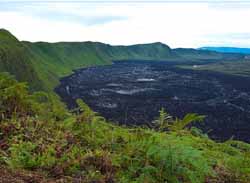 Day 7: Breakfast. Early in the morning, after a journey of 45 minutes, arrive at the site "El Cura" the start point to reach the Volcano Sierra Negra (moderate hiking). The Sierra Negra Volcano boasts the largest basaltic caldera in Galapagos at 9 x 10km. The site offers impressive views and the opportunity to observe up to 7 species of finch and a rich display of vegetation. The north side of the caldera provides evidence of its most recent volcanic activity in 2005. From a viewpoint you will have a spectacular view of Isabela Island and their surroundings. The Sierra Negra volcano is considered the oldest of the volcanoes on Isabela. Box Lunch. Return to Albemarle Hotel.
In the afternoon we visit the site known as Concha de Perla which is in Puerto Villamil, a few meters from pier "El Embarcadero". Access to the site is by a wooden walkway, the same that runs through a mangrove forest, up to an intertidal pond. Concha de Perla is structured as a kind of hollow circular enclosure of natural rock, which is fed by the sea with the changing tides. In the mangroves and rocks present along the walkway to the Laguna Concha de Perla, there is a small colony of sea lions which use the place to rest. Enjoy beach and snorkeling time. Return to Albemarle Hotel. (B / BL)
Day 8: Breakfast to go. Early in the morning departure to Santa Cruz Island by speed public boat. Arrive at Puerto Ayora and transfer to El Manzanillo where is possible to observe wild Giant Galapagos Tortoises in their natural habitat. With this wonderful last visit and after the lunch our guide will take you to Baltra airport to reach your flight back to Quito. Arrival mid-to late afternoon in Quito. End of the services**. (B / L)
**Depending on your flight schedule we can add transfers to/from a local airport hotel or hosteria, or transfer you back to your Quito hotel for overnight(s).
Additional sightseeing can be arranged, and your arrival back to the Quito airport allows for an easy transfer (about 1.5 hours or less) to the Otavalo market area, or less than 1 hour to Papallacta Hot Springs.
Consult us for additional pricing and sightseeing options that can be added to your Galapagos Adventure.
B=Breakfast; L=Lunch; D=Dinner
TOURS FROM PUERTO AYORA/SANTA CRUZ
NOTE THAT TWO FULL DAY BOAT TRIPS ARE INCLUDED WITH THIS ITINERARY, SELECTED FROM THE FOLLOWING FOUR OPTIONS:
Bartolome Island:
Home of the famous Pinnacle Rock, Bartholomew consists of an extinct volcano with a variety of red, orange, black and even green volcanic formations. A trail of stairs leads to the summit of the volcano, boasting one of the best views of the islands. The beach is perfect for snorkeling and possible sightings of the Galapagos penguin.
Highlights:  Pinnacle Rock, panoramic view, moonlike landscape, penguins, pioneer plants, lava cactus; snorkeling, reef sharks, rays, and great colorful fish
Activities:  Snorkeling & hiking (1.25 mi/ 2km)
Type of Landing:  Dry and wet landings
Difficulty: Moderate/difficult. Walk up to the top of volcano 114 meters, 375 wooden steps
 
North Seymour:
North Seymour is located north of Baltra Island (or South Seymour). The total distance of the trail is 2 miles. Galapagos sea lions, blue-footed boobies and magnificent frigate birds are abundant on North Seymour Island. The island was formed by a series of submarine lavas containing layers of sediment that were uplifted by tectonic activity. The island is characterized by its arid vegetation zone.
Highlights:  Land & marine iguanas, frigate birds, blue-footed boobies, sea lions; snorkeling: rays, reef sharks, fish, garden eels
Activities:  Dinghy ride & Nature hiking (1.5 mi/2.5 km) and/or snorkeling
Type of Landing:  Dry landing
Difficulty: Moderate/difficult.

South Plazas:
This small island with steep cliffs was formed by rising lava and is now covered by Opuntia cacti. It is also home to one of the largest sea lion colonies as well as colorful yellow and red land iguanas. The most characteristic plant is the Sesuvium. During the rainy season its color is a greenish to yellowish tone and in the dry season (end of June through January) a bright red.
Highlights:  Land iguanas, sea lion colony, Audubon´s shearwaters, swallow-tailed gulls, Nazca boobies, amazing landscape with cliffs
Activities:  Nature Hike (2 ½ km /1.55 mi)
Type of Landing:  Dry landing
Difficulty: Moderate
Santa Fe Island:
Santa Fe (Barrington) is home to the small picturesque bay and anchorage on the island"s northeast coast. The bay has two visitor trails, one leading to a scenic viewpoint atop a cliff, and the other spanning from a small beach to a tall prickly pear cactus forest.
Highlights:  Land Iguanas, giant Opuntia cacti
Activities:  Nature Hike
Type of Landing:  Dry landing
Difficulty: Moderate
Tours on Isabela Island
FLAMINGO LAKE
To the west of Puerto Villamil there are various salt and brackish lagoons which house an impressive variety of coastal and sea birds. Here, visitors can also find the largest concentration of flamingos in Galapagos.
SHARK ALLEY / TINTORERAS
The Tintoreras are a series of small islands directly in front of Puerto Villamil. A boat takes 5 mins to cross the bay and goes slowly along the coastline so you can see the penguins and boobies. You can also snorkel in between the islands. There also get off the boat and take and a short trail that takes you to see sea lions and a spectacular water alley full of resting sharks.

SIERRA NEGRA VOLCANO
Sierra Negra is the second largest volcanic crater in the world (11km diameter). From the edge of the crater where you can take in spectacular views of the volcano that erupted as recently as October 2005. One hour further on and you arrive at 'Volcan Chico' where fumaroles and parasitic craters can be seen

CONCHA DE PERLA
Concha de Perla is like a natural swimming pool, closed off from the sea. It is a next to the docks. It is a beautiful place to swim and snorkel. It is a 5 minute walk from town.
Departures
2016 Departures
Shared group trips
approx 2 x
per month
See itinerary for
specific dates
Private trips:
Any date on request
Price
<p>
Shared/Group trips<br />
From $2200 pp</p>
<p>
Private departures<br />
From $2400 pp</p>
Travel Style
either a recommended custom itinerary or group trip