Andes and Amazon Multisport | Trip Itinerary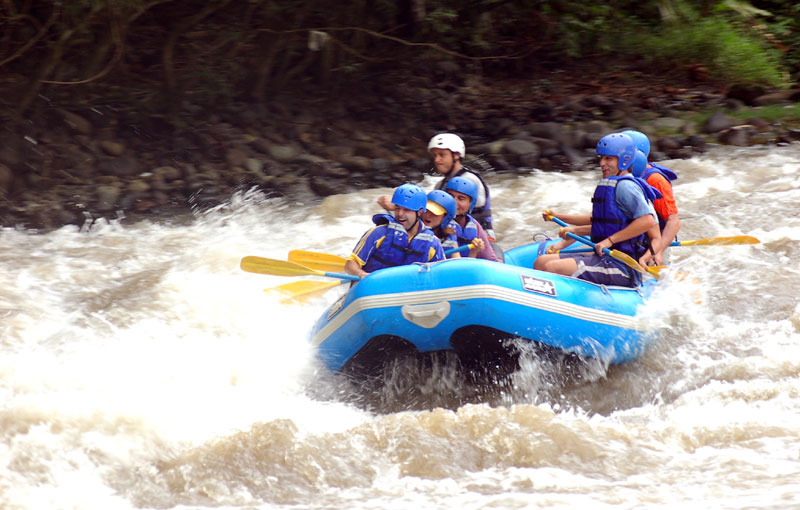 DAY 1:  Arrive to Quito. You'll be met at the airport and transferred to your select hotel.
Note:  Additional days in Quito can be added to explore the colonial city, do day hikes or mountain biking to help you acclimatize for your adventure program
DAY 2:  QUITO EXPLORATION AND CITY TOUR.   Enjoy a leisurely tour through Colonial Quito taking in the most important and famous sights. You will visit the Plaza de Independencia overlooked by the Parliament Building, scene of many revolutions in Ecuador's brief but dramatic history. Included in the itinerary is a visit to the Compañia and San Francisco churches with their impressive façades and gilt interiors that have changed little since the days of the Spanish occupation. The tour is completed with a drive up to the Panecillo Hill where you can enjoy a spectacular panoramic view of Quito and the surrounding mountains. Overnight at hotel (B)
DAY 3: HIKE  AND MOUNTAIN BIKE COTOPAXI NATIONAL PARK
We begin our journey driving south from Quito through the famed "Avenue of the Volcanoes." If the skies are clear, we will be able to see the peaks of several volcanoes from the road. Once we arrive in Cotopaxi National Park, we start out with a short hike around Limpiopungo Glacier Lake. This mountain lake is home to a wealth of highland waterfowl, and we observe the local gulls, ducks, and falcons while learning about the park's highland paramo ecosystem.
We then begin an amazing bike ride through the park. Our path will take us from the base of Volcan Rumiñahi, where Limpiopungo is located, across the high plain and around to the south side of Cotopaxi, then on to the Pucara Inca ruins. The ride is mostly downhill with some flats and a few short, easy climbs. As we ride across the high plain paramo, we keep an eye out for native highland wildlife and take in incredible views of Cotopaxi's massive, glaciated cone looming above us. Our ride ends at the Pucara Inca ruins near the park's south entrance. Here we explore the ruins and learn more about the western hemisphere's most powerful ancient civilization and their history in Ecuador. We sit down to a scenic and delicious picnic lunch next to the volcano before continue to the hacienda where we spend the night. (B, L, D)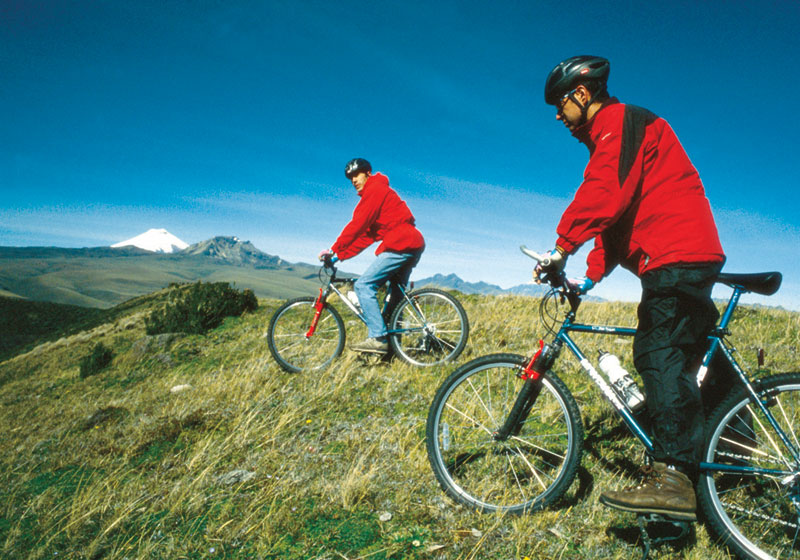 DAY 4:  HORSEBACK RIDE AT TILIPULO HACIENDA AND EXPLORING ANDEAN FOREST
After breakfast, we drive to the ancient farmlands of Hacienda Tilipulo, located in an inter-Andean valley surrounded by interesting native vegetation and astounding views of the nearby volcanoes. After a safety briefing will be given before our departure towards the western cordillera bound to the highlands of Atapulo where we will be able to observe small farmlands called chacras, adobe houses, livestock such as llamas, sheep and others. The indigenous way of life, the occasional view of volcanoes Cotopaxi, Tungurahua,
Illiniza, Chimborazo and Altar will accompany us throughout this journey in the spectacular trails that go over hills, ravines and dirt roads
We continue our journey driving through the Avenue of the Volcanoes up to the Leito Valley. We enjoy spectacular views of the Tungurahua Volcano and the Patate River. In the afternoon we reach a cozy Andean Hacienda and if time aloud we will hike in to the Andean forest and beautiful waterfalls. Return to the farm house to relax and dinner (B, L, D)
DAY 5: BIKE TO THE AMAZON & WATERFALL EXPLORATION
In the morning, we drive to the edge of Llanganates National Park, gaining altitude until we reach an area with one of the best views of the - often fuming - Tungurahua Volcano. Here, we set up our mountain bikes for a scenic ride through highland paramo, which gradually melds into mountain cloud forest, and then lowland rainforest. We pass through a dry basaltic gorge that is a great spot to look for wild orchids. We continue our ride along the Pastaza River Gorge, one of the principal waterways that feed into the Amazon Basin. This is an especially scenic route, with high rock walls giving way to deep cloud forest canyons. We stop to admire some of the spectacular waterfalls in the area, such as Pailón Del Diablo (Devil's Cauldron) and Manto de la Novia (Bride's Veil). Switching from 2 wheels to 4, we drive until we reach Puyo, an Amazon frontier town where we learn about the manufacture of products made from Balsa wood, bamboo, ceramics, and other local materials. We enjoy lunch in Puyo before setting out along the Amazon highway to reach our Jungle Lodge. Once we settle into our lodge, if time aloud we will visit a Kichwa indigenous community.
Here, we learn about their way of life, culture, traditions, and customs of the Amazon. At the end of the day, we settle into our jungle lodge ready for a peaceful evening surrounded by rainforest sounds. (B, L, D)
DAY 6: JUNGLE RAFTING ON THE JATUNYACU RIVER 
After enjoying breakfast in our lodge, we head to Llanganates National Park, which extends from the high Andes down into the Amazon basin and is part of an area declared a Biosphere Zone by the United Nations. The water that collects in this area forms the Jatunyacu River, which is regarded as one of Ecuador's best one-day river runs. We begin the day with a short walk through rainforest scenery to reach naturally-formed swimming holes and waterslides. After our return and a safety briefing, our whitewater rafting adventure begins. A trip down the Jatunyacu River offers crystal-clear water and glimpses into indigenous communities that live along the shores in small bamboo and wood houses. The Jatunyacu is famed for its big waves, fun holes, and high water volume (Class III - III+). We'll spend the day navigating the Jatunyacu, whose waters carry us through breathtaking rainforest landscapes full of bird life.
In the afternoon, we will visit a Kichwa Amazonian Indian community to learn about their traditional way of life. It is truly an honor to have them bestow on us some of their ancestral knowledge of medicinal plants, balsa wood carving, and Chica (manioc beer) brewing. We may even be able to participate in a traditional cleansing ritual and/or visit ancient petroglyphs. It becomes quickly evident how much the Kichwa rely on the forest in their everyday lives, and their harmonious relationship with their environment inspires us.
We then continue our adventure back up into the Andes, climbing from 1,500 to 10,000 feet (500 to 3,000 meters) in altitude and passing through a national park and nature reserve until we reach Papallacta Hotsprings Resort & Spa. In the evening, we relax in the therapeutic alkaline-rich thermal waters of Papallacta while nestled in a fantastic cloud forest setting. Optional spa services such as massages, aromatherapy, and other treatments can also be arranged in advance. Lodging at Papallacta Resort. (B, L, D)
DAY 7: PARAMO HIKE, ANCIENT EQUATOR MONUMENT & OTAVALO MARKET
In the early morning, we visit the highland interpretation center and go for a guided nature hike in the Cayambe-Coca cloud forest and paramo reserve. The continental divide falls along this scenic reserve, and we will see some waterfalls coming down its eastern slopes. Along the hike, we will seek out birds, highland plants, and other Andean wildlife species.
We continue on to the equator to view the pre-Incan Quitsato monument. This site is shaped as a star of eight points, representing pre-colonial and Incan indigenous beliefs that 0º latitude was the center of time and measurement. An excellent interpretation center explains the science and ancient significance behind this fascinating place and how Ecuador's geographic position and location on the equator influences the country's many cultures, climates, and biological diversity. After our visit, we enjoy lunch on the gorgeous shoreline of San Pablo Lake.
We continue by bicycle along scenic farmland, over a breathtaking ridge, and through indigenous towns full of friendly people waving hola as you pass by. We bike all the way to the famous Otavalo market, the largest indigenous market in Latin America. Your senses will be delighted with delicious aromas, vivid bright colors, and haggling tongues in both indigenous and romantic languages. After our visit to the market, we spend time one-on-one with local weavers who share the secrets of their craft that have been passed down for generations, and visit the Andean Music Museum to hear the traditional instrumental and vocal sounds of the Andes. The evening is spent at a beautiful colonial hacienda. (B, L, D)
DAY 8: HIKING AROUND CUICOCHA CRATER LAKE
After breakfast, we drive up to Cuicocha Crater Lake, located 10,000 feet (3,068 meters) above sea level within the Cayapas-Cotacachi national park. Cuicocha Lake is a freshwater-filled caldera of a dormant volcano surrounded by stunning cloud forest scenery. We hike around the shore of the crater lake, admiring the lava dome islands in the center and keeping an eye out for birds and other interesting wildlife. We enjoy a picnic lunch on the lake before departing for Quito in the afternoon. Check-in to your Quito hotel for one night.. We have the evening free to explore the landmarks and night life of Ecuador's capital city.  (B, L)
DAY 9:  DEPARTURE Transfer to the airport. (B)
B=Breakfast; L=Lunch; D=Dinner
Departures
2021 Departures
Price
4 people/2 rooms
$2495 p/p
2 people/1 room
$3295 p/p
Travel Style
either a recommended custom itinerary or group trip