Paraguay is a landlocked country  in South America which still maintains a rich cultural heritage.  The western half of the country is known as the "Chaco".  It is a large cattle grazing area and wetlands region with excellent animal viewing and birding opportunities. The eastern half of Paraguay is mostly a humid area with rich forests and many rivers and streams. It is rich in local customs, folklore and colonial architecture.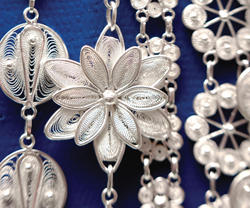 ​The capital city of Asuncion is the base for explorations to small towns such as Luque, where the famous Paraguayan harps and guitars are made.  Gold and silver filigree works and leather workshops can also be visited. Yaguaron boasts a superb example of Spanish-Guarani Baroque art in its 17th century church, and Ita is a highlight for local ceramics.  Itagua is frequently visit to purchase tablecloths, mats and clothing made of the famous Nanduti lace, and can be combined with a stop at the beautiful resort of San Bernardino on Ypacarai lake.
For those that wish to travel across Paraguay to Iguassu Falls, you can visit one of the local ranches, as well as the once flourishing Jesuit Indian reduction of Trinidad (17th century), near the city of Encarnacion, to view the remains of fine cut stoneworks and sculptures.
And of course, the world famous Iguassu Falls, considered to be the widest waterfall in the world, is located just across the far western border of Paraguay.
For those wishing to discover a very unique & diverse part of the South American continent, Paraguay is the perfect choice!