Reina Silvia | Book This Trip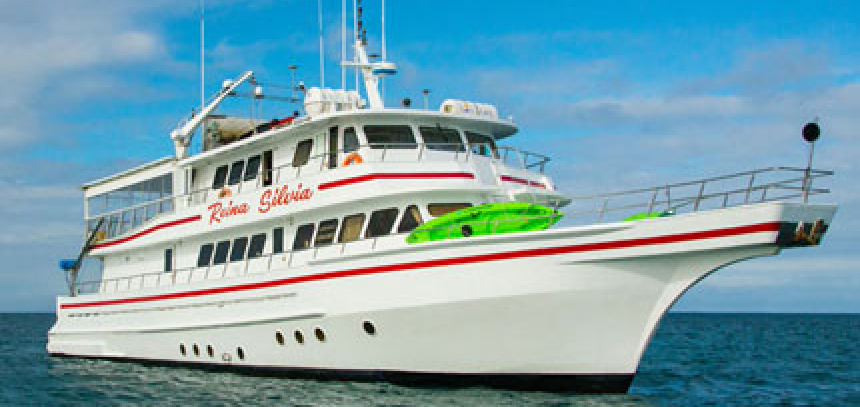 Book this Trip
Destination:  Galapagos Islands
 
Reservations | Payments | Cancellation Penalties | Confirmation Details | Forms
Reservations: We can generally make a reservation for you on a Galapagos program and hold it 5 to 7 days before a deposit is required to confirm your space.
Payment requirements for Galapagos reservations are as follows:
| General  Payment Schedule | per person |
| --- | --- |
| Deposit--At time of reservation:    | 20% of trip cost |
| 2nd Deposit--4 months prior to departure | $300 |
| Final payment--60 days prior to departure | Balance |
Payment for airline tickets is due at the time tickets are issued, but no later than time of final payment.
Certain boats, tours combined with Peru, and most all holiday departures may impose higher deposit amounts.
If you are booking less than 60 days in advance of travel, we'll need full payment in order to confirm your space.
We accept payment by check, wire transfer, and all major credit cards. For credit card payments, we'll need your written authorization to charge your card. Please complete our Credit Card Authorization form for Galapagos departures, and return it to our office.
A completed Trip Application, second deposit, and final payment will also be due before you travel. Complete payment details can be found in our Terms and Conditions, which we recommend you read before sending us your deposit.
Cancellation Penalties
Cancellation Penalties for Galapagos trips are a bit stiffer than our usual programs. For most boats, the fees are as follows:
| Days prior to dep.  | Penalty (per person) |
| --- | --- |
| 60 or more  | 10% of trip cost |
| 59-30 | 50% of trip cost |
| 29-0 | 100% of trip cost |
Note that certain boats, tours combined with Peru, and most all holiday departures may impose stricter penalties.
You can find detailed information on our cancellation policies, change fees and refunds in our Terms and Conditions for Galapagos Trips.
A note about your payments:
Latin American Escapes is registered with the California State Attorney General's office under the California Seller of Travel Law. Our license # is 202 3695-40. Under this law, California sellers of travel are required maintain a trust account or bond with all client funds. Latin American Escapes maintains a trust account. Further details on this law can be found on the Department of Justice website.
Confirmation Details
Once your trip is confirmed, you'll receive the following materials from us:
Complete itinerary & invoice
Trip Application Form and Liability Release
Trip guide, Clothing & Equipment recommendations and Reading List specific to your travels
Travel Insurance information. In the case of unforeseen incidents, we feel that travel insurance is an important precaution to protect you, your family and your investment.
Forms for trip planning and confirmation:

Many of these documents are in Adobe PDF format. If you do not have the FREE Adobe Acrobat Reader, follow this link.